Jacksonville Jaguars – Not A Lock To Draft Trevor Lawrence
December 27, 2020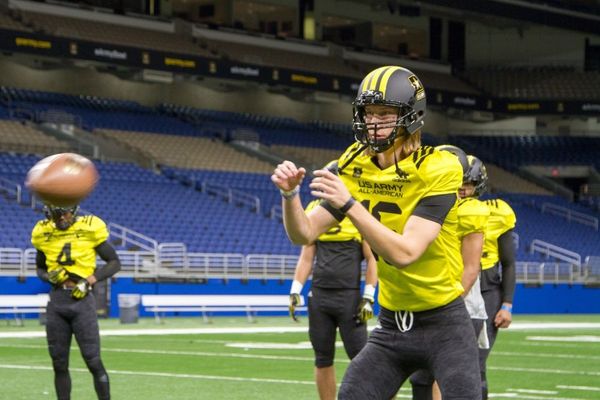 When the New York Jets upset the Los Angeles Rams, their fans were the ones that were really upset. The win forced them to lose their grip on the No. 1 pick in the 2021 NFL Draft, presumably Trevor Lawrence.
There was still hope for them, but not for long.
With the Jets recording another upset win in Week 16 and the Jacksonville Jaguars getting crushed by the Chicago Bears, the Jaguars locked down the No. 1 pick in the next draft. Since they have struggled at quarterback for years, it is easy to assume who they will use that pick on.
After all, it only makes sense for a team in need of a franchise quarterback to take one as talented as Trevor Lawrence is. That is likely why the oddsmakers at DraftKings Sportsbook have made the Jaguars heavy favorites to draft the Clemson quarterback (-4000).
Great promotions
Easy registration process
Best Multi interface platform
Get $600 bonus
Those odds translate into a 97.56 percent chance the Jaguars will be the team that drafts Lawrence. From a betting perspective, this one sounds like a no-brainer then, right?
Not necessarily.
Do the Jaguars need a franchise quarterback? Absolutely. But they also need help on the offensive line, a tight end, a cornerback, a safety, an edge rusher, and a wide receiver. They need a lot of help if they are going to take this one-win team and turn it into something competitive.
What is the best way to get a lot of help really quick? The draft.
If they were to put the No. 1 pick on the trade block, with the prize that awaits whoever has it, they should be able to get a substantial haul of early-round draft picks. They may be spread over two or three years.
But between them and free agency, maybe the franchise can finally get turned around.
Who Would Make the Trade With the Jacksonville Jaguars?
No one would fault the Jaguars for taking Lawrence, of course. But his talents will be better utilized on a team that is a quarterback away from becoming a contender. Jacksonville needs much more than a quarterback.
A trade with the right team could give them the chance to fill more needs while still selecting a franchise quarterback later in the draft—because Trevor Lawrence is not the only one available.
Justin Fields has that potential, as does Mac Jones, Zach Wilson, Trey Lance, and Kyle Trask. It might even be worth it to take someone like Sam Ehlinger or Ian Book in the later rounds.
Lawrence would be great, but there are other options. The question now becomes not only who would trade for him but who could make the Jaguars an enticing offer.
If the New York Jets (+1200) really wanted Lawrence, they could give the Jaguars a nice offer to move up from the No. 2 slot to the No. 1. There is the No. 2 pick, of course, which would still allow the Jaguars to pick any quarterback not named Trevor Lawrence.
The Jets could also throw in the first round and third-round picks they got from the Seahawks. If that is not enough, they could throw in their own second-round pick from this year to sweeten the deal.
Minnesota could put together a suitable package with the No. 13 pick, their second-round pick, two third-rounders, and three in the fourth. With the talent they have on offense, they are probably a quarterback away from being a contender. They could even throw Kirk Cousins in with the deal.
But the oddsmakers at FanDuel Sportsbook did not give the Vikings odds for this bet.
Teams FanDuel did give odds to that could be interested in trading up include the Washington Football Team (+2200). The offense would not have to be perfect next year for the team to be competitive with their defense.
But with the tools the Redskins have on offense, a quarterback like Lawrence might be all they need to put it all together.
Atlanta (+2900) has a nice, young receiving corps (and Julio Jones) that a guy like Lawrence could do some damage with. But just swapping out Matt Ryan for Trevor Lawrence is not going to turn the Falcons into contenders.
Betting Play: The safe bet is to take the Jacksonville Jaguars to draft Lawrence, but you would have to bet $4000 to win $100. Who wants to do that? The Jaguars will likely take him, but there is value in taking the Jets. Just don't bet anything you do not mind losing.
Collecting a ton of draft picks that could dramatically improve an entire team is an enticing option for the Jacksonville Jaguars.
But, at the same time, they might be happy with the extra first-round pick they got from Seattle, two second-round picks, and two fourth-round picks. They may not feel like passing on a generational talent like Lawrence is worth any draft haul.
With the picks they already have and the right free agent moves, the Jaguars might feel like they can become competitive as early as next year. But they might not.
At the same time, the other quarterback-needy teams may be satisfied with taking whoever is available.
Travis Pulver
Travis a native-Texan which is where his love of football originated. But after moving around a lot when he was younger, he was able to develop an appreciation for the game and not just his favorite teams. He now lives in Indiana with his wife, Nicole, and two kids, Jackson and Addison. You can find him on Twitter at @FatManWriting.