"Over Under betting," in the US, also famous as "Totals" betting, is one of the three primary markets in the sports betting industry. Backing the event winner is still the most popular market, but the "Totals" and "Spreads (Handicap Betting) are right behind.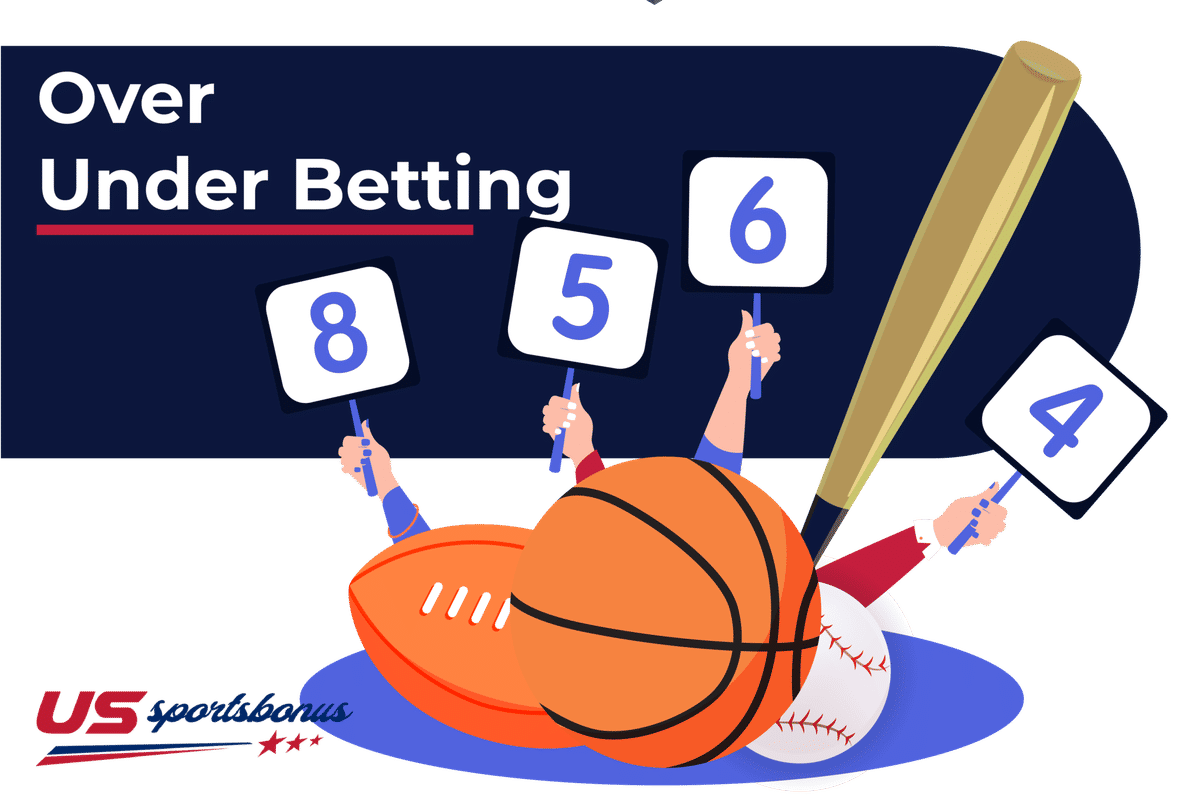 With this particular market, a bettor is not interested in the outcome (match winner) at all. The only thing that matters is the number of points/goals/runs/touchdowns etc., as you bet against the line set by a sportsbook.
The subject of the bet differs from one sport to another. For football, baseball and basketball, it's about the number of points scored. For hockey and soccer, it's about goals, etc. It applies to all sports. The only difference is the form but it's used by bettors on all forms of sport.
The principle is very simple. Sportsbooks set the line based on their statistics and usually offer close to even odds for both Over or Under.
The wager is usually -110, meaning you have to bet $110 to win $100. There are just two options possible, the draw is not included like in outcome bets.
There is an exception when the line is set at the round number (45.0 for example). If the total number of points scored by both teams is higher than 45, the Over bet is winning and vice versa. Nonetheless, if the total number is exactly 45, in this case, it would be a push and your stake would be returned. This is why most sportsbooks tend to make it simpler by setting 0.5 lines (45.5 for example). In this instance, the Under bet wins if 45 points are scored.
Now, the line depends on the sport. For football matches, it usually goes between 40.0 and 55.00 points. This market comes in particularly handy when you can't decide for one of two teams to win the match. You know they are both strong offensively and the logical call would be backing the Over certain amount of points to be scored in the affair.
Sportsbooks are not naïve, though, as they will set higher lines for stronger attacking teams and vice versa. It is up to you to figure out whether there is value in backing the Over bet in spite of a high line set by sportsbooks.
There are fewer variations in soccer and hockey. Hockey lines are usually either 4.5 or 5.5, while soccer games are normally at 2.5 line. However, the odds are prone to a higher degree of diversity.
Example on Over Under Betting Wager: The best way to understand any kind of sports betting term is to go through examples. We'll take the example of football and basketball.
NFL: Baltimore Ravens @ Cincinnati Bengals
| | | | |
| --- | --- | --- | --- |
| Sportsbook | Line | Over | Under |
| Draftkings | 44.5 | -110 | -110 |
| PointsBet | 45.5 | 100 | -125 |
| FanDuel | 44.5 | -117 | -110 |
We can see that sportsbooks decided to set the 44.5 line. If teams score more than 44 points combined, the Over bet is winning. Otherwise, the Under pick would be a winner.
On top of the number of points, you can back Over Under bets on different kinds of events in a single match. Some of these include:
Over Under bets in a quarter/half
Team Totals – Baltimore Ravens Over Under 28.5 points
Team Touchdowns – Cincinnati Bengals Over Under 1.5 touchdown
Team Field Goals – Baltimore Ravens Over Under 1.5 field goal
Team Number of Yards – Cincinnati Bengals Over Under 300.5
NBA: Brooklyn Nets @ Portland Trailblazers
| | | | |
| --- | --- | --- | --- |
| Sportsbook | Line | Over | Under |
| Draftkings | 238.5 | -110 | -110 |
| PointsBet | 238.5 | -105 | -113 |
| FanDuel | 239.5 | 100 | -125 |
Basketball also has some of its specific markets in the Over Under section, such as:
Over Under bets in a quarter/half
Team Totals – Brooklyn Nets Over Under 117.5 points
Player Totals – Damian Lillard Over Under 26.5 points
Player Assists – Kyrie Irving Over /Under 7.5 assists
It is very easy to place a bet on this particular market even for beginners. The Over-Under lines take the primary position when you click on any match regardless of the sport. You will see the odds for Over or Under right beside the money line (outcome) and spread (handicap) odds as these are three core markets in the betting world nowadays.
To make a bet, you just need to click on the odds for your desired pick. It will instantly show in the bet-slip, usually on the right side of the main page with any online sportsbook. From there on, you should just select the stake and push the "Place Bet" button. Over / Under bets can be placed in parlays, but not in conjunction with the outcome or handicap bets for the same event.
Things are a bit different for soccer as you can back the number of goals, the number of corners / the number of cards in a single parlay (accumulator). However, you can't back the number of goals together with the outcome or handicap bets in the same parlay either.
DraftKings - Best Sportsbook for Over/Under Betting
Betting on game totals is widely popular and is one of the most fun ways of betting on sports.
We recommend DraftKings if you are looking for game total bets. Not only do they offer a huge amount of over-under betting options, but they also have one of the best user experiences for sports bettors. Read our DraftKings Sportsbook review for more information on what you can bet on at this sportsbook.
Unlike the case is with the outcome bets where you sometimes have a massive favorite priced at -1000 odds, with the Over Under betting chances are usually even. This is why you will commonly see -110 odds offered for both Over or Under scenarios.
The odds will never be 100% even as sportsbooks have to take their cut. With outcome bets, you can't quite back a huge favorite and expect decent winnings. With totals, you are always looking to double your money with a single pick.