Online Sports Betting in the US is in a rapid growth phase, with new states opening up for mobile wagering through sports betting apps. Mobile apps are the predominant way to bet on sports in the US.
Mobile betting is likely to grow compared to betting on desktop devices or in-person. With mobile device technology continuing to evolve, there will be few limitations on what sportsbooks can offer in their mobile sports betting app experience.

In this article, we will guide you through the different mobile sports betting apps available in the states where mobile sports gambling is legal and what to look for when evaluating the best sports betting apps.
When it comes to the best mobile sports betting sites in the United States, there are five main brands that deserve that distinction.
DraftKings, FanDuel, PointsBet, Caesars, and BetMGM are those five mobile sports betting apps, though the order in which they reside depends on the preferences of each individual bettor.
It is worth to be noted that Bet365's app is also to be considered.
Gambling problem? Call 1-800-GAMBLER CO, DC, IL, IN, KY, LA, MD, MS, NJ, OH, PA, TN, VA, WV, WY
Call 877-8-HOPENY or text HOPENY (467369) (NY), Call 1-800-327-5050 (MA), 21+ to wager. Please Gamble Responsibly. Call 1-800-NEXT-STEP (AZ), 1-800-522-4700 (KS, NV), 1-800-BETS-OFF (IA), 1-800-270-7117 for confidential help (MI).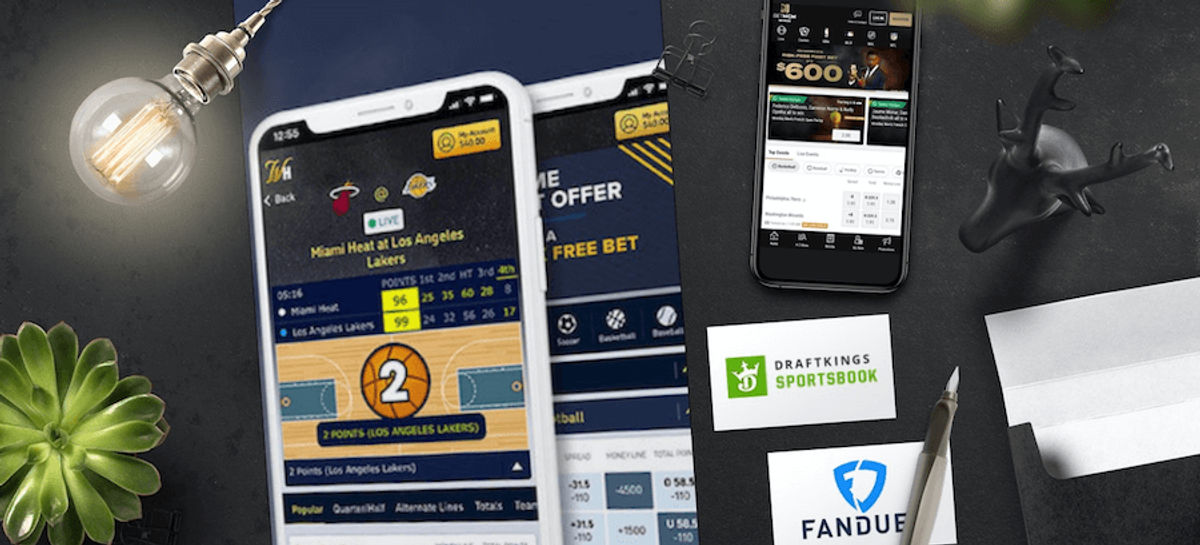 The DraftKings app and FanDuel app are typically seen as the top two sports gambling apps on the market at this time. Their massive footprint combined with promotional budgets makes them the most visible sports betting sites in the United States.
And with plenty of quality to back up that visibility, sports bettors have flocked to these two brands in large numbers.
The BetMGM app and Caesars Sportsbook app are two sports gambling apps that have received similar praise to DraftKings and FanDuel. They are both available in many states and are incredibly easy to use without sacrificing any functionality or betting market availability.
And the PointsBet app is a less established online sportsbooks brand worldwide but has quickly earned credibility by combining a ton of features with their innovative new points betting option.
What Defines a Good Online Sports Betting App?
There are a few things the best betting apps have in common. In this guide, we focus on the factors that we rate as most important for online sports betting app.
We compare and rank the top 5 apps in every US state where mobile betting is legal.
The comparison points we focus on for the sports betting apps are ease of use, look and feel, app features and odds selection vs desktop, stability, accessibility, and speed.
Keep reading to find out what is the best sports betting app in each state where mobile sports betting is legal.
In order to rate the mobile sportsbook apps in each state and get a full overview of the pros and cons for each sports gambling app we used, we divided the test into three main categories and eight sub-categories.
All categories were weighted equally in terms of importance and the ranking results are wholly based on the total points scored in all eight sub-categories.
Design
Ease of Use
This is typically the most important thing for sports betting apps to generate returning customers. If the user journey is too complex the players will lose interest and go elsewhere.
Bettors have to be able to navigate around the app efficiently so they can get their bets in as quickly as possible.
Look and Feel
This opinion is obviously subjective. But the way a sports betting app looks is an underrated detail. Everything from color choices to button placements can impact how enjoyable these apps are.
Our test focuses on the small details that make sports betting app stand out from the rest.
Functionality
App Features vs Desktop
Some online sports betting apps lack a bit of the functionality that is offered on the desktop version of a sportsbook.
In this part of the test we look at the features offered in the app versus the desktop experience and determine if the app offers a comparable or more favorable experience.
Odds Selection vs Desktop
In some cases, the odds selection and a number of betting markets are a bit more limited in the sportsbooks' app versions. In this portion of our evaluation, we compare the availability of betting markets and their corresponding odds.
Banking Options
How easily can you make a deposit and withdraw money in each sports gambling app?
Here, we evaluate the available deposit and withdrawal options and how convenient they are to use when managing money in each app.
Technology
Stability
Some apps tend to stall, shut down, or demand updates too often. The less this happens the better, and we factor all of those disruptive forces into our stability ratings.
Accessibility
Are the sports betting app available for Android in Google Play, iOS in App Store, or any other device via its app marketplace? What software requirements are needed to install the sports betting app?
The easier it is to find and download an app, the better it does in our accessibility rating.
Speed
How fast is the app? What is the loading time needed to place a bet? The faster an app performs the better, as betting on sports is all about getting the best lines possible and delays caused by each app could prevent that from happening.
What is the best sports betting sites?
Ultimately, which sports betting app is best is up to the opinion of each individual bettor. But in our test based on several criteria we have concluded that the best sports app is the DraftKings App.
What is the best sports app for Iphone?
Apple and Android users tend to have different tastes in user experience and design.
The mobile sports betting app most suited for iPhone would have to be DraftKings thanks to the fact that it is so easy to use and appeals to the sensibilities of iOS device users through the app store.
What is the best sports app for Android?
Android users cannot download sports gambling apps directly from Google Play in most states, but the APK is easy to download directly from the sportsbook websites.
The best Android app in the world of sports gambling may be BetMGM thanks to its availability in a large number of states combined with its quality on Android devices.
How do sportsbook apps work?
Sports betting apps are easy to use. First, you need to download your preferred app to your Android or iOS device's app store.
Once you have the app on your mobile device you can login or create an account, make a deposit and start placing bets.
How do sportsbook apps make money?
Sports betting operators make money by offering betting odds on sporting events and adding a margin (aka the Juice or Vig) to make sure that they will typically take a cut on the total wagering done on an event.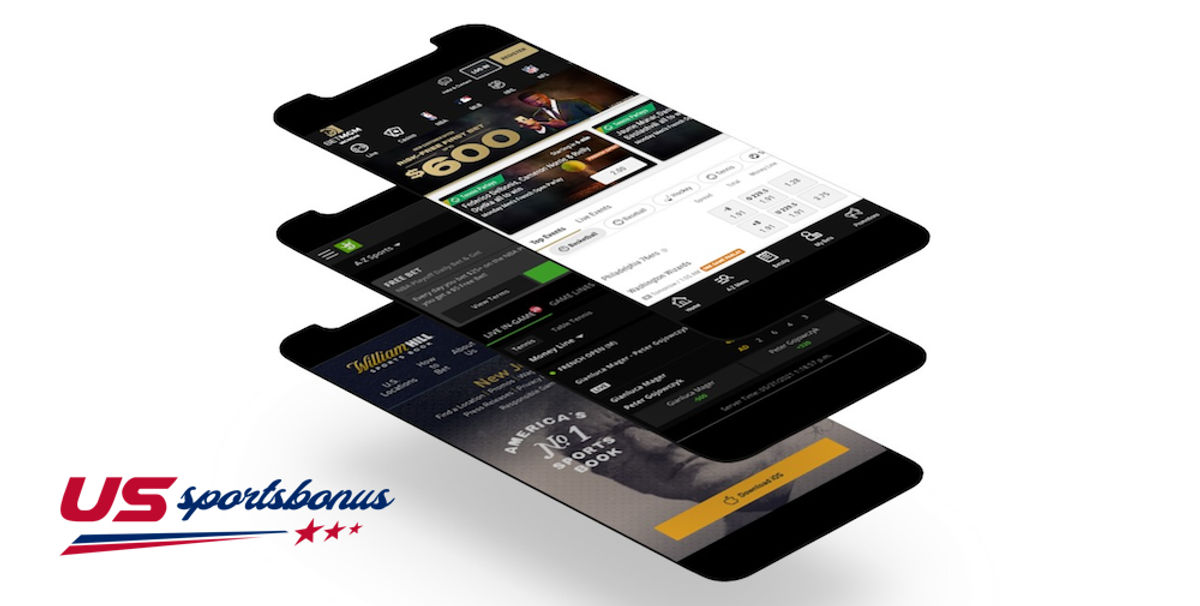 Android users, wherever you are based in the US. Relax, you will be able to download all the best legal sports betting apps in the US.
Top Sportsbooks are catering for all the most popular mobile systems and Android is one of the most popular ones betting sites cannot afford to make their sportsbooks apps available for Android.
If the sportsbook app is not open for download in Google Play you will always be able to find a direct download APK on the sportsbook website.
The APK can be downloaded and installed from anywhere but in order to actually place a bet, you need to be within state borders of a state that allows mobile betting.
How to Download Android Sportsbook Apps
In this example we use DraftKings to demonstrate how the download process looks like.
1

Visit Sportsbook Site
First you go to the sportsbook from which you want to download your Android app. Scroll down to the bottom of the site and you will on most sites find a link to the mobile apps.

2

Click on DraftKings Google Play Symbol
This step will take you to the Android's dedicated mobile apps page at DraftKings sportsbook app. For other sportsbooks, this could trigger the download of the APK or redirect you to the Google Play website.
Some steps might vary from sportsbook to sportsbook but the principle process is the same.

3

Download the APK
Click on the download for Android and the APK file be stored on your device.

4

Install App
Complete the installation by opening the sportsbook app APK file and installing it on your mobile device. Open the app and log in or create a new account.
iOS betting apps in the app store have been around for a long time worldwide as Apple's restrictions have been less strict compared to Google.
As legal sports betting went mobile in the US, the App Store is now filled with legal sportsbook apps.
It's easy and straightforward to get started and download an iOS sportsbook app as long as you are geographically located in a state where sports betting legal is guaranteed.
The same goes if you want to place bets, as you can only actively use the app and place bets when located in a state where mobile betting is regulated.
How to Download iOS Sportsbook Apps
In this example we use FanDuel as our reference sportsbook to demonstrate how you download an iOS sportsbook App.
1

Visit Sportsbook Site
First you go to the sportsbook site and scroll down to the footer of the start page.

2

Download the App
For iOS the process is very simple. Just click on the download app and you have the app ready to go. Now register a new account or log in to your existing account.

A comparison between the 2 sportsbook giants feels necessary. We can't ignore these sportsbook apps when discussing the most relevant betting apps in the US. Who is better and why?
DraftKings – Best of the Giants
Great functionality and technology take home the win for DraftKings over FanDuel when comparing the apps of the two biggest American sportsbook brands.
The list of betting markets feels endless and the in-play betting offering is very extensive.
We really enjoyed the notifications function. All in all DraftKings app is one of the best out there and is highly recommended in every single state where DraftKings offers its sportsbook app.
Finding it hard to keep track on what sportsbook apps that are available in your state? In the list below we have gathered all sportsbook apps available in the US at the moment.
| | |
| --- | --- |
| Sportsbook App | States where the sportsbook is licensed and active |
| BetMGM App | NJ, IN, CO, WV, NV, TN, IA, PA, MI, VA, AZ, WY, MS, DC, NY, LA |
| DraftKings App | NJ, PA, IN, CO, WV, IL, IA, TN, NH, MI, VA, AZ, WY, CT, NY, LA |
| FanDuel App | NJ, PA, IN, CO, IL, IA, WV, TN, VA, MI, AZ, WY, CT, NY, LA |
| Caesars App | NJ, IN, CO, WV, TN, VA, MI, AZ, WY, NY, LA |
| BetRivers App | PA, IN, CO, IL, VA, IA, MI, AZ, NY |
| PointsBet App | NJ, IN, IL, IA, CO, MI, NY |
| Unibet App | NJ, PA, IN, VA, IA, AZ |
| Bet365 App | NJ |
| 888sport App | NJ |
| Sports Illustrated App | CO |
| Borgata App | NJ, PA |
| SugarHouse App | NJ, PA, CT |
| Barstool Sport App | NJ, PA, IN, IL, CO, MI, AZ |
| Wynnbet App | NJ, CO, IN, TN, MI, VA, AZ, NY |
| MaximBet App | CO |
| FoxBet App | NJ, PA, CO, MI |
| Tipico App | NJ |
| Harrahs App | NJ, NV |
| Parx App | NJ, PA |
| Hard Rock App | NJ |
| Bet America App | NJ, PA, IN |
| The Score App | NJ, CO |
| BetFred App | CO, IA |
| Golden Nugget App | NJ, NV, MI |
| Elite App | CO, IA |
| Twinspires App | MI, TN, AZ, CO, PA, NJ, IN, NY |
| Fubo Sportsbook | IA, AZ |
| William Hill App | N/A |