Is Kyler Murray Right About the Arizona Cardinals?
November 13, 2020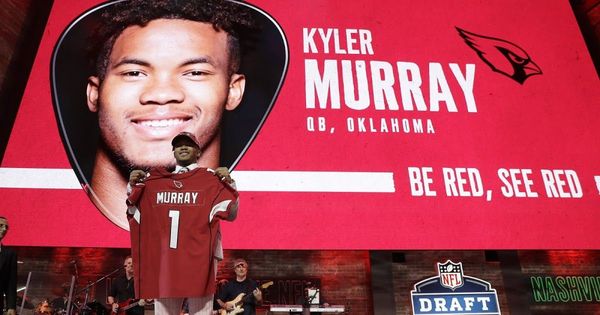 To answer that question, it may help to know what he said about the team. In a post on the team's website, he essentially said that the team is not looking to build for the future.
They want to win, and they want to win now.
Great promotions
Best Multi interface platform
Easy registration process
Get $1000 bonus
Everyone says that, of course, but Murray took it a step further. He does not just want to win; he thinks the team is ready to compete now:
"It's time. It's Year 2. There's not time to wait around and say, 'We'll do this in Year 6 or Year 7.' You never know. You never know when your last snap is going to be. I'm always striving to get better, always striving to be the best."
It should come as no surprise that he made such a comment. Murray has been all about winning his entire football life. He was undefeated in high school, where he won three state titles. During his one year as the starter at Oklahoma, the Sooners went 12-2.
Things were different on those teams than they are for him with the Arizona Cardinals. But it is starting to look like the controversial hiring of Kliff Kingsbury is going to pay off. Murray is on track to throw for 4000+ yards and run for 1000+. The team is 5-3 and undefeated in division play.
But Can They Really Contend Right Now?
Beating teams like the Washington Football Team, New York Jets, and the Dallas Cowboys are one thing. To be a contender, you must beat the teams you should not beat, like the Seattle Seahawks and San Francisco 49ers (before injuries ravaged them). In that respect, they do look like a contender.
However, contenders do not lose games to teams like the Detroit Lions, Carolina Panthers, or Miami Dolphins. But that does not necessarily mean anything bad for the Cardinals. It is not unusual for the best teams to lose to bottom dwellers from time to time.
So, how can we tell if the Arizona Cardinals are ready?
Beating the Seahawks was certainly a good sign. Losing to Miami was not. But they will have a chance to bounce back this week against a good Buffalo Bills team, followed by a rematch with the Seattle Seahawks.
Can they take down both the Bills and Seahawks, though? Both teams have pretty high-powered offenses, and the Bills defense is tough. But with how Murray has been playing lately (111.7 passer rating the last four games; Cardinals offense has been most efficient in NFL since Week Five), it is not hard to imagine the Cardinals winning both.
That is, with the help of the No. 8 scoring defense in the NFL (22.5 points/game).
Should You Bet On The Arizona Cardinals?
Betting Play: Take the Arizona Cardinals to win the NFC West. But if you do not feel right about that, then take them to make the playoffs (Yes -160 No +135; odds via William Hill).
The next two weeks will tell us exactly what we should do regarding the Arizona Cardinals. But if they win both games, their odds will shorten—and who wants to win less money?
Heading into Week Ten, BetMGM.com has their odds of winning the division at +500 (Seahawks -228; Rams +400). Their odds of winning the NFC are the sixth-best (+1200). They are a longshot to win the Super Bowl (+3500).
So—how should you bet?
There is an excellent chance they could win the NFC West. They have already taken on the Seahawks and won; there is no reason to think they cannot do it again. Of course, where Russell Wilson is concerned, nothing is ever certain. But Seattle's defense is still terrible, and there have been some chinks in Russell Wilson's armor of late.
Beating the Rams will not be easy, but they are certainly capable.
It is going to be a lot tougher to win the AFC, though. If the playoffs were to start this week, they would be the No. 6 seed and face the Seahawks in the wildcard. It is a winnable game, but it will not be an easy one.
But if they win, they will likely face the New Orleans Saints in the divisional round. Beat them, and it will probably be the Green Bay Packers in the NFC title game.
That would be a heck of a three-game gauntlet.
They could win all three, but it is not likely. Even if the Cardinals did, they are not ready to take on either the Kansas City Chiefs or Pittsburgh Steelers in the Super Bowl.