UFC In Jacksonville – Part 2, May 16
May 13, 2020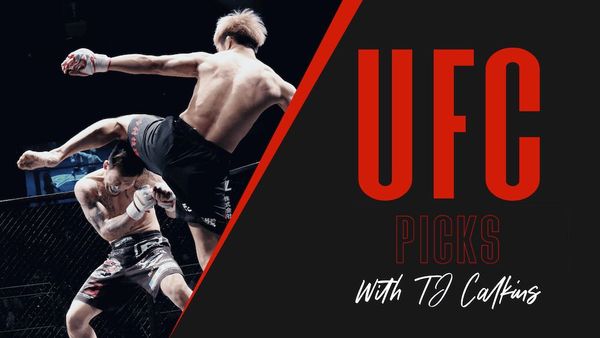 Saturday night brings us our third fight card in eight days, and something of a continuation of Wednesday night's card. Both cards were scheduled for 11 fights initially but the Wednesday card lost a fight due to weight cutting medical issues for Karl Roberson.
We still remain scheduled for 11 fights on Saturday and, going in, the Saturday card towers above the one we saw on Wednesday both from a fight quality and viewing experience perspective. The Wednesday card did indeed offer a pleasant surprise however, as it was a great watch with fun fights and finishes, but the Saturday card is the class of this pair of fight night cards.
Reviewing our four plays from the Wednesday card, we had three winners and one loser, recovering the unit and change the Cowboy decision and Cruz stoppage cost us on Saturday, with a little extra coming back.
✅ Chase Sherman lead off the card with a dominant KO win to cash for us.
✅ Omar Morales won a fun striking affair in a pretty clear decision.
❌ Hunter Azure, our loss, was ahead 62-29 in significant strikes when his chin gave out in the second round. This was the fourth highest striking differential in UFC history for a knocked out fighter. Face palm.
✅ Ricky Simon was dominant in an egregious split decision win against Ray Borg. He was the better wrestler as we thought, and rode that to an easy victory which should realistically see judge Dave Tirelli chastised and fired from judging MMA fights as he was the dolt scoring it for Borg.
On to Saturday's fights.
🔥 Nascimento +105
🔥 Davis -215
🔥 Holland -110
🔥 Baeza ITD -110
🔥 Vera ITD +320
🔥 Anders KO +320
🔥 Gadehla submission +600
Recommended Sportsbooks for UFC Betting
Don'Tale Mayes -125 vs Rodrigo Nascimento
Fight is at heavyweight and is -300 to end inside the distance.
Mayes enters his second UFC outing while Nascimento is debuting. While Mayes was certainly and understandably outclassed by Ciryl Gane in his debut, that could ultimately be the case against most or all UFC heavyweights. He does not bring real power for the heavyweight division and his grappling game is a liability at best and truly does not have a differentiating quality to make me believe he can have level of productivity or success in his UFC career.
Nascimento on the other hand, does have a path to finding a successful UFC career. He enters this bought 7-0 with all wins being finishes and is a fun fighter. He is willing to brawl and appears to have a high end BJJ skill set. The BJJ skill set is where he will run away with this particular fight and being priced as an underdog here is something I believe to be incorrect. The true unknown on Nascimento is cardio what to expect if the fight makes it to deeper waters.
Even with this risk factor, Nascimento is our first play of the night, I expect a submission and likely in the first round.
Betting Play: Nascimento +105
Cortney Casey -160 vs Mara Romero-Borella
Fight is at 125 lbs and is +260 to end inside the distance.
This fight is something to behold, and not in a good way. Both ladies are likely on thin ice in terms of continuing to remain on the roster. They have both lost three of their last four fights and there just aren't impressive wins. Borella will have a wrestling advantage here but I think it's fair to say Casey has the better BJJ skill set, so we could have an ugly striking affair between two subpar strikers that won't be pumping out volume. If Borella does opt to force wrestling, she will be in danger if she plays in Casey's guard, but can own the fight on the floor if she can get to and hold dominant positions.
This fight is dog or pass, but is just simply an easy pass.
Darren Elkins -120 vs Nate Landwehr
Fight is at 145 lbs and is +110 to end inside the distance.
Man, this fight should be a full on war. Both fighters have big time durability and tend to play a come from behind style after taking damage. Elkins nickname is "The Damage" after all. At this point in their respective careers Landwehr is the more dangerous striker and will be the fighter wanting to keep the fight on the feet. Elkins however will have a very large advantage in the grappling realm in this one. There's going to be a force of will factor in this fight in terms of where the fight takes place. We also have Elkins at the twilight of his career and Landwehr just starting in the UFC in his second fight with the promotion.
Elkins chin could give out but he should have the easier path to victory in grappling. That said I'm not quite confident enough to make it a play, but the lean is Elkins.
Mike Davis -215 vs Giga Chikadze
Fight is at 145 lbs and is +125 to end inside the distance.
The last time we saw Mike Davis, he was utterly decimating Thomas Gifford in the worst cornering experience in memory, until Anthony Smith's corner on Wednesday night. Davis has a real ceiling with the promotion while Chikadze, well, he doesn't.
Chikadze has made the transition from kickboxing and did win his UFC debut against Emmers, but this step up in competition against a complete mixed martial artist is simply going to be too much for him. Davis boxing will be able to match Chikadze's skill set on the feet and Davis will have a massive advantage in the grappling realm and will be substantially physically stronger.
Davis is the largest price on the card, but that only sits at a tick over 2 to 1 and that line is a value. Take Davis to win as he outclasses Chikadze here.
Kevin Holland pickem vs Anthony Hernandez
Fight is at 185 lbs and is +115 to end inside the distance.
Kevin Holland looks to bounce back form a loss to fellow emerging prospect Brendan Allen, his first since his loss to top end killer Thiago Santos in his UFC debut. Holland will be the significantly longer fighter with a 3" height and 6" reach advantage, and is the better striker on the feet, if not the more powerful of the two. Holland also possess the better BJJ skill set by my estimation, but has two factors working against him. He gassed in his last fight leading to the loss and also fights wants to let his personality shine during fights, and leads to some very low IQ decisions. I don't want to take away from Hernandez here, but if Holland is even 50% motivated to prioritize getting a win here, he will cruise.
The Hernandez meat and potatoes boxing style in the striking and the only true grappling threat offered being front chokes simply does not match up well with a motivated Holland. Holland could easily find a win here *without* motivation and ride his way to a close and stressful decision call, much like he did against Meerschart.
I still personally believe Holland has a real ceiling in MMA and hoping to see some motivation from him on Saturday. In any event, if that ceiling is to be attained, Hernandez should not pose any real threat to him, and Holland is the play here in a Vegas made coin flip.
Betting Play: Holland -110
Miguel Baeza -200 vs Matt Brown
Fight is at 170 lbs and is -230 to end inside the distance.
What a fun matchup between the old guard and the new breed here. Undefeated rising prospect Baeza will be the quicker fighter against the now aged but still dangerous legend in Matt Brown.
Baeza's hole in his striking is on the inside and is hittable there, and will want to be keep distance and tear up the lead leg of Brown early, and I think he will. Baeza will easily be the quicker and more athletic fighter and will just need to employ a smart game plan to run away with this one.
Brown likely needs some brawl symptoms to the striking exchanges to find success and Baeza has all the tools to neutralize that. Baeza is a BJJ black belt but has not had extensive grappling in MMA and we can call the grappling realm a wash in this matchup.
At 39 years old and noticeably diminished, I don't believe Brown will be able to survive a full 15 minutes of striking with Baeza, and taking the juice out of play with Baeza inside the distance (ITD) at -110 will be the play here.
Betting Play: Baeza ITD -110
Song Yadong -190 vs Marlon Vera
Fight is at 135 lbs and is -125 to end inside the distance.
This is going to be a phenomenal fight. Song Yadong already has five UFC fights and four wins to his name despite being just 22 years old, and has a huge ceiling with the promotion and has a pretty complete skill set that is beyond his years. He is a dangerous striker capable of knockouts early in fights but has showed he can slow later in fights.
Yadong draws Marlon Vera, who is an incredibly fun fighter on a five fight winning streak that looks to has entered the prime of his career. He's finished all but two of his career wins and has never been finished. He presses forward and forces action and has a high end BJJ skill set, but the wrestling isn't the greatest. He's also got a history as a slow starter which could play into Yadong's hands early. Vera's submission grappling however, will be a new test for Yadong as will Vera's willingness to press forward and force the action that will be a test of the younger fighter's will.
I believe this fight should be much closer to a pickem than a 2 to 1 line for Yadong and I see value in Vera. What's more and as mentioned, Vera is not a point fighter that looks for decisions. He loses decisions but wins with finishes and he is sitting at +320 to win ITD, and that is our obvious value play here.
Betting Play: Vera ITD +320
Great promotions
Best Multi interface platform
Easy registration process
Get $600 bonus
Kryzysztof Jotko -165 vs Eryk Anders
Fight is at 185 lbs and is +130 to end inside the distance.
Man, for a generally lower level fighter that there shouldn't be a super strong opinion on, I absolutely loathe Jotko. I believe him to have a fully exploitable glass chin, and Anders is fully of capable of taking advantage of that. Anders has plenty of power and is the fighter quite capable of knocking Jotko out from the word go, while Jotko will look to win on points.
Anders defensive grappling will likely see this one to a standing position for the majority of the fight, and testing the chin of Jotko in any exchange will result in a KO win for Anders. If we see the judges scorecards it almost certainly means Jotko survived the danger and won a decision, but I believe the most likely outcome is an Anders KO.
The great news there is Anders via KO is currently sitting with a wildly attractive +320 price tag, and that is the one to attack as he goes in to melt the chin of Jotko.
Betting Play: Anders via KO +320
Fast payouts
Well established sportsbook
Great user interface
Get $500 bonus
Edson Barboza -130 vs Dan Ige
Fight is at 145 lbs and is +110 to end inside the distance.
This is an incredible fight to make as Edson Barboza drops down to featherweight and takes on surging Dan Ige. The huge question mark on this fight is how well Barboza will be able to handle the advanced weight cut at 34 years old. Assuming he is not wholly physically compromised, he will have such an advantage striking. The striking matchup is truly unfair as Barboza will have a 4" height and reach advantage, along with a multiple levels above striking skill set. A non compromising weight cut for Barboza will see Ige get utterly decimated in striking exchanges throughout the fight.
Ige is a strong wrestler and grappler and that is fortunate for him, as he will absolutely need to attack grappling after the striking quickly goes fully south on him. Barboza is also far from incapable in all facets of grappling and has stout takedown defense, so he will be in the drivers seat for this fight.
The -130 price tag, to me, almost assumes an awful weight cut for Barboza and I feel it is an inaccurate line. Take a look at how Barboza looks at weigh ins to make sure he isn't Dillashaw'd, but do get that bet in on Edson.
Betting Play: Barboza -130
Great Promotions
Offers Casino, Sportsbook & DFS
One of the Largest Gambling Sites in the US
Get $1000 bonus
Claudia Gadelha -195 vs Angela Hill
Fight is at 115 lbs and is +205 to end inside the distance.
Hill keeps one of the highest fight frequencies in the UFC, and has been on a surge of late. She has improved her grappling top game of late, but has a history of being owned by grapplers. Enter Gadelha, a high end BJJ black belt who will be worlds and worlds better on the floor. Hill will have some level of advantage on the feet and in the clinch, but my word is it indescribable the level of advantage on the floor for Gadelha. That is not to say Hill can't win this fight and she will have a bit of a cardio advantage. If she stays on the outside and keeps movement throughout a standing affair, she can take a decision. That being said, it is difficult to envision this fight not having some level of grappling exchange, and that is where Hill will be in true danger.
I am on the fence at the 2 to 1 price tag however, and looking at some other prop odds, we get an insane value. Gadelha via submission is an insane +600 and we have to wonder what in the world oddsmakers putting that line out are thinking. That is the prop to attack, even at less than a unit.
Betting Play: Gadelha via submission +600
Great promotions
Easy registration process
Best Multi interface platform
Get $600 bonus
Walt Harris -165 vs Alistair Overeem
Fight is at heavyweight and is -485 to end inside the distance.
This is a very well made main event and a very good matchup. These fighters are essentially identical in size and it is a very tight matchup. There is an outside factor that hangs over the fight however, and that is the recent tragedy in Harris' life. His stepdaughter was kidnapped and murdered in November, and this will be Harris first return to action since the tragedy. It's uncomfortable to write about, but we simply can't know the mental state of Harris, and it would be wholly and completely understandable if he, in hindsight, shouldn't have taken this fight, performs poorly and loses. He also could come out like a bat out of hell and get a dominant win.
I do think Harris will ultimately win the striking exchanges here and ultimately secure a KO of Overeem, but given the element of unknown, this is a fight to sit back and enjoy watching, but fade from a betting perspective.
Gus Anderson
Gus Anderson is a gambling wizard. As a kid he dreamt about becoming a Tennis, Hockey and Golf professional but ended up as a gambling professional focusing on Tennis and Hockey.