Caesars Atlantic City Hotel & Casino in the state of New Jersey offers a complete gambling experience, including the Atlantic City Sportsbook, more than 2 000 slot machines, table games, poker rooms, and an Asian gaming area.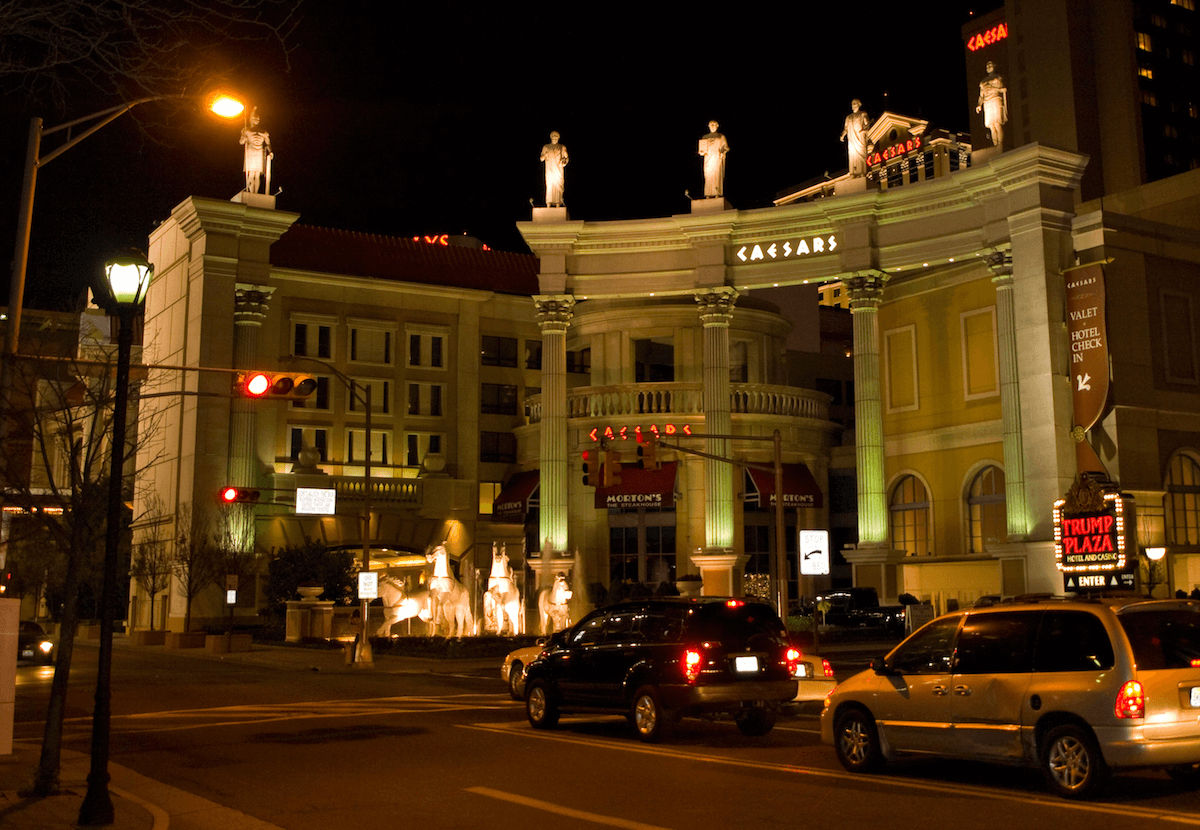 Caesars Casino by Night
Caesars Palace Atlantic City is also a hotel and spa that features more than a thousand rooms. The Roman and ancient Greek themed hotel has been established in Atlantic City since 1979 and still is a very popular resort for casino and sports betting enthusiasts from all over the world.
In order to sort out what Caesars Atlantic City has to offer in terms of sports betting facilities, casino games as well as rewards, bonuses and promotions, and much more, we have compiled the most relevant information in this article. The main objective is to give straight answers to the following questions:
– What sports betting facilities does Caesars Palace Atlantic City offer?
– What casino games and facilities does Caesars Atlantic City Hotel & Casino offer?
– What sports betting opportunities and bonuses are available at the Caesars Online Sportsbook?
Caesars Atlantic City Hotel & Casino has been established on Pacific Avenue, New Jersey since 1979. Back then, it was called the Boardwalk Regency which was the name until 1983 when they omitted the Caesars name and became Caesars Boardwalk Regency.
In 1985, the Circus Maximus Showroom opened to enlarge the resort and became a place where, for instance, many major boxing events have been held.
The Caesars Atlantic City got its current name in 1987. During the many years since the building and the interiors have been renovated several times. In 1997, the 299 feet tall Centurion Tower opened and Caesars Atlantic City was able to increase their hotel capacity with more than 500 new rooms.
Caesars Palace Atlantic City offers some top-class sports betting facilities. At The Book – Atlantic City's biggest sportbook is the place to be for sports betting fans. At this venue of more than 15 000 square feet, you may watch and bet on, more or less, any sport or betting line you prefer. Book a private Fan Cave or watch and support your team together with other sports enthusiasts in the common rooms.
The Book – Atlantic City Sportsbook & Bar
Caesars Atlantic City has a lot to offer to those who are into sports betting. Atlantic City's biggest sportsbook is called The Book and this betting area has almost anything you can possibly wish for as a sports betting enthusiast.
The 15 228 square feet sports betting space includes five private Fan Caves available for any visitor to reserve. The Fan Caves can hold up to 16 to 24 people and are equipped with high-resolution televisions that can be split into three screens so you are able to follow more than one of the games you have placed your bets on.
The Book at Caesars Atlantic City offers extensive betting opportunities on all popular US sports such as NFL, MLB, NBA, and the NHL as well as soccer from all top leagues in Europe, including the Champions League.
Numerous, beneficial betting options are available at The Book. Caesars Atlantic City Hotel & Casino is licensed to run and offer their visitors a unique physical sportsbook and many interesting betting opportunities are always to be found. Several betting desks with great customer support are open for you to place your wagers or, if you rather prefer, you may place your bet in a machine. At this place, they are taking sports and sports betting seriously in order to create the ultimate betting experience for you as a visitor.
The Book at Caesars Atlantic City offers an excellent sports betting experience but if you are not able to be there physically, Caesars Online Sportsbook is probably the next best thing. Caesars Sportsbook is available for everyone that is at least 21 years old and located in the state of New Jersey.
Caesars Sportsbook is an online sports betting website where you will find a broad supply of betting options on all popular US sports as well as international top sports events. Caesars Sportsbook offers high value on the most played betting types and their odds pricing stands out as one of the best there is available on the New Jersey online sports betting market.
When it comes to bonuses and promotions Caesars Sportsbook also has a lot to offer.
The casino at Caesars Atlantic City provides a gambling area of 145 000 square feet that features more than 2 000 slots, table games, poker rooms, video poker and a sportsbook. It is not the biggest casino there is but maybe one of the most elegant.
Casino Slots
At Caesars Palace Atlantic City you will find all the most popular AC slots and video poker games in an environment that visually creates a gambling atmosphere – the way it should be. The area is called The Palace Court and its design is inspired by Pantheon in Rome.
All in all, more than 2000 slot machines are available at Caesars Palace Atlantic City. Their great supply of video poker games is a popular part of the casino as you can play any kind of game of poker at your own pace.
Table Games
For those who are into table games, Caesars Atlantic City Hotel & Casino has a lot to offer. From Blackjack to Craps, Roulette, Baccarat, Let it Ride, and, of course, a wide range of different poker games,
At Caesars Atlantic City you may also learn how to master the table games as professionals are holding lessons two times a week. The concept is called Learning from Legends and it offers you the opportunity to be taught how to master the games of Blackjack, Craps, Baccarat, or Roulette.
The list of table games that are available to play at Caesars Palace Atlantic City is long, but these are some of the most popular games:
Big Six – is the big wheel of fortune, if you have selected where the wheel will stop, you are the winner
Sic Bo – is a game of dice played with an electronic board where you place your bet on a variety of dice combinations
Baccarat – a card game of two or three cards per hand that is all about having the highest remainder
Let It Ride – a card game where you play for fixed payouts instead of playing against other players
Spanish 21 – a version of blackjack with multiple payoffs
Craps – is a social game of dice that is easy to learn but still very dynamic
Ultimate Texas Hold'em – a new poker game that features head-to-head play against the dealer
Pai Gow Tiles – a traditional Chinese domino game where the aim is to beat the dealer
Asia Poker – is a version of poker that is based on an ancient Asian game called 13.
Poker and Video Poker
Caesars Atlantic City offers a broad selection of poker games, both traditional table game poker, and video poker. The Poker Room has an elegantly designed interior and you may choose from a great variety of different kinds of poker games.
Texas Hold'em, Ultimate Hold'em, Caribbean Stud Poker, Three Card Poker, and Asia Poker are some of the poker games you may participate in at Caesars Palace Atlantic City.
An excellent alternative for those who prefer to play poker at their own pace with fewer distractions is the video poker area. It is basically the same as regular poker but you play against a machine instead of human and you pick your preferred variation of poker.
As Caesars Atlantic City is part of the Caesars Entertainment group, you should not miss out on the opportunity of signing up for the Caesar Rewards. This loyalty program is available for all of the Caesars Entertainment's locations so you can earn reward credits while gambling, eating, or staying at the hotel. The reward credits will then give you exclusive benefits.
Caesars Atlantic City – part of the Caesar Rewards
The Caesar Rewards is offered at more than 50 resorts and Caesars Atlantic City Hotel & Casino is one of them. All visitors at the hotel or casino are welcome to take advantage of the Caesar Rewards loyalty program and the credits you earn can, for instance, be turned into gambling free plays, free or discounted hotel stays, or free or discounted dinners at the participating restaurants. You will earn 5x reward credits for every 1$ that is spent on Caesars Atlantic City or any other of the Caesar Entertainment resorts.
Does Caesars Atlantic City have a swimming pool?
Yes, Caesars Rooftop Pool and Observation deck, on top of the Ocean Tower building, offers a swimming pool and a magnificent view of the Atlantic Ocean. This area is only available for hotel guests.
Can I make private reservations at the Sportsbook at Caesar Atlantic City?
Yes, if you are looking for the ultimate sports betting experience the Sportsbook at Caesars Atlantic City offers five Fan Caves that are available for reservations for groups of 16 to 24 people.
Can I watch and bet on Premier League at Caesars Atlantic City Sportsbook?
Yes, at The Book at Caesars Atlantic City offers sports betting on European soccer in general and the Premier League in particular. The Premier League games are also televised on any of the many big screens available.
Does Caesars Atlantic City offer any rewards or loyalty programs?
Yes, Caesars Palace Atlantic City is one of the more than 50 resorts that are part of the Caesar Rewards loyalty program. This means that you will earn credits on every dollar you spend which, for instance, can be turned into free plays at the casino.
Does Caesars Atlantic City have any restaurants?
Yes, there are plenty of restaurants, both upscale and casual, at Caesars Atlantic City Hotel & Casino. For instance, The Gordon Ramsay Pub & Grill, that offers a genuine British Pub experience.