Could Lamar Jackson be the Postseason Rushing Champ?
January 13, 2021
When the playoffs got underway, there was an obvious choice for postseason rushing leader—Tennessee Titans running back Derek Henry. He averaged 5.4 yards/carry during the regular season (and a total of 2000+ yards) and ran for 250 in the Titans Week 17 game.
Henry was the clear and obvious choice.
But then his team lost last week to the Baltimore Ravens in the wildcard round, a game in which he only gained 40 yards.
Now that the favorite is out of the running, a new favorite will be chosen (Alvin Kamara, +200 via DraftKings). But with how poorly the last favorite performed, is this one you can trust?
Kamara ranked No. 14 in the league during the regular season with 932 yards rushing.
His only 100+ yard game of the regular season came in his last one, New Orleans' Week 16 contest against Minnesota (where he set a new career-high with 155 yards). Last week against Chicago, he had 99 yards.
Kamara is undoubtedly one of the more talented runners left in the playoffs, but is he worth betting on? Or is there a better choice—like Cam Akers (+600) or Lamar Jackson (+350)?
Lamar Jackson—Postseason Rushing Champ?
In a way, it is a little surprising that Kamara is the favorite to win over Jackson. Yes, the Saints were a good run team during the regular season (141.6 yards/game; sixth in the league).
Kamara did lead New Orleans in rushing, but he only accounted for an average of 62.1 yards/game.
Kamara is more of a dual-threat guy than he is a runner. He will get his share of carries, of course. But the team will look for him to contribute as much or more in the passing game.
As for Jackson, the Ravens would probably love for him to pass for 300+ yards a game, but they did not even average 200 yards a game during the regular season (171.2). It might happen—but it is not going to.
Baltimore is a run team (191.9 yards/game; No. 1 in NFL), and Lamar Jackson is the team's most dangerous run threat. He was one of nine guys to rush for 1000+ yards in the regular season.
His per-game average of 67 yards is not too encouraging, though.
However, he is the current leader with 136.0 yards against the Tennessee Titans in the wildcard round.
The Ravens have a tough match-up in the divisional round, the Buffalo Bills. If Josh Allen gets the Bills out to enough of an early lead, the Ravens may turn to the passing game—which will probably result in a Ravens loss and a lousy rushing day for Jackson.
Cam Akers should not be overlooked after the 131-yard game he had last week. No matter who the Los Angeles Rams start at quarterback, they will likely lean on him to take some pressure off the QB—which could mean another good day for Akers.
Aaron Jones (+700) will have his work cut out for him when he plays his first game this week. Starting off against one of the most formidable defenses in the NFL (the Rams) this week does not help.
Leonard Fournette (+800) is in the mix after gaining 93 yards last week. But Tampa Bay will win and move more because of what Tom Brady does, not him.
Nick Chubb (+900) is the only other guy within reasonable reach of the top spot with 76 yards last week. But to have a real shot, the Cleveland Browns will need to beat the No. 1 seed in the AFC, the Kansas City Chiefs, and probably win the AFC title game as well.
Betting Play: Take Lamar Jackson to lead the postseason in rushing yards. Baltimore has the best run game, and he is their best runner. While it would be ideal not to put him in danger like that, he will be running early and often if they want to win.
Kamara is not going to lead the postseason in rushing yards. He is too much of a threat in the Saints' passing game to give him the number of carries he would need to have a reasonable shot.
Cam Akers is a big maybe, but when the Packers start to pull away this weekend, they will abandon the run. The Rams will probably lose the game, too.
Leonard Fournette will probably not get the carries he needs to have a shot, and Nick Chubb will probably be done after this weekend. That leaves Aaron Jones and Lamar Jackson.
It is not hard to imagine Jones getting enough work, but he will likely need the Packers to make it to the Super Bowl for him to have a real shot. As for Jackson, the best chance the Ravens have to win is when Jackson runs the ball.
With it looking like snow this weekend in Buffalo, the Ravens will need him to run early and often. Another 100+ yard game, and he might lock the postseason rushing title up.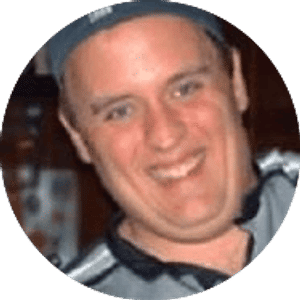 Travis Pulver
Travis a native-Texan which is where his love of football originated. But after moving around a lot when he was younger, he was able to develop an appreciation for the game and not just his favorite teams. He now lives in Indiana with his wife, Nicole, and two kids, Jackson and Addison. You can find him on Twitter at @FatManWriting.