Wimbledon – Outright Winner Odds
March 25, 2020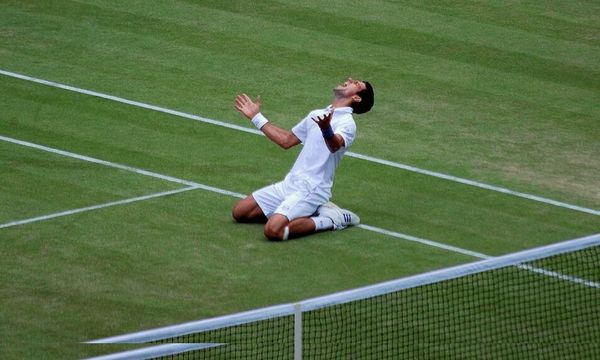 The decision from The All England Club, if and, when the Wimbledon 2020 will be played is scheduled to be announced next week. In the meanwhile, we take a look at the future outright winner odds. The uncertainty when the next Wimbledon tournament will be played creates larger variances in odds when comparing the odds from the sportsbooks.
We took a closer look at winner odds from three different sportsbooks (BetMGM, DraftKings, and Bet365) for 26 players and there is plenty of value betting up for grabs. Let's take a close look at the odds.
Odds that stand out from the rest are marked in bold.
| | | | |
| --- | --- | --- | --- |
| Players | BetMGM | DraftKings | Bet365 |
| Novak Djokovic | +130 | +130 | +150 |
| Rafael Nadal | +500 | +600 | +500 |
| Roger Federer | +550 | +650 | +400 |
| Daniil Medvedev | +1000 | +900 | +1000 |
| Stefanos Tsitsipas | +1400 | +1400 | +1400 |
| Alexander Zverev | +2200 | +2500 | +2500 |
| Dominic Thiem | +1400 | +2500 | +1600 |
| Milos Raonic | +2000 | +2800 | +2500 |
| Marin Cilic | +3300 | +3300 | +3300 |
| Nick Kyrgios | +2500 | +3300 | +3300 |
| Kevin Anderson | +3300 | +4000 | +3300 |
| Felix Auger Aliassime | N/A | +6600 | +3300 |
| Andy Murray | +2000 | +3300 | +1200 |
| Stan Wawrinka | +4000 | +6600 | +5000 |
| Grigor Dimitrov | +6600 | +6600 | +8000 |
| Matteo Berrettini | N/A | +5000 | +8000 |
| Reilly Opelka | N/A | +8000 | +8000 |
| Kei Nishikori | +5000 | +6600 | +4000 |
| Denis Shapovalov | +8000 | +5000 | +6600 |
| John Isner | +8000 | +6600 | +8000 |
| Andrey Rublev | N/A | +6600 | +6600 |
| Roberto Bautista-Agut | +6600 | +5000 | +8000 |
| Juan Martin Del Potro | +4000 | +10000 | +4000 |
| David Goffin | +6600 | +10000 | +6600 |
| Karen Khachanov | +6600 | +10000 | +6600 |
| Gael Monfils | N/A | +10000 | +10000 |
Anyone of Djokovic, Nadal, and Federer should be considered as one of the most likely to lift the trophy on Sunday the second week of the championship.
The reigning champ Djokovic has been dominating Wimbledon with 2 consecutive titles and 5 wins in the last 9 championships played. Nole is currently and has for quite some time been, the best player in the world. Never in tennis history have a player executed better on key points. When Djokovic decides to not miss, which he tends to do in important phases of a match, he simply does not miss. Will he pick up his third straight title? According to the odds, he will.
Djokovic odds range from +130 to +150 depending on where you decided to place your bet.
Nadal is a two-time winner at Wimbledon (2008 and 2010). He is together with Federer the second-hand favorite. In his early career, Wimbledon was one of his most successful tournaments (outside the clay season) reaching 5 finals between 2006-2011. Since then he has not reached a final in the only grass-court Grand Slam of the season and from 2012-2017 his best result was a 4th round appearance in 2017.
In the last two years, Wimbledon has ended in semifinal losses (last year against Federer and in 2018 against Djokovic). The trend is clear, Nadal is yet again a real threat on grass but without the confidence boost from a successful clay-court season (which is already pretty much spoiled this year), I believe this can harm his chances of winning.
Nadal can be backed at +500 to +600.
Federer, The All England Clubs poster boy, is coming into the Wimbledon (if it is played in summer or early fall) from recent surgery and rehab period. You might remember what happened last time Federer entered a Grand Slam tournament coming from a long break due to injury. The Australian Open in 2017 is arguably one of the best comebacks ever seen in tennis history. After Federer's semi-final loss in the 2016 Wimbledon, the Swiss maestro did not play one single tournament before entering the AO 2017 which he ultimately won, beating Nadal in a 5-set thriller.
Wimbledon is Federer's favorite and most successful tournament. Last year he was the best player in the final but Djokovic proved to be too touch mentally. Will Federer get his revenge this year? He is not getting any younger.
Federer winner odds range from +400 to +650.
Djokovic is the clear favorite to take his third and in the total sixth title but Federer at +650 at DraftKings is just too good to ignore.
Federer +650
Great promotions
Best Multi interface platform
Easy registration process
Get $600 bonus
Tennis has in the last decade been a very 4-man focused and predictable show. We have to go back to 2002 to find a winner outside the 4 greats. That year the charismatic Australian, Leyton Hewitt, clinched his only Wimbledon title. Is this the year for a new winner?
3 of the last 4 Wimbledon have had finalists outside the 4 greats.
2016: Raonic, lost to Murray
2017: Cilic, lost to Feder
2018: Anderson, lost to Djokovic
So who can challenge the top 3? There are a few players I think can crack the code and win this year Wimbledon.
Tsitsipas, the young greek, has a winning attitude that has seldom been seen on a tennis court before. His game of play should be perfect for grass-court tennis and he has proven that he is a man who likes to be on the big scene (winner of the APT Finals in 2019). His Grand Slam record is so far not reflecting his potential and 2020 Wimbledon might just be that break-through for him.
Tsitsipas odds +1400
Raonic, played incredibly in the Australian Open and moved around the court better than ever. Djokovic ended his AO run and would likely do it again if they would be to meet in Wimbledon. He has been in the finals before and his style of play is tailor-made for grass-court tennis.
Odds on Raonic +2000 to +2800
Kyrgios, has the quality to do it and he knows he can win it. In the AO he showed something he has never shown before on a tennis court, true grit. If Kyrgio can keep the mental aspect of his game in shape then who knows what can happen. It is very much like Nadal concluded after being asked if Kyrgios could ever win a Grand Slam…IF IF IF IF IF, then yes. A lot of ifs but he definitely has the potential.
Kyrgios odds from +2500 to +3300
Kyrgios is a crazy but he is also a genius. He knows he can do it but does he want it bad enough to do it? I believe he has matured over the last year and is ready to take the next step?
Kyrgios +3300
Best Multi interface platform
Easy registration process
Great promotions
Get $600 bonus
Medvedev, has been struggling to find his form since his magical run in fall 2019. He is a future grand slam winner but not this time.
Medveded at +1000 is not good enough.
Del Potro, is recovering from yet another surgery. The non-stop injury afflicted Argentian has had some great results form Wimbledon and how good he will be when he returns is hard to predict. He has all the qulaity needed to win a second grand slam (US Open winner in 2009).
+10000 at DraftKings is worth putting some money on.
Thiem reached the final in AO and was not that far from beating the Djoker. You might ask yourself why he is not considered as one of the favorites? Simple answer, this is grass and Thiem is best at clay and hard-court. He has actually beaten Federer on grass once but i a grass slam on grass I just don't think he has what is takes.
+2500 at DraftKings is worth a small bet if you are a Thiem fan.
The odds on Murray has the biggest spread I've seen in a very long time.
BetMGM: +2000
DraftKings: +3300
Bet365: +1200
Bet365 is a UK based sportsbook and their odds compiliing obviously support Andy Murray. +1200 is just mad and there is no chance in hell those odds make any sense. DraftKings on the other hand which tend to have the best odds for Wimbledon (see chart below) are much close to where Murray should be. Better to save your money, Murray won't win.
Rublev should be considerd as an outsider. Some of you might not have heard or know very little about this hard hitting, super high intensity player. Why should you back Rublev? The answer is simple, he has the firepower to beat anyone and if he has a good two weeks there is a slim chance he could win this.
Rublev had a fantastic start of this season and has been on the rise for some time now. In his youth he was the more prominent player out of the russians (Medveded and Khachanov) and right now I would rank him higher than Medveded (#5).
Rublev can be backed at +6600. It would be one of the greatest upsets of all time in grand slam history but considering how crazy this year has been so far nothing seems impossible.
Rublev +6000
Great promotions
Easy registration process
Best Multi interface platform
Get $600 bonus
Best Sportsbooks for Tennis Betting
Gus Anderson
Gus Anderson is a gambling wizard. As a kid he dreamt about becoming a Tennis, Hockey and Golf professional but ended up as a gambling professional focusing on Tennis and Hockey.