Western Michigan Broncos vs. Akron Zips Betting Picks
November 3, 2020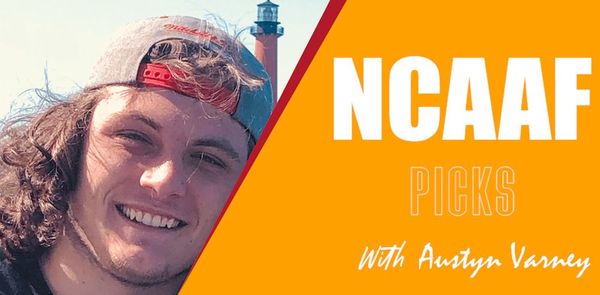 | | |
| --- | --- |
| Date: | Thursday, November 4th |
| Time: | 6:00 PM ET |
| Network: | ESPN3 |
| Venue: | InfoCision Stadium |
| Spread: | WMU -18 |
| O/U: | 54 |
The 0-0 Western Michigan Broncos will go on the road Wednesday night to face off with the 0-0 Akron Zips at 6:00 PM ET in InfoCision Stadium. The MAC will kick off their six-game schedule this week and the Broncos and Zips will be the first two squads to take the field. The Broncos come in as 18-point favorites and we're looking at a 54 over/under. Let's dive into how this game will go down and who will end up covering the spread. Check out my other NCAAF Picks and Predictions for this weekend slate.
Western Michigan is 6-2 ATS in their last 8 games against Akron.
Akron is 1-11 ATS in their last 12 games.
The total has gone UNDER in 6 of Western Michigan's last 9 games.
The total has gone UNDER in 5 of Akron's last 6 games played on a Wednesday.
When The Western Michigan Broncos Have The Ball
The Broncos were one of the best teams in the MAC in 2019, finishing 5-3 in conference play. They'll replace a lot of the starting unit, but the Broncos have ranked third in the conference in recruiting since 2018 and there is expected to be plenty of talent stepping in. They'll also return a few of the key playmakers, who will make things a lot easier on the new faces.
The biggest loss of all comes at the QB position after Jon Wassink graduated. He threw for 3,097 yards and 20 TD's a season ago and won the Broncos a few games single-handedly. It will be sophomore Kaleb Eleby stepping in, who started four games at the end of 2018 when Wassink went down with an injury. He threw for 1,000+ yards, but struggled inside the Red Zone. We'll see how he looks after two more years of practice, but I am expecting great things.
The entire backfield will undergo an overhaul as LeVante Bellamy is gone as well. While Wassink is a bigger overall loss, Bellamy might be harder to replace. He ran for 1,427 yards and 23 TD's in 2019 and added 15 catches. It'll be sophomore Sean Tyler leading the pack this season after he backed up Bellamy a season ago with 68 carries for 390 yards and five touchdowns. He might have averaged more yards per carry, but it'll be interesting to see if he can do it over the long haul. He'll be backed up by graduate-transfer Jaxson Kincaide, who rushed for 894 yards at his time in Nevada.
Another two losses for WMU come at pass-catcher with TE Gio Ricci and WR Keith Mixon. They both caught 50+ balls a season ago and were given a lot of attention by Wassink. Superstar Skyy Moore is the lone returning superstar for the Broncos and he'll be leaned on in a big way in the new-look offense. The 5'9 slot receiver caught 51 balls a season ago for 802 yards and three scores. Dashon Bussell will step in as the number two and he has a ton of upside in the Red Zone on the outside.
When The Akron Zips Have The Ball
The Akron Zips are in year two of their ultimate rebuild and are currently on a 16-game losing streak. They were the only winless team in the FBS a season ago and will look to buck that trend at some point in 2020. They'll be a far more experienced team this time around and the players will know the system a whole lot better. Still, it remains to be seen if the offense will be able to put up points with any level of consistency. They're facing a WMU team that's expected to be one of the best in the MAC, so this opener won't be an easy one.
It starts with redshirt senior QB Kato Nelson. He completed 53% of his passes in 2019 for just 1,822 yards on top of 11 touchdowns and six interceptions. He has to be a lot better, but he also needs some more protection from the offensive line. Four starting lineman return from a season ago and the Zips should give Nelson a bit more time to play with in the pocket.
The Zips tried to run the ball a lot in 2019, but it didn't work out very well. Nelson carried the ball 109 times for just 116 yards, averaging a measly 1.1 yards per carry. He never scored on the ground and is better off handing it off or throwing it. The only leading rusher returning from a season ago is Michiah Burton, who averaged three-plus yards per carry en route to 117 yards and a touchdown. He'll take over the RB1 role, but will be complemented by four or five other backs.
Both leading receivers Jeremiah Knight and Nate Stewart return after catching 30+ balls apiece. Stewart caught three of the Zips 10 TD's and he will remain the top option in the Red Zone. Timothy Scippio caught another three of the touchdowns on just 12 total catches, so he must be given attention near the goal line as well. The Zips have plenty of talent on offense, but the defense must stop a Broncos attack that can be versatile and deadly.
The Pick: Western Michigan +18
The Zips are going to be better than they were a season ago and I'm willing to say they get their first win in three seasons in 2020. However, it won't be on opening night against a Western Michigan Broncos team that's looking to contend for the MAC title. The Broncos might be missing some key pieces from a season ago, but they will quickly be forgotten if these new names can step in and be just as good. I have high expectations for the new-look offense under Kaleb Eleby and the running game will be fine until they find their workhorse. The Zips might make it tough for a quarter or so, but the Broncos will pull away and pick up an easy victory to start the season.