UFC Vegas 9 At The Apex – Overeem vs Sakai Betting Plays and Predictions
September 3, 2020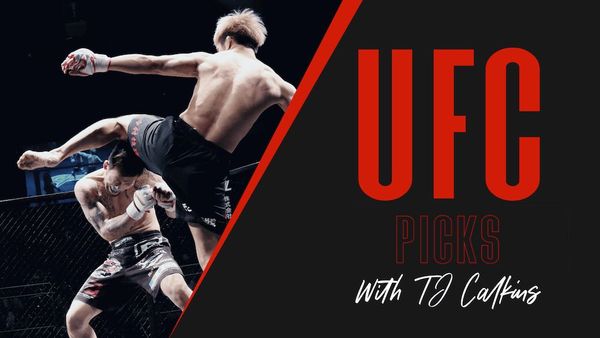 This is the second week in a row we get a scheduled fight night card that is both short on star power and quantity of scheduled fights. Last week we avoided the pit falls of the previous week and only had one change to the fight card from the beginning of the week. This week is trending in that same direction, let's hope our ten scheduled fights go off as planned.
Before diving into this week's betting slate, let's take a look at the results from last week. We had just three plays. One rock solid favorite and two value dart throws.
Before diving into this week's betting slate, let's take a look at the results from last week. We had just three plays. One rock solid favorite and two value dart throws.
✅ Win – Impa Kasanganay -135
This was our rock solid favorite that cruised to a dominant decision win over Maki Pitolo. This fight was a runaway, despite Impa not being able to win via finish. It was however a no sweat easy win.
❌ Loss – Robbie Lawler via KO +460
We were able to tear up our betting tickets for this one in the very first round. Lawler did the absolute dumbest thing he could do in this matchup and attempted to grapple with Neil Magny. This low IQ approach lead to him being controlled for the majority of the fight, and losing a runaway decision. Really poor strategic planning for Lawler here.
❌ Loss – Ji Yeon Kim +245
Kim was certainly larger, but Alexa Grasso passed the test of being effective at the new weight class. Kim was not helpless, but was clearly beaten via decision by Grasso in the striking affair we thought we were going to see.
The favorite win and two underdog losses lead to a small loss of a single unit on the night.
Let's dive into this week, where we have more bets to attack than in previous weeks. We have five plays that include three flat plays and two KO value shots for sound returns.
Alistair Overeem -150 vs Augusto Sakai
Betting Play: Overeem -150
Fight is five rounds at heavyweight and is -285 to end inside the distance.
This is a main event fight that I suppose Sakai has earned with his 4-0 debut in the promotion, but one that I feel is simply not lined wide enough. Sakai has gotten by with his somewhat rounded skill set combined with nice athleticism and size, but the jump in competition in this fight will prove to be too much for him. Sakai lacks an offensive grappling skill set in which he would be able to ground and pound Overeem out, and also lacks one shot power. The above two attributes have been the consistent requirement to beat Overeem, and if Reem were to lose this fight, it could arguably be called the worst loss of his career. Reem has the tighter and more powerful striking. He is also a superior grappler, particularly in top position. I think Reem will tune up Sakai on the feet the longer this fight wears on, as Sakai pressures, but is not at a level where he will be able to avoid the pistons coming back at him. Reem also has even more of an advantage on the floor, where I think he would somewhat easily end the fight from top position. This line simply does not properly reflect the skill sets of these fighters. I also believe the durability concerns of Reem are overstated, as Sakai simply does not have the pop that the killers that have beaten Reem recently have. That list includes ground and pound from Miocic and Blaydes and of course, Ngannou. Take Reem flat here to cover all avenues of victory.
Alonzo Menifield -135 vs Ovince Saint Preux
Betting Play: Menifield wins in Round 1 +325
Fight is at 205 lbs and is -250 to end inside the distance.
When this fight was first made for the card a couple weeks back, I was giving Saint Preux (OSP) more of a chance than I am now. The reason for the fight being pushed back was OSP returning a positive COVID test, and we have to assume he's been sitting around waiting for clearance. Menifield's last fight makes it easy to forget what a killer he has been in the first round to this point in his career, and there is an exploitable line on this fight to attack that. Menifield will be dropping hammers that OSP will need to survive, and I think it's a coin flip at best that he is able to make it out of that first round. Enter the attractive line of Menifield wins in Round 1 sitting at a way too high +325. If this play loses and the fight gets to Round 2, the fight is dicey and can go either way. The value, however, is just too good to pass up.
Karol Rosa -135 vs Sijara Eubanks
Betting Play: Eubanks +105
Fight is at 135 lbs and is +175 to end inside the distance.
This is a fight I feel is improperly lined. Karol Rosa has started her Octagon career at 2-0, with a pair of decision wins, albeit against questionable competition. She flashes sound ability, but the thing that stick out the most for me when watching her, is just how hittable she is. Her debut matched her up with a normal flyweight that is a grappler first, and she ate 165 significant strikes on her way to eeking out a split decision. The follow up was perhaps against even lesser competition, as Vanessa Melo is likely one fight away from being cut by the promotion. This step up to Eubanks is truly a massive one, despite Eubanks not quite living up to expectations to date. Eubanks is going to crack Rosa with more power than she's experienced before (don't forget the lack of head movement for Rosa), and Eubanks will land takedowns in this fight. Rosa's ability to return to her feet will be a massive key to keeping this fight competitive. Where Rosa can win is with her better volume throughout and perhaps with better cardio late in the fight. I don't know that this will be a runaway fight for Eubanks, but I do believe she should be the favored fighter and is more likely to win. The +105 flat price on Eubanks is an attractive one, and one we will attack.
Thiago Moises -170 vs Jalin Turner
Betting Play: Turner via KO +320
Fight is at 155 lbs and is -230 to end inside the distance.
This is a striker versus grappler matchup, and I believe the chasm between the two in the striking department is much larger than the divide in the grappling realm. Of course, the underdog Turner is the striker here. He is the larger fighter and will have a 5" height and 7" reach advantage. While he is not a high volume striker, essentially everyone throws more volume than that of Moises. Turner has real power, and he will be testing the chin of Moises while this fight is on the feet. Now, Moises is the superior BJJ player despite Turner being far from helpless in that realm. The problem for Moises is the lack of wrestling and lack of paths in which he can get the fight to the floor. If and when this is forced to remain a standing fight, Turner will hit and hurt Moises, and ultimately knock him out. The flat line on Turner is attractive enough, but the KO line is the superb value, sitting at +320. That is our avenue of attack in this fight and should be a very nice plus figure return for us.
Viviane Araujo -180 vs Montana De La Rosa
Betting Play: Aruajo -180
Fight is at 125 lbs and is +175 to end inside the distance.
We've already covered two improperly lined fights on this card, and this one easily falls into that category as well. Montana De La Rosa has had success thus far in the octagon, sitting at 4-1, but this step up is much more than she is ready for. De La Rosa has a good BJJ skill set and has mainly made her living in the octagon thus far beating on lower level grapplers. While she may have an advantage on the floor in this one, I am highly skeptical she will be able to get the fight to the floor in the first two rounds. She may be able to in the third round, should the fight last that long, if Aruajo tires, but even then it is a coin flip at best, and she will be down two rounds at that point. Why will she be down two rounds? Because the striking disparity between these two fighters is just massive. Araujo has sound movement and big power and is just miles better than De La Rosa on the feet. Aruiajo may lay it on to the point that she gets a KO, but she will definitely be hurting De La Rosa for as long as her cardio goes for. While the cardio is a slight worry, I have a difficult time envisioning De La Rosa finding a finish in this fight, and Aruajo will just about certainly win the first two rounds. Take the way too short lined favorite Araujo to win in dominant fashion.
Other Fight Predictions
👊 Michel Pereira via KO over Zelim Imadaev 👊
👊 Andre Muniz via sub over Bartosz Fabinski 👊
👊 Alexander Romanov via ground finish over Marcos Rogerio de Lima 👊
👊 Cole Smith via decision over Hunter Azure 👊
👊 Brian Kelleher via sub over Kevnin Natividad 👊
TJ Calkins
TJ Calkins was raised in a gambling loving household. He knew how to handicap horse races and follow line movements well before his tenth birthday. While sports betting remained a passion into adulthood, poker and Daily Fantasy Sports also became passions and remain as such today.