Super Bowl 2021 Futures: Teams To Attack and Fade in 2020-2021
December 3, 2020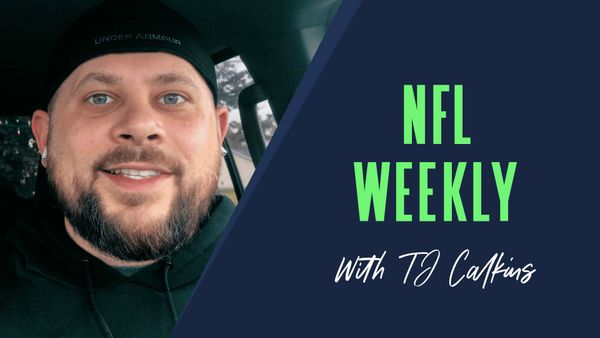 With the meat and potatoes portion of NFL free agency behind us, we have a good enough idea of how each roster will look come opening day, save for rookie additions during and after the draft.
With the lack of daily betting opportunities due to the pandemic the world is facing, this seemed the perfect opportunity to address which teams to attack in terms of the outcome of the upcoming NFL season. I pulled composite odds from DraftKings Sportsbook, and will break down my expectations in each conference, and ultimately who to look to for Championship bets.
Let's start with the AFC. I will offer a breakdown in each division and who to target, if any, before ear marking the true Super Bowl contenders and which ones bring favorable prices.
Odds to Win 2020-21 AFC East (1/3/21)
New England Patriots 1/1
Buffalo Bills 8/5
New York Jets 15/2
Miami Dolphins 9/1

This division is as wide open as it has been in a very long time with Tom Brady moving on from the New England Patriots to the Tampa Bay Buccaneers. This means the quarterbacking in New England will likely fall to journeyman Brian Hoyer or to 2019 fourth round pick Jarrett Stidham.
Needless to say, a passing offense that struggled without a plethora of weapons in 2019 will be a long-shot for effectiveness in 2020 with their 20 year trigger man in Brady having moved on. This means that for the first time in two decades, one of the other teams in the division will likely have their day in the sun.
The problem is, the timing couldn't be worse for two of the teams in the division. The Jets remain a disaster, as will any team coached by Adam Gase and simply do not have a roster to overcome his deficiencies. The Dolphins are entering year two of their rebuild and will have some level of improvement this season, but realistically 2021 will be the year for them to take a step forward. They are upwards, but not at a competitive level just yet.
This leaves just the above average but far from elite Bills as the logical choice to win this division. Their +160 price tag is just okay and not one to be overly excited about and this is a division best faded from a betting standpoint.
Odds to Win 2020-21 AFC North (1/3/21)
Baltimore Ravens 1/2
Pittsburgh Steelers 7/2
Cleveland Browns 5/1
Cincinnati Bengals 20/1

The offense Greg Roman has designed around and to suit the skill set of quarterback Lamar Jackson is rightfully one that oddsmakers believe to be something of a shoe in for Baltimore to win the AFC North.
While the Ravens will remain a high end team with a winning record, not so fast my friends. The Steelers had a bit of a lost season in 2019 with abysmal quarterback play sans Ben Roethlisberger. They will rebound on the return of Roethlisberger, but this is baked into the odds and they do not quite offer enough equity to attack.
The Browns are the value in this division in a post hype season in which rotten coaching lead them to fall well short of expectations. The Browns made a big free agency splash, making Austin Hooper the league's highest paid tight end and adding him to an elite group of skill position players around Baker Mayfield, and adding Jack Conklin to the offensive line. It is assumed the offensive line will be further addressed in the draft and the defense remains at an average level that is good enough to win this division if the offense hums in a way we expected it to in 2019.
The Browns at +500 are a sound value and a sound bet for the division.
Odds to Win 2020-21 AFC South (1/3/21)
Indianapolis Colts 3/2
Tennessee Titans 8/5
Houston Texans 3/1
Jacksonville Jaguars 14/1

This division will likely look like it did in 2019 with the Titans emerging from the pack. Their emergence was on the back of a quarterback change to Ryan Tannehill, who will return in 2020 and it is a bit of a head scratcher that they are not the favorites for the division.
The Jaguars are a long way from competitive while the Texans are in the midst of the worst player acquisitions/sales in memory, and will be haunted by the foolish forced departure of Deandre Hopkins.
The Colts have brought in Phillip Rivers to take over at quarterback, but he is far from elite and just an average player at this juncture of his career, and was often the culprit in the comedy act of "how to lose games in different ways" that summed up the Chargers season in 2019.
The Titans at +160 are a value and a team that should have been even money or less for this division.
Odds to Win 2020-21 AFC West (1/3/21)
Kansas City Chiefs 11/50
Denver Broncos 8/1
Las Vegas Raiders 10/1
Los Angeles Chargers 10/1

The Chargers will likely be drafting their future quarterback in late April, and have a high end defense, but will not be ready to compete with the Chiefs in 2020.
The Broncos and Raiders will both be improved, but are still miles from the defending champion Chiefs, who are the class of the conference.
The Chiefs will run away with this division again, but laying nearly 5 to 1 is not something I'm interested in. The Chiefs will be a better value in bets to advance to and win the Super Bowl.
Odds to Win 2020-21 AFC Championship (1/24/21)
Kansas City Chiefs 3/1
Baltimore Ravens 15/4
New England Patriots 8/1
Pittsburgh Steelers 11/1
Buffalo Bills 13/1
Indianapolis Colts 13/1
Tennessee Titans 14/1
Cleveland Browns 15/1
Denver Broncos 18/1
Houston Texans 22/1
Las Vegas Raiders 22/1
Los Angeles Chargers 22/1
New York Jets 30/1
Miami Dolphins 33/1
Cincinnati Bengals 40/1
Jacksonville Jaguars 60/1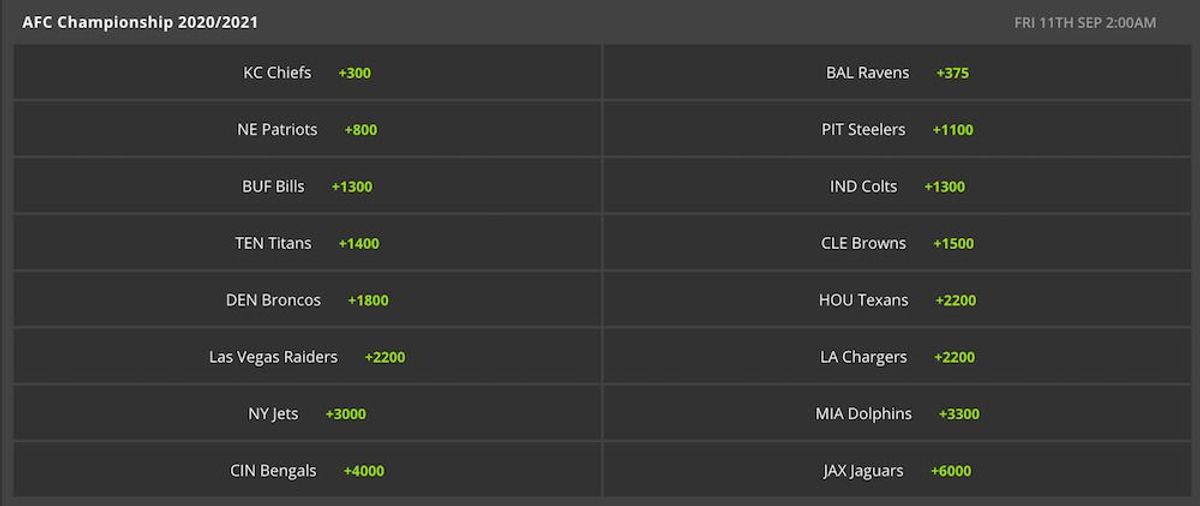 The Chiefs remain the class of this conference, and now with a Super Bowl win already under their belts and their core intact, it boggles the mind a bit that we can still get them at +300 to win the conference.
Lamar Jackson and the Ravens have had unceremonious exits from the playoffs in consecutive seasons and will need to prove they can perform on the larger stage before we can even think to wager on them.
The value plays on teams that could take that next step in the conference are the Titans at +1400 and the Browns at +1500.
Odds to Win 2020-21 NFC East (1/3/21)
Philadelphia Eagles 11/10
Dallas Cowboys 27/20
New York Giants 8/1
Washington Redskins 10/1

The oddsmakers have rightfully dubbed this division to be a two horse race between the Eagles and Cowboys. The Giants and Redskins simply do not have the rosters to be competitive in 2020. The Giants are well ahead of the Redskins but their ceiling seems to still be just in the .500 range.
The Cowboys will need to find a way to make accumulating offensive statistics translate to more wins under retread coaching hire Mike McCarthy. This was a lateral move at best from Jason Garrett, but Jerrah gonna Jerrah and has likely earned a second place divisional finish for another season, falling short of the Eagles once again.
Carson Wentz was back to his masterful self down the stretch in 2019, earning the Eagles a playoff berth that most were gifting to the Cowboys while his top wide receiver was *checks notes* Greg Ward. This will not be the case in 2020 with the return of Deseasn Jackson and Alshon Jeffery and the near certainty of the addition of at least one rookie wide receiver from a draft class that projects as elite at the position.
The Eagles are not the strongest play among the bets for a divisional win, but they make it inside the cut line and are worth a play at +110.
Odds to Win 2020-21 NFC North (1/3/21)
Green Bay Packers 5/4
Minnesota Vikings 21/10
Chicago Bears 7/2
Detroit Lions 8/1

This is a dicey division with the Packers, by my estimation, as far too heavy of favorites and an easy fade. The version of Aaron Rodgers that has lead this team for the past two seasons is a shell of the player we were accustomed to in previous seasons and this is not a team as a whole that should be anywhere resembling even money for their divisional crown.
On even footing with the Packers are the Vikings, who will get an influx of talent in the draft after getting a favorable deal from the Bills for overhyped wide receiver talent Stefon Diggs. They will remain an above average team that is in the mix for a playoff spot but lack elite tools and coaching to make a true run at the conference.
The Lions will be average at best and not a team to look look, but the Bears are a team that could have a true resurgence in 2020. It was painfully obvious to everyone except head coach Matt Nagy that quarterback Mitchell Trubisky was torpedoing the team in 2019, yet he would not make a change. That aspect has changed this offseason as they brought in journeyman vet Nick Foles, who will blow Trubisky out of the water in any camp competition, and the team will be markedly better for it.
The Bears also still bring a high end defense and should get a step forward from second year running back David Montgomery.
If you are making a play on this division, the Bears at +350 are the best value, but probably a division best faded.
Odds to Win 2020-21 NFC South (1/3/21)
New Orleans Saints 10/11
Tampa Bay Buccaneers 29/20
Atlanta Falcons 7/1
Carolina Panthers 20/1

With the Panthers having a retool season, if not going full rebuild, and the Falcons stuck in neutral, the question in this division is simply "can Brady and the Bucs give the Saints a run for their money?" The answer is almost assuredly no as the Bucs secondary will still be among the league's worst in 2020, but they are the only team to project giving the Saints any real worries.
Generally speaking I'm not a fan of laying odds for a divisional winner, but the Saints are head and shoulders above in this particular one, and at just -110 and having Drew Brees back for another Super Bowl run, I'm all for taking this small favorite. Take the Saints here.
Odds to Win 2020-21 NFC West (1/3/21)
San Francisco 49ers 23/20
Seattle Seahawks 9/4
Los Angeles Rams 4/1
Arizona Cardinals 7/1

This is going to be a very competitive division. The Cardinals are poised to take a huge step forward in the second season of Kyler Murray/Kliff Kingsbury with the addition of all universe wide receiver Deandre Hopkins. Their defense will remain suspect but this should be a fast paced team and elite offense that will be quite entertaining to watch in the 4PM EST time slot on a number of occasions.
The Rams are a complete unknown, and we will learn if the 2018 or 2019 version was the most accurate reflection. The Seahawks have a real ceiling with Russell Wilson having the best weaponry of his career and asking for a more pass heavy approach. If he gets his wish, this team will be dangerous. This is all leading up to the team that won the conference last year, in the 49ers. They remain an elite team and probably bring a floor of 10 wins, and
I have to state again, this division will bring fireworks in 2020. We are fading it from a betting perspective but will be eager and ready to watch how it plays out.
Odds to Win 2020-21 NFC Championship (1/24/21)
San Francisco 49ers 9/2
New Orleans Saints 13/2
Philadelphia Eagles 15/2
Tampa Bay Buccaneers 8/1
Dallas Cowboys 10/1
Seattle Seahawks 10/1
Green Bay Packers 11/1
Minnesota Vikings 13/1
Chicago Bears 15/1
Los Angeles Rams 15/1
Atlanta Falcons 20/1
Arizona Cardinals 22/1
Detroit Lions 28/1
New York Giants 28/1
Carolina Panthers 35/1
Washington Redskins 40/1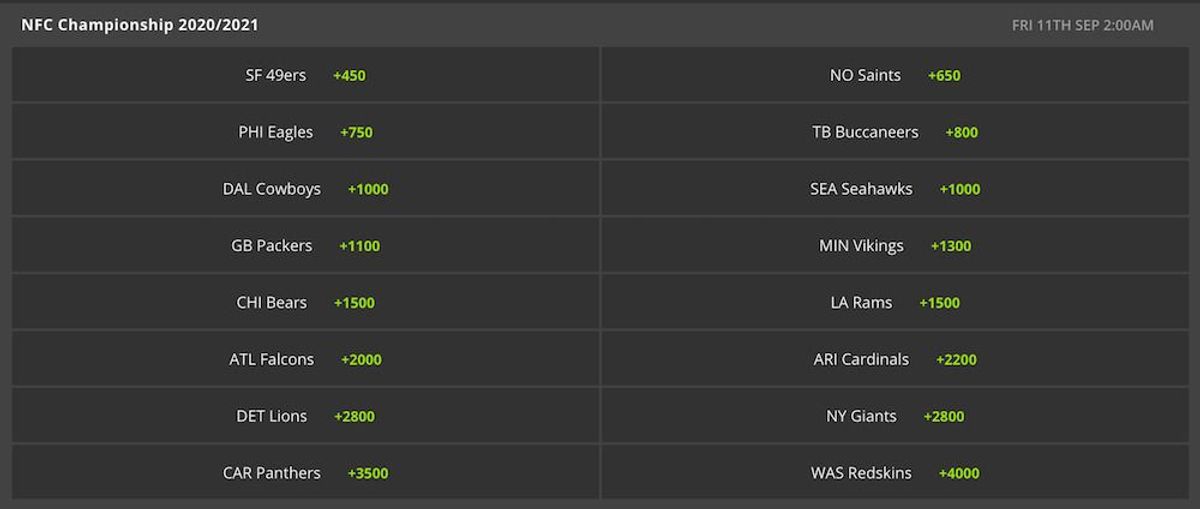 The NFC representative in the Super Bowl bring some fun options. This conference is not nearly as top heavy as the AFC and the gaps between the teams are much flatter, so naturally we want to fade the chalk with this being the case.
Of the top five listed teams, only the Saints at +650 and the Eagles at +750 are a truly attractive proposition. After them we can look to the Seahawks at +1000 to make a true ascension if they are willing to let Russell Wilson be his elite self with additional volume. It would actually be a blessing in disguise for them if two down back Chris Carson were not available to start the season as it would nearly force them to utilize optimal offensive play calling.
Odds to Win 2020-21 Super Bowl LV (2/7/21)
Kansas City Chiefs 6/1
Baltimore Ravens 15/2
San Francisco 49ers 9/1
New Orleans Saints 14/1
Philadelphia Eagles 16/1
Tampa Bay Buccaneers 16/1
New England Patriots 18/1
Dallas Cowboys 20/1
Seattle Seahawks 20/1
Green Bay Packers 22/1
Pittsburgh Steelers 25/1
Buffalo Bills 28/1
Indianapolis Colts 28/1
Minnesota Vikings 28/1
Tennessee Titans 30/1
Chicago Bears 33/1
Cleveland Browns 33/1
Los Angeles Rams 33/1
Atlanta Falcons 40/1
Denver Broncos 40/1
Arizona Cardinals 50/1
Houston Texans 50/1
Las Vegas Raiders 50/1
Los Angeles Chargers 50/1
Detroit Lions 66/1
New York Giants 66/1
New York Jets 70/1
Carolina Panthers 80/1
Miami Dolphins 80/1
Cincinnati Bengals 100/1
Washington Redskins 100/1
Jacksonville Jaguars 150/1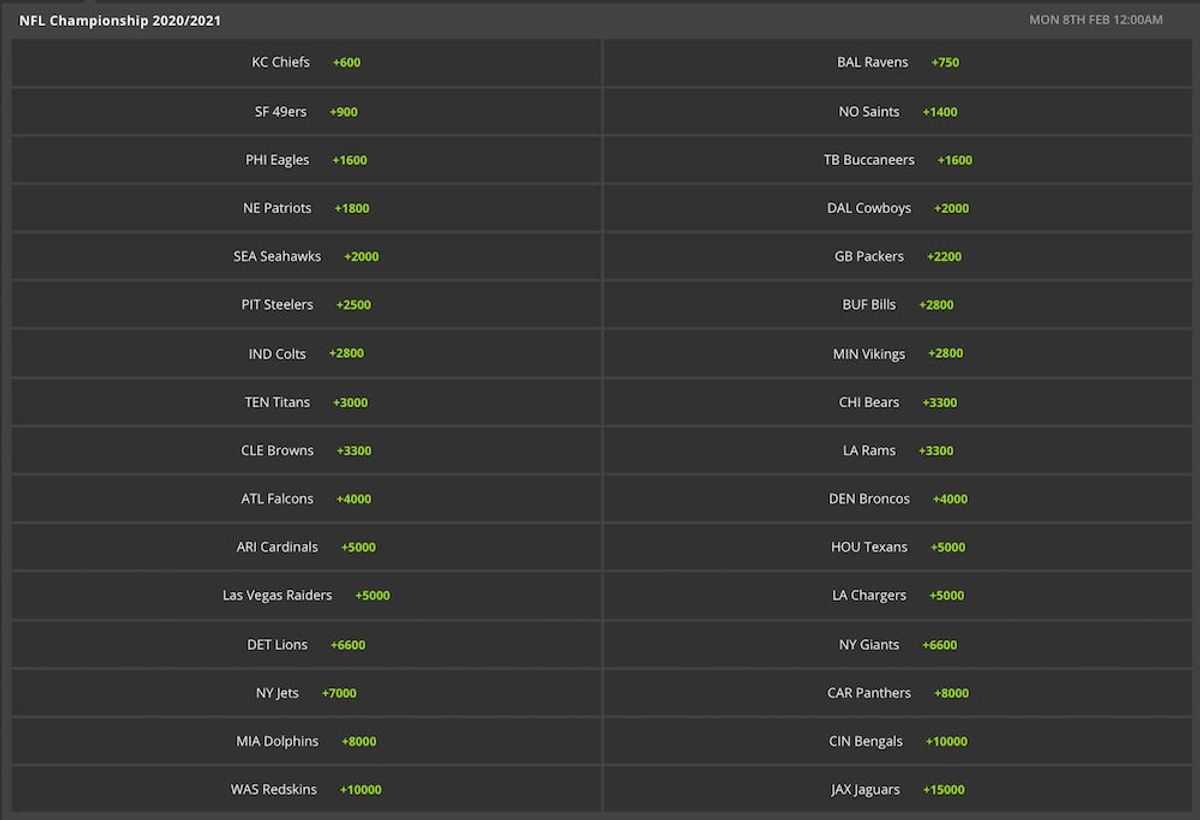 Alas we get to the end, who wins it all come February? The Chiefs at +600 are easily the best play as the defending champs are only going to improve in 2020.
It seems simply unfair that Patrick Mahomes is still just 24 years old and hasn't come close to peaking quite yet. Now if looking for higher odds teams that could have a dark horse title run in their hip pocket, we will look to the teams we wanted to advance to the Super Bowl. On the AFC side that remains the Titans +3000 and Browns +3300. On the NFC side, the Saints +1400 and Eagles +1600 are sound, but not offering an ideal rate of return, while the Seahawks +2000 are only slightly better. The more wide open nature of the NFC is what is keeping these figures down form ideal pricing.
Good luck with your futures here and be sure to come back in April to check out the NFL Draft Props piece!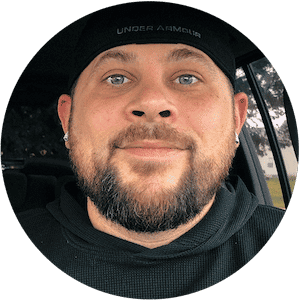 TJ Calkins
TJ Calkins was raised in a gambling loving household. He knew how to handicap horse races and follow line movements well before his tenth birthday. While sports betting remained a passion into adulthood, poker and Daily Fantasy Sports also became passions and remain as such today.