Week 7 NFL Picks -TJ Calkins Weekly Football Picks
October 21, 2020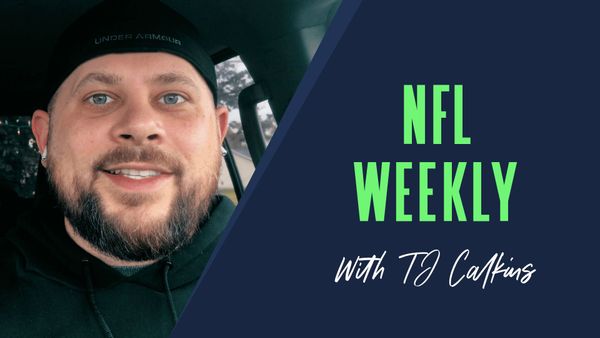 I believe we are turning the corner in this 2020 NFL season. All of the odd circumstances surrounding the season are starting to normalize, and it is beginning to have the feel of a more typical season. This is the first week in some time we have no rescheduled games, and I think both players and coaches are now having a feel for how to navigate this season. While I do believe that to be true, it would certainly be helpful for gamblers if it were true. Adding consistency and increased predictiveness can never be a bad thing.
We have four flat plays for Week 7. Of course, those will be supplemented by prop plays and a Monday night piece as well. Read Week 6 recap.
Let's get to this weeks NFL Picks.
Detroit Lions 2-3 at Atlanta Falcons 1-5
1PM EST
Opening Line: Falcons -1.5 and 56.5
Current Line: Falcons -2.5 and 55
It would be easy to be fooled by the Falcons last week. They got their first win of the season, and the defense had a good first half, their first sound half of the season. They intercepted Kirk Cousins three times and put up a shocking scoreless half. Of course that 23-0 lead turned to a 40-23 final, so it is fairly safe to say that first half was an anomaly. The list of teams that have allowed more points is short, and is as follows: Cowboys, Jets, Browns. That's it, that's the list. Enter the matchup with the Lions, who have had no problems scoring of late. They are averaging 29.7 points over their last three games with a low of 26 and have seemingly learned they have an effective young running back in Swift. Star receiver Kenny Golladay also seems to have settled in and an explosion game is coming for him, probably this week. Tight end TJ Hockenson also gets a sweet matchup as the Falcons are clueless in tight end coverage. All signs point to Stafford and company uncorking an offensive explosion against an Atlanta unit that has allowed at least 23 points in every game and at least 30 in four of six.
The Falcons were able to play from ahead against the Vikings, and the Vikings are much like the Browns in the sense that early negative game scripts will be their undoing. We won't see three early interceptions from Stafford like we did with Cousins, the Falcons will be forced to chase points and I don't see them being able to have balance on offense like they did last week. Gurley had 21 carries which he did nothing with, but a one dimensional Falcon offense is much much easier to defend. If you can't tell, I believe the wrong team is favored in this game, and, per usual, the Falcons being competitive will hinge on the wide receivers, and more importantly the play of Matt Ryan. Ryan has been very unsteady this season and the velocity on his throws looks to be going the way of Philip Rivers and Drew Brees. We have also seen improvements from the Lions secondary in recent weeks, which was understandably unsteady to start the season, but seems to be settling in.
I think there's real value in the underdog Lions, and certainly deem them more likely to win. Take the points here.
Green Bay Packers 4-1 at Houston Texans 1-5
Betting Play: Packers -3.5
1PM EST
Opening Line: Packers -3.5 and 56
Current Line: Packers -3.5 and 57
As a general rule, do not let very recent outcomes sway you from the body of work. This holds especially true for the Packers this week, as they come off of a complete dud in Tampa last week. The Bucs have shown enough to make me believe they are a high end team, and the matchup with the Texans this week, well, it's not the same. Both sides of the ball failed for the Pack last week, but let's start with the defensive side of the ball. Mike Pettine defenses in general will fail more against teams who are able to lean on the running game, and that was certainly the case last week with the Bucs. They were able to call more runs than passes and nearly accumulated more rushing yardage than passing yardage. The Texans are simply not built to attack the same way as they don't run block well and they rely on a declined back in David Johnson who can no longer remotely control a game. The secondary is far better in coverage than the Titans and will not allow Watson to rain on them as he did last week, and once the Packers build a lead, they will make the one dimensional Texans struggle.
On the offensive side of the ball for the Pack, it's very easy to pinpoint what happened last week. Aaron Rodgers played very poorly, and was not at all the player we saw this season leading up to last week's game. I think it is a safe assumption that he will bounce back this week against a Houston defense that is exploitable at all levels, and we will see effectiveness with balance from the Green Bay offense. Backs tend to do their best work against Houston, but they truly can be beaten everywhere. We will see this offense get back to the version that averaged 38 points per game over their first four games over the version that scored 10 last week. This is the type of soft matchup they have feasted on and will continue to do so. Take the Packers to roll.
Seattle Seahawks 5-0 at Arizona Cardinals 4-2
4:05PM EST
Opening Line: Seahawks -2.5 and 55
Current Line: Seahawks -3.5 and 56
Get your popcorn ready, we are going to have fireworks in this one! If you have been living under a rock to start the NFL season, you will have missed that "Russ is cookin." That is to say, Russell Wilson is taking the league by storm, as DK Metcalf has taken a big step forward to high end receiver, and has made defending Wilson throwing to the collective pass catching corps nearly indefensible. The Seahawks are averaging just under 34 points per game in their 5-0 start. In this matchup, the Cardinals schedule has made their pass defense appear much better than what it is. I would surmise they have only played two top half passing offenses thus far, no elite ones, and have allowed 26 and 31 points in those games. Assuming Arizona stays competitive in this one, and I think they will, I somewhat expect a forty burger from the Seahawks this week. The other fun thing about the Seahawks is that they are allowing a lot of points as well. They are allowing 27 per contest and have allowed at least 23 in every single game. That will continue in this one as the Cardinal passing offense keeps a high scoring pace, as will be necessary with the Seahawks. They have put up 68 points over the last two weeks against poor defenses, and that was without the need to keep a scoring pace with their opponents. These teams both rank top three in pace of play, and we will see a ton of snaps that lead to a lot of big plays on both sides. They simply could not set this total high enough and we will be attacking the over, even with the comparatively high figure of 56.
Pittsburgh Steelers 5-0 at Tennessee Titans 5-0
4:25PM EST
Opening Line: Titans -1 and 52.5
Current Line: Titans -1 and 50.5
This is an amazing game that comes at an amazing time. The clash of unbeaten teams is not one that I believe will be a low scoring affair. I often talk about the elite wide receiving corps the Steelers have, and this is absolutely a matchup they will feast on. While they had an outlier of holding Josh Allen in check a couple weeks ago, this is a team, that while elite, has allowed 30 or more points in three of five games, including 36 against the Texans last week. The Steelers pass catchers, frankly, blow those of the Texans out of the water, and will essentially run free for the entirety of this game. I don't believe the Steelers will have success running the football, so even if the game plan comes incorrect, it will be tweaked to fit the matchup, and inevitably find success.
On the other side of the ball, Ryan Tannehill continues to play at an extremely high level, and they will need that to continue in this matchup. We know Derrick Henry often carries this offense, but the matchup in this one is a very rough one as the Steelers are the best in the league against the run. Could Tennessee get out to an early lead and then pound Henry? Sure, it could happen, but I don't deem that a likely outcome. More likely is the Steelers score early and often and take away any real thought of a ball control game plan.
If this game were in Pittsburgh, I would have a strong lean to the Steeler side, given that the Steelers may very well be able to bottle up Henry. With it being in Tennessee and knowing the level Tannehill is playing at, I think the outcome of the game is wide open, but I do expect a lot of scoring. I truly think the Titans secondary is going to be overwhelmed by the Steeler wide outs and we will see a coring pace that comfortably surpasses the total, which has conveniently moved downwards this week. Take the over in this one.
🏈 Eagles win and cover against the Giants, over 🏈
🏈 Browns win and cover at the Bengals, under 🏈
🏈 FT wins in a pickem over the Cowboys, over 🏈
🏈 Saints win but don't cover against the Panthers, over 🏈
🏈 Bills win and cover against the Jets, under 🏈
🏈 49ers win as underdogs at the Patriots, over 🏈
🏈 Chiefs win and cover at the Broncos, over 🏈
🏈 Bucs win and cover at the Raiders 🏈
🏈 Chargers win but don't cover against the Jags, over 🏈
TJ Calkins
TJ Calkins was raised in a gambling loving household. He knew how to handicap horse races and follow line movements well before his tenth birthday. While sports betting remained a passion into adulthood, poker and Daily Fantasy Sports also became passions and remain as such today.