Week 12 NFL Picks – Picks and Predictions by TJ Calkins
November 26, 2020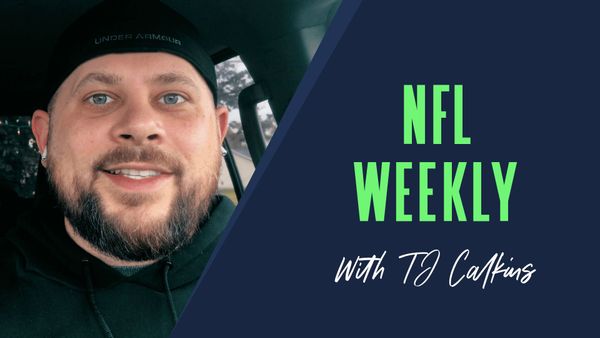 The NFL Week 12 Sunday slate got bolstered a bit with the Steelers vs Ravens game being moved form Thursday to Sunday. More on this game later, but there is a chance this game could be moved again due to the Ravens COVID-19 issues. This is one of the marquee matchups we get in Week 12 NFL Picks, and there are others that will certainly have bearing on both playoff chances and seeding for a number of teams.
The AFC South crown could very well be decided on Sunday, as the Colts host the Titans, and one of these 7-3 teams will take full control of their own destiny atop their division.
The matchup between the Vikings and Panthers is not necessarily a game circled for playoff implications, but the loser of this game will see their hopes extinguished.
The Bears are in a dire spot for their divisional hopes. They currently trail the Packers by two games in the NFC North, and travel to Lambeau this week in an absolute must win spot on Sunday night if they are to remain in that race.
Last but certainly not least, the Chiefs travel to Tampa on Sunday afternoon. This will be a required bounce back spot for the Bucs if they are to remain alvie in their divisional race, which they currently trail by 1.5 games and see the Saints having a probable win in Denver this week. We will be diving into that game later, but let's jump to the four plays for this week right now.
Las Vegas Raiders at Atlanta Falcons
1PM EST
Opening Line: pick em and 55.5
Current Line: Raiders -3 and 54
We have not seen as many shootouts in Atlanta as we have come to expect this season, and that is to say only three of the five Falcon home games have hit the 55 point mark needed for the over in this matchup. The good news for us watching (and wagering) is that the Raiders have somewhat flown under the radar as a team that plays in shootouts quite regularly. The winning team in every Raiders game, save for the windy weather disaster at Cleveland, has scored at least 30 points. Seven of those ten matchups saw the winner hit 34 points and the average point output for Raider games this season is 57.2 points. If we remove that Browns game that was decimated by weather, knowing the weather won't be an issue in the dome, that average jumps to 61.1 points per contest.
Further analyzing the particular matchup, the Raiders defense has struggles with the higher end passing games in the league. In their six games against teams ranked top six in passing, they are allowing 32 points per game, with the floor game being 24 points, all the way back in Week 2 against the Saints. Enter the third ranked Falcons, at home, and we will see another game in which the Raider secondary gets scorched again. The Raiders do not have a strong pass rush, which has been a real path to slowing the Falcon passing offense, and it will be a bounce back spot for them after the Saints pass rush made their week a tough one last week. We should see both Calvin Ridley and Julio Jones at or nearing full heath and can project them to have similar output to those previous comparable matchups. How do the Raiders respond in such matchups? In those six games, they are happy to go to shootout outcomes. They average 29.2 points scored in those contests and the total points scored in those games averages 61.3. If we take just the most recent four games in our comparable sample, the total point output average jumps all the way to 65.5 points per game.
We know the Falcons defense can be quite friendly, and the Raiders will attack with balance, and we will once again see a scoring pace. When we are looking to check boxes for an over play in a Raiders game, we want to see a subpar defense overall and a high end passing attack. We get exactly that and all signs point to another game played in the sixties for the Raiders. Take the over in this one.
Kansas City Chiefs at Tampa Bay Buccaneers
Betting Plays: Chiefs -3.5 and Over 56
4:25PM EST
Opening Line: Chiefs -3 and 53
Current Line: Chiefs -3.5 and 56
The Buccaneers started their season with a loss in New Orleans, but bounced back to win six of their next seven, but are now on struggling a bit, dropping two of their last three, with the most daunting opponent in the league coming to town. Tom Brady, after looking fully elite for most of the season, has had some struggles with deep balls of late. This might be a get right spot for him, and it may just be an uber fun mega fun shootout. The Chiefs struggled a bit with deep balls last week against the lesser Raiders, and have allowed 31 points in each of their last two games. Both have been wins, and fortunately for viewers, they have been wins of the fun variety. The Chiefs are not a team that can be stopped, instead they are a team that must be outscored. Patrick Mahomes and company have scored at least 23 points in every single game this season, and are truly in stride right now. They have scored at least 33 points in each of their last four games, all wins, en route to a 0-1 record. While they have played some fun games, the schedule has not often matched them up with higher end passing attacks in the league, but that will improve down the stretch. After the matchup with the Bucs this week, they still have matchups with the Saints, Flacons and Chargers remaining on the schedule, and we will be in for more fun, much like in this one.
We have established with current trends, that even though the total sits at a very high figure, we will be attacking the over in this game. I touched on the Chiefs already, but I think they are a prudent side to play as well. Since their Week 5 loss to the Raiders, they are 5-0 with an average point differential of +13.4 per game. Against all non divisional opponents, the Chiefs are 6-0 with an average point differential of +13.5 and only the Panthers have come within a field goal. It should also be noted that was the lone game Christian McCaffrey played since his injury and the Panthers scored very late to get it that close. With the nature of this game being the elite Chiefs at the good Buccaneers, the tighter line makes the Chiefs more attractive than many other spots, in which the lines end up much, much wider. We get two plays out of this fun afternoon game, in the Chiefs and the over.
Baltimore Ravens at Pittsburgh Steelers
Betting Play: Steelers -4.5
1:15PM EST
Opening Line: Steelers -4 and 45
Current Line: Steelers -4.5 and 45
The biggest breaking news for this game is that Lamar Jackson is one of a large group of Raven players to test positive for COVID-19. This group includes both of their top two backs in JK Dobbins and Mark Ingram, and we are going to see Robert Griffin III and Gus Edwards in the backfield against the high end Steeler defense in Pittsburgh. Another note for the Raven offense that simply cannot be understated is that they have lost Nick Boyle for the season. While the tight end is not a prolific pass catcher, he was essentially an extra lineman as a blocker and was a huge key to the rushing aspect of their offense. Without him, they are at least somewhat forced to be more of a passing team. There are pros and cons to that. The biggest pro is that high end pass catching tight end Mark Andrews is playing more snaps running more routes. The con is that whether it is Griffin or Jackson under center, their quarterbacks strengths do not lie in their passing appeal, and are most effective as runners. Even though Andrews is likely to offset the net negative to some degree with some big plays, their offense is going to struggle in Pittsburgh, and likely with turnovers as the Steelers have many opportunistic playmakers on the defensive side of the ball.
On the offensive side of the ball, the pass happy Steelers have the best group of wide receivers in the league. They know this to be true and steadily move the ball with one on one dominance. Diontae Johnson (stop me if you've heard this from me ad nauseum already) remains the most unsung and underrated wide receiver in the league. He is the life blood of the offense with big volume and consistent movement of the ball. It can easily be argued he is an extension of the running game, winning his one on one matchups and having prolific run after catch ability. He is perfectly complemented by the huge playmaking ability of Chase Claypool and the steadiness of tight end(s?) Eric Ebron and Juju Smith-Schuester. That is just a joke on the usage of Smith-Schuester being most like a tight end, I am quite aware he is actually a wide receiver. In any event, the recipe for the Steelers has worked perfectly, as they are the league's only undefeated team, and that will continue in this home matchup.
It is somewhat curious that the Lamar Jackson news has not moved the line at all, but he has certainly not played well nor been a difference maker this season, particularly as a passer. Even still, Griffin is no upgrade, and it would be surprising if the Steelers didn't jump to a lead and slowly but surely expose him as a passer. In any event, this line is not nearly as wide as it should be, and I believe it will be a blow out despite the divisional nature of the matchup. Take the Steelers to roll.
Cardinals win and cover at Patriots, over
Giants win and cover at Bengals, under
Browns win and cover at Jaguars, over
Vikings win and cover against Panthers, over
Titans win as underdogs at Colts, over
Dolphins win and cover at Jets, over
Saints win and cover at Broncos, over
Rams win and cover against 49ers, over
Packers win but no cover against Bears, under
Be sure to check back Saturday for prop plays and Sunday for a look at the Monday Night matchup!
TJ Calkins
TJ Calkins was raised in a gambling loving household. He knew how to handicap horse races and follow line movements well before his tenth birthday. While sports betting remained a passion into adulthood, poker and Daily Fantasy Sports also became passions and remain as such today.