Middle Tennessee Blue Raiders vs. UTSA Roadrunners Betting Picks
September 22, 2020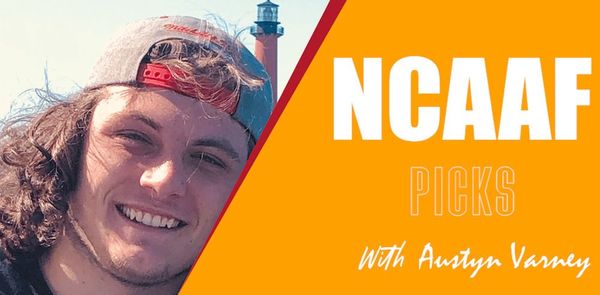 | | |
| --- | --- |
| Date: | Friday, September 25th |
| Time: | 8:00 PM ET |
| Venue: | The Alamodome |
| Network: | CBS Sports |
| Spread: | UTSA -6.5 |
| O/U: | 58 |
The 0-2 Middle Tennessee Blue Raiders will go on the road Friday night to face off with the UTSA Roadrunners at 8:00 PM ET in The Alamodome. These two teams have gotten off to very different starts to the 2020 season, but Vegas figures the game remains relatively close as UTSA is less than a touchdown favorite.
It speaks to the team's schedules thus far as the UTSA Roadrunners haven't been tested and MTSU has faced two very good teams. While winless, this Blue Raiders team just might be the best team UTSA has faced to date. Let's dive into how this one plays out!
When the Middle Tennessee Blue Raiders Have The Ball
The Middle Tennessee Blue Raiders have gotten off to a dreadful start, losing their first two games by a combined score of 89-14. They were just 2.5-point underdogs against Troy before getting blown out by 33 at home. The Trojans offense totaled 496 yards to just 241 for MTSU. Three interceptions doesn't help either.
QB Asher O'Hara does everything for this offense and the responsibility lies solely on his shoulders. He threw for 2,616 yards and 20 TD's a season ago while adding another 1,044 yards and nine scores on the ground. If Middle Tennessee wants to get their season back under control, O'Hara will need to have a big game against UTSA.
When he does drop back to throw the ball, he'll be looking at Senior Jarrin Pierce for the most part. Pierce has accounted for 114 yards of the 150 passing yards to this point and 15 catches through two games. Jaylin Lane and CJ Windham compliment Pierce and both are threats in the red zone.
At running back, O'Hara is the RB1 with Frank Peasant and Chaton Mobley picking up a few carries each. This team relies heavily on O'Hara and that won't change as they look to dig this season out of the dumps.
Defensively, MTSU has been disastrous. They've given up nearly 100 points through two games and it's not like either offense was marquee. Reed Blankenship and Gregory Grate have held this defense down at the Safety position, but that's only because the first two levels aren't doing their job. CB Decorian Patterson and LB Cody Smith have superstar potential, but they have to be consistent on a play-to-play basis in this game.
When The UTSA Roadrunners Have The Ball
The University of Texas at San Antonio Roadrunners are 2-0 after edging out Texas State 51-48 in a week one 2OT thriller and then comfortably beat S.F. Austin 24-10 a week later. They've done it win a run-first attack and QB Frank Harris already has five rushing TD's. He's thrown for another 438 yards and two scores.
Sincere McCormick mans the running back position and he's averaged 6.1 YPC on the ground on 48 attempts. Harris does a great job at the option and holding the ball just long enough to keep the defense on their heels. His added ability to pass the ball is rare in CFB and especially in the conference.
Wide receiver Joshua Cephus is a monster and you'll see Harris stare him down on the majority of dropbacks. He's caught both touchdowns from Harris and has14 receptions through two weeks. Brennon Dingle is a solid slot WR and McCormick can catch out of the backfield.
This all comes down to how the UTSA defense handles a tough MTSU offensive attack. They gave up 48 points to Texas State in week one and Asher O'Hara is more talented than anyone on the field that day. The Roadrunners' versatile offense is going to score, but it comes down to whether or not they can consistently stop MTSU or not.
The Pick: Middle Tennessee +6.5
While MTSU is 0-2 and UTSA is 2-0, these teams are very similar and I would take either team getting points. It happens to be MTSU after two weeks as the two squads have faced much different challenges. We don't care about the last two weeks and I fully expect MTSU to give the Roadrunners an extremely tough game. They might even win this one, but it's a coin flip.
Both offenses are extremely versatile and I think we see Asher O'Hara finally show up. He's one of the best QB's outside of the power-5 and he can single-handedly lead this team to victory. The UTSA defense struggled in week one and faced a terrible offense in week two. Give me the MTSU Blue Raiders and the points. I would also wait on this line and try to get a full touchdown closer to kickoff. The undefeated team will likely draw public attention.
I love the over in this game and Vegas is basically asking us to bet on whether or not we think the Middle Tennessee Blue Raiders offense gets it going or not. We know UTSA is going to score. They are a versatile offense and speed things up. MTSU isn't great defensively and it's safe to bet on 30 from the Roadrunners.
I just think MTSU and Asher O'Hara show up in a big way here. They've disappointed in back-to-back weeks and are looking to save their season from the gutter. I will have a ton of exposure to both the over and MTSU here.