The Tropicana Casino and Resort in Atlantic City is one of the top attractions in all of Atlantic City, New Jersey. Located on the boardwalk in Atlantic City, this 2,400 room resort is loaded with an expansive gaming floor, a massive entertainment complex and several quality restaurants. In this guide to Tropicana in Atlantic City, find out everything you need to know before heading to this entertainment hub.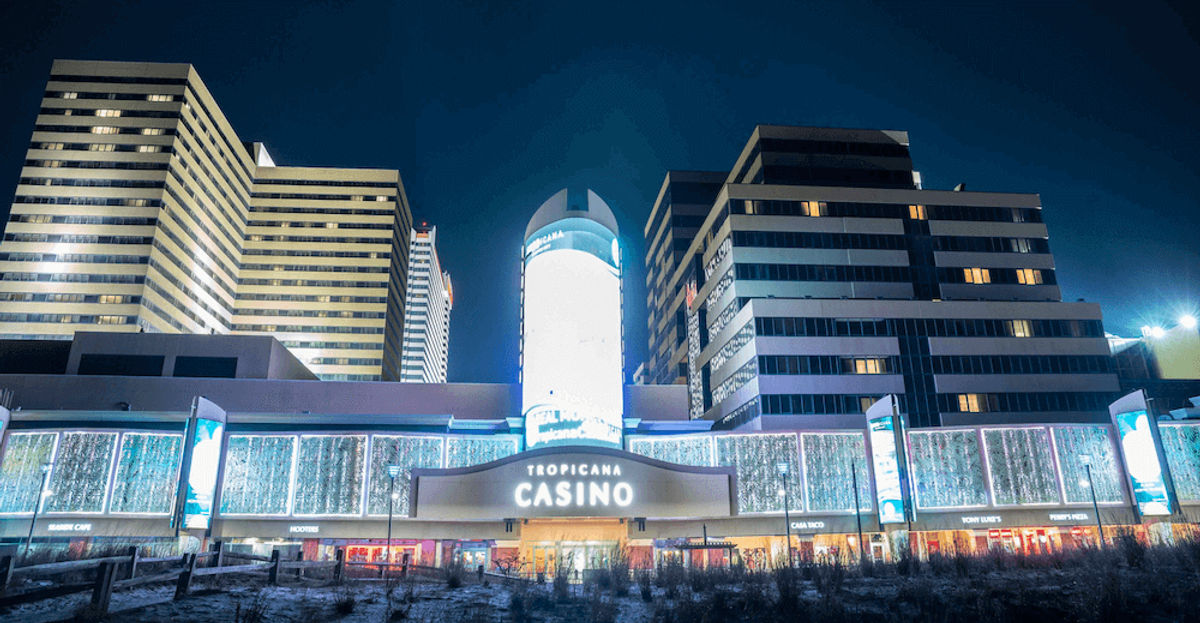 Tropicana Atlantic City
Tropicana Atlantic City History
Tropicana Atlantic City was opened in 1981 and was originally owned by Ramada, who named the facility after their Tropicana location in Las Vegas. The 1980s saw a number of stars perform at the showroom at the venue, including acts like Tony Bennett and Jay Leno. In the 1990s, Ramada sold their Las Vegas location, putting their energy into the Tropicana Atlantic City location.
In the 2000s, Ramada's stake in Tropicana was purchased by a company that was named Tropicana Entertainment LLC, until it was acquired by Caesars Entertainment. During that time period, a host of upgrades were made to the facility to add rooms and add to the gaming floor. Most notably, upgrades to include betting on sports and horse racing have made Tropicana a modern part of the gambling space in New Jersey as sports betting becomes an important part of the state's gambling culture.
Sports Betting at Tropicana AC
Tropicana AC boasts one of the top sportsbooks in Atlantic City, featuring one of the biggest sports betting brands in the world. The William Hill Sportsbook at Tropicana has nearly 200 seats for bettors to watch games in, along with a board showcasing betting odds that is 250 square feet. Large television screens surround the seating area, allowing bettors to watch the action unfold and keep track of the performance of their wagers.
Perhaps more impressive than the seating and viewing arrangements of the William Hill sportsbook is the amount of wagers bettors can make while they are there. With William Hill perfecting its sports betting offerings in Europe, well before legal sports gambling came to the United States, bettors will see a menu of sports to wager on and markets within those sports that simply exceeds most sportsbooks that bettors will find elsewhere.
William Hill – Tropicana Atlantic City Online Sportsbook
As a result of their partnership with William Hill, the William Hill online sportsbook is the only online partner of the Tropicana AC Resort and Casino. Fortunately, William Hill is a high-quality partner to have in this space, as they certainly fit the bill of quality over quantity in the world of sports gambling.
Bettors can access the William Hill sportsbook app and place wagers from anywhere in the state of New Jersey, as long as they are able to verify their location through the location services on their mobile device. The William Hill NJ app is easy to use and allows bettors to place both pre-game and in-play wagers for opportunities to win before and after the start of the games they are interested in.
Popular American sports such as the NFL and NBA are available to bet on through William Hill, but that is just the tip of the iceberg from this operator. Bettors can also wager on international sports like soccer and tennis, and even get involved in obscure sports like Aussie Rules football. And with unique prop bet offerings and live wagering, there is no shortage of ways to get involved with sports betting through Tropicana AC and William Hill.
Tropicana Atlantic City Casino
While sports betting is the new component to the Tropicana and other casinos around the United States, traditional casino games have been a mainstay at the Trop for ages. And with the expansions to the gaming floor at this casino, the options for casino gamers at this casino are among the best of any casino in the East coast.
Tropicana Atlantic City Slots
The Tropicana in Atlantic City offers a massive number of slots to choose from, as the casino boasts over 2,400 total slot games. Players can take on a diverse number of slot formats, from old-school fruit machines to elaborate five-reel games with progressive jackpots and well thought out bonus rounds. Bettors who prefer a more high-stakes experience can get just that from the high-limit slots section.
Tropicana Atlantic City Table Games
There are a diverse array of table games to enjoy at Tropicana AC as well, as players can take on classic casino table games or try their luck at some of the more eclectic offerings that the casino offers. Here is a list of the different table games that are up for grabs at this casino throughout the day.
| | | |
| --- | --- | --- |
| Blackjack | Four-Card Poker | Criss Cross Poker |
| Craps | Let It Ride | Pai Gow Poker |
| Roulette | Casino War | Pai Gow Tiles |
| Baccarat | Caribbean Stud | Sic Bo |
| Three-Card Poker | High Card Flush | |
While the availability of these games can vary based on the demand for each of them during different parts of the day and week, bettors will have plenty of table games to choose from no matter when they head to the tables at Tropicana AC.
With Atlantic City being one of the gambling capitals of the world, it is no surprise that poker and video poker are readily available at Tropicana Atlantic City. The poker room at their casino features a robust 18 tables that are the host to daily no limit hold 'em tournaments and more. The poker room also offers fun promotions such as a bad beat jackpot that has paid out over $7 million to those who have suffered bad beats at the poker table over the last decade.
There are also several video poker games that players can choose from at the Trop. Video poker favorites like Jacks or Better, Jokers Wild and Deuces Wild are all a part of the available video poker games at the casino.
Rewards and Promotions at Tropicana AC
There is a rewards program at Tropicana Atlantic City, and it comes in the form of the TropAdvantage Card. This card allows bettors to earn rewards points as they play slot and table games, with the more points a player earns translating to a higher level of rewards. Players start at the green level, and can work their way all the way up to the platinum and black cards should they play enough to meet those criteria.
As for promotions at Tropicana AC, those can vary based on the time of year and what the casino decides to do from a promotional standpoint during those times. Bettors are encouraged to check with the casino on what promotions are taking place when they are planning to go to Tropicana, to make sure they are up to date on everything taking place.
Tropicana Atlantic City FAQ
What restaurants are in the Tropicana Atlantic City?
There are a few notable restaurants in the Tropicana AC resort and casino. There is the Palm Restaurant, which is a New York style steakhouse. The Cuba Libre restaurant also serves as a rum bar. And the Chelsea Five Gastropub is open for breakfast, lunch and dinner those looking to dine around the clock.
Is Tropicana Atlantic City open?
At this time, the Tropicana Atlantic City resort and casino is still open, with no intentions to change that anytime soon. Of course, those looking to go to this property should always check to make sure that the games and other amenities that they are interested in are available before they travel to the facility.
What are the best rooms at Tropicana Atlantic City?
The best room at any hotel is going to vary based on the preferences of each guest. However, the North and South Towers at Tropicana AC have both been highly rated by a large number of guests. The Havana Tower has also received praise for those who do not mind a longer walk to the floor of the casino on the property.
Is Tropicana Casino in Atlantic City closing?
As of now, there do not appear to be any plans for the Tropicana Casino to close down. As a part of the Caesars Entertainment Group, Tropicana is in a strong position in the New Jersey gaming market. As a result, they are likely to stay open for the foreseeable future to serve players who travel there.