Tennis is one of the most wagered sports in the world. It offers some of the most exciting in-play betting options. The tennis counting system can change the game projections from one point to another—winning a long rally, a correct hawk-eye challenge, or another small detail that can chance momentum, possibly the outcome of the whole match. The counting system in tennis creates an enormous thrill for watching and betting.
Some sportsbooks offer the next point winner, one of the fastest in-play bets you can make in any sport. This form of live betting is sometimes referred to as speed betting.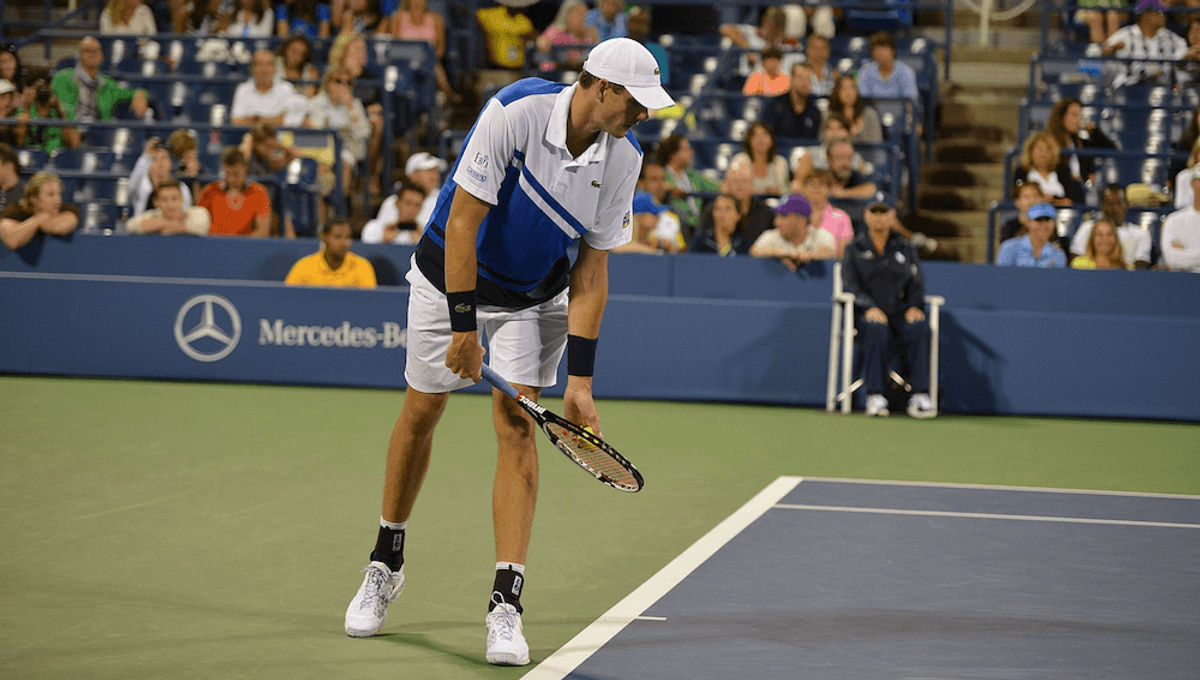 John Isner – One of the greatest servers of all time
The ATP Tour (external link) is the tour for the elites, where all the big stars play. The ATP-tour consists of three categories – ATP World Tour 250, APT World Tour 500, or APT Tour Masters1000 (also referred to as super-nine). The number is equivalent to the number of ranking points you get if you win the tournament. At the end of the season, the ATP Finals is where the top 8 ranked players qualify for this prestigious event.
All in all, there are 65 ATP Tour tournaments played every year.
ATP World Tour 250 tournaments – #40
ATP World Tour 500 tournaments – #13
ATP World Masters 1000 tournaments – #9
ATP Finals – #1
The division under ATP Tour is called the ATP Challenger Tour, and this is where you will find a lot of the following generation players who are up and coming. Just like the ATP Tour, the ATP Challenger Tour arranges a year-end final called the Next Generation ATP Finals, where the top 7 ranked players qualify + one wild card chosen by the host nation (which is and will be Italy as the event will be hosted in Torino for several years to come).
What about the Grand Slams, you might wonder. The Grand Slam tournaments are not arranged or owned by the ATP. The ITF (International Tennis Federation) controls the Australian Open, the French Open, the Wimbledon, and the US Open. The ITF controls the ITF Men's Circuit (formerly known as Futures), one step below the ATP Challenger Tour.
Betting on tennis is a never-ending story. There is always a match going on somewhere. Whether it is an ATP Tour event, Challenger, or Future, plenty of betting markets will be available.
The most common bet for tennis is choosing an outright winner, money line bet, whether a pre-game or an in-play bet. This form of betting is straightforward as there are only two possible outcomes, and all you need to do is pick a winner. The match odds for a money line bet will be adjusted according to the player's strength. See the example below for Djokovic vs. Mannarino to better understand how this works.
Spread bets are becoming more popular as some players, for example, Novak Djokovic, are a massive favorite in every match he plays. If you are a chalk bettor, you might want to look at the spreads as you will find more attractive odds by betting Djokovic on a spread compared to a money line.
Let's take a look at an example:
Djokovic vs. Mannarino (best of 3 sets)
Moneyline: Djokovic to win -5000
Spread -6.5: Djokovic -110
The -6.5 spread means that Djokovic must win the match with more than 6.5 games. Regarding the money line bet at -5000, you probably want to parlay the money line bet, or the ROI on that bet is close to nothing. So if you're going to place a single bet on guys like Djokovic when facing a much weaker opponent, you are better off going for the spread. In the example from a quarterfinal game at the Fever-Tree Championships back in 2018, Djokovic won 7-5, 6-1. This gave Djokovic a +7 game win margin, and the spread -6.5 would have resulted in a winning bet.
Futures like tournament winners and who will make the quarterfinals, semifinals, and finals are also popular bets for tennis. You can practically bet on almost everything, for example – over/under bets on how many aces a player will hit, how many double faults, and so forth.
If you want to be a winning tennis bettor, there are a few things you need to know.
1. Bet on moneyline or spreads and occasionally Parlays and Futures. The main reason for this is that the money line and feeds will give you a better ROI in the long term as they are easier to predict. Parlays are great for Grand Slams, and Masters as the top seeds will give 100%. In an ATP 500 or 250, you will never know how motivated they are to walk that extra mile. Futures can be wise to bet on if the player has a history of winning matches in a specific tournament.
Example: John Isner, who is performing much better on home soil. Out of his 15 titles, 13 have come from tournaments in the US and the remaining 2 in Auckland (New Zeeland). Don't bet Isner to for any title outside these countries.
2. Know the player's current form you are betting on or against. Tennis is a sport that heavily relies on the player's record.
Example: Danil Medvedev was on a fantastic run in the fall of 2019, where he reached five straight tournament finals (of which 2 Masters and the US Open final). He was practically unbeatable for some time, but he struggled and lost to several players ranked outside the top-20. Form comes and goes; make sure you know who is on the rise.
3. Know the head-to-head stats from previous encounters and the surface on which those games have been played. Head-to-head stats are vital in tennis as one significant factor in who will win is the playing style.
Example: A matchup between a big-hitting serve and volley player facing a safe hitter with a weak return game on a fast surface like Grass will probably go the serve and volley expert's way. On clay (slower surface), this match would probably have the opposite outcome.
4. Bet pre-game and in-play bets. Pre-game bets are great, but tennis is preferably done in a combination of both pre-game and in-play bets. The point system in tennis opens up for quick changes on the odds as a break of serve moves the betting line significantly. This can be used in your favor if you are live betting.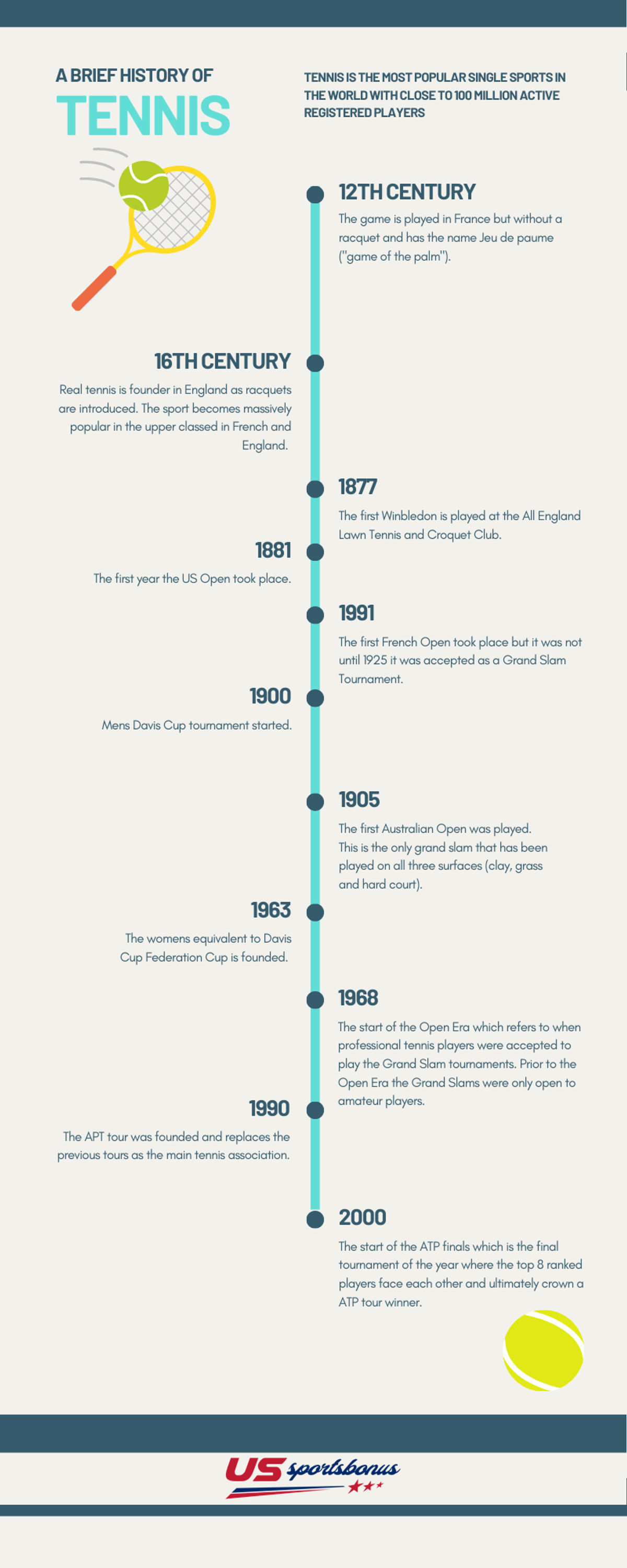 Tennis History
How to Find Tennis Odds at Sportsbooks
All sports betting sites we promote on USsportsbonus offer tennis betting. You will find it by going to the sports section of any sportsbook and clicking the tennis category. There will be markets covering live matches, upcoming matches, and futures.
Most Popular Tennis Events
The US Open is the most famous tennis tournament to bet on in the US, while Wimbledon is the most wagered tennis event worldwide. All the Grand Slams are extremely popular for betting, and with the best of 5 set matches (all other tournaments are played best of 3 sets), there will be plenty of live betting opportunities.
Legends and US Tennis Players
The modern era of tennis has produced some of the best players tennis has ever seen. With names like Federer, Nadal, and Djokovic, the sport has risen to new heights. The US era with Sampras, Agassi, Courier, and Roddick and before that Jimmy Connors and John McEnroe are long gone, and the US tennis superstars shine with its absence. The new up-and-coming players such as Taylor Fritz, Reilly Opelka, and Frances Tiafoe are not likely to claim the number one ranking anytime soon…if ever.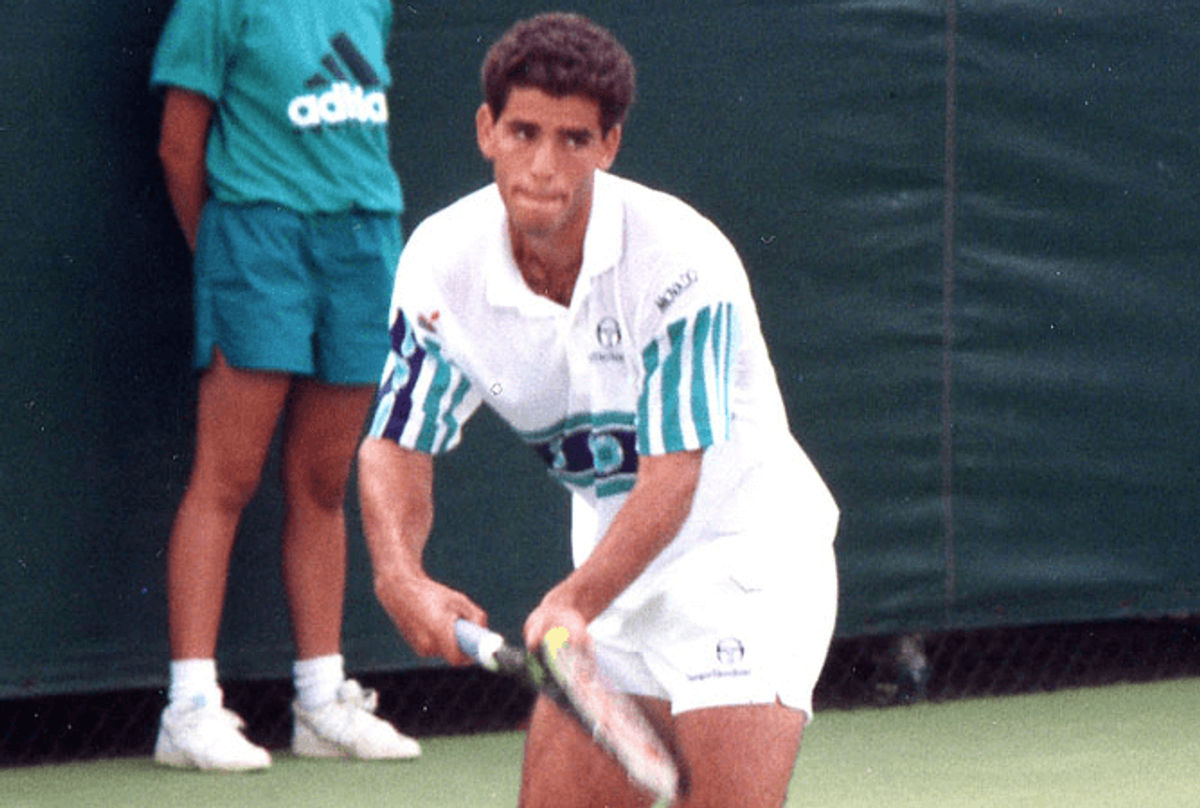 Pete "King of Swing" Sampras