SugarHouse App Review
The SugarHouse Sportsbook app entered the US sports betting market in the summer of 2019, becoming the third sportsbook to have emerged in New Jersey (licensed through Monmouth Park Racetrack) and the maiden sports betting app in Pennsylvania (licensed through SugarHouse Casino).
The company name is familiar to players in these states, as they had a SugarHouse Casino in both states. They also launched an online casino offering in those states. That's a main reason why the company decided to expand the SugarHouse online casino brand to include an online sportsbook as well. Now, SugarHouse online casino offers both casino game betting as well as sports betting.
The SugarHouse Sportsbook is a solid option as an online sportsbook for a number of reasons. Let's take a look at some of those in this in-depth review below.
Where the SugarHouse Sportsbook App is Available
The SugarHouse Sportsbook app is available in just two states right now. They are owned by Rush Street Interactive, which also runs the many BetRivers online casino properties in other states. That may be why you don't see the brand of SugarHouse Casino in more than these two states right now. However, it's possible the SugarHouse Casino brand could expand in the near future to other states for sports bettors.
SugarHouse PA
SugarHouse PA Launched December 15, 2018
Partner: PlaySugarHouse Sportsbook and Rush Street
No SugarHouse affiliate code necessary
SugarHouse NJ
SugarHouse NJ Launched August 23, 2018
Partner: Rush Street
SugarHouse Sportsbook Offers

One of the great parts about this company are the many great SugarHouse Sportsbook offers available. These offers range from a first deposit bonus to other bonus offers and promotions that are ongoing at SugarHouse. The SugarHouse Online Casino PA has a lot of offers that match up with what the online casino is offering, as you will soon see. The process for taking advantage of these offers is easy, too.
SugarHouse Sportsbook Welcome Bonus
The best offer is perhaps the SugarHouse Sportsbook Welcome Bonus. This is a bonus that the betting app offers on the first deposit for all new sports bettors. Compared to a lot of other online casino and sportsbook offers, this one is quite impressive.
The welcome bonus is called the SugarHouse 250 Match. The online casino and sportsbook will match your first deposit 100% up to $250. This means that if you deposit $250 in your account, the online casino and sportsbook company will match it and give you another $250 as a bonus.
It's only available to new users who make their first deposit into their account. The bonus amount you qualify for will be put into your account within 72 hours after you make that first deposit. To qualify for this bonus, you have to enter the code "250MATCH" when you make your first deposit.
SugarHouse Parlay Profit Boost Bonus
There's also a SugarHouse Parlay Profit Boost bonus that the company offers. For this bonus, you don't need to enter a code, and it's not reliant on any deposit you make. On Wednesdays and Saturdays, you can get a 20% Boost on your profits for any 4+ leg parlay bet you make. This is a great bonus and an incentive to try a big parlay after you make your deposit.
SugarHouse Basketball Boost Bonus
Another good offer is the SugarHouse Basketball Boost bonus. Again, it's not a deposit bonus, but rather a bonus you can get after you already have an account. Every Monday, you can get a 20% boost on your profits with this bonus. You don't need a promo code for this bonus, but you do need to select a bet with odds of -200 or greater.
SugarHouse iRush Rewards Loyalty Program
One unique feature is the SugarHouse iRush Rewards Loyalty Program. This works as a loyalty program that's similar to what many online casinos offer. After you make your deposit, you will start earning loyalty points based on the bets you make - both in terms of the money wagered and the difficulty of the wager.
You can use these iRush Rewards loyalty points in the SugarHouse Bonus Store. You can get custom deposit limit assistance, VIP birthday gifts and more. If you earn your way to the top level, you can even get a dedicated VIP concierge, a VIP thank you dinner and elite VIP promotions.

How to Download the SugarHouse App
At first, only Android users could download the SugarHouse app. Fortunately for sports betting enthusiasts, though, it's now available on iOS as well. The download process is quite simple but somewhat different for these two kinds of portable devices.
SugarHouse Sportsbook App for Android
It only takes a few minutes to download SugarHouse Sportsbook for Android devices. Unfortunately, the online sportsbook app is not available in the Google Play Store. It must be downloaded straight from the PlaySugarHouse PA website.
To do this, you first have to adjust the privacy settings on your portable device to allow "unknown sources" so the download can be completed. This can be done in a few simple steps:
Go to Settings --> Security
Check the option labeled "unknown sources"
Tap OK on the message prompt
Select "Trust"
1

Click on the link below
This will take you to the SugarHouse online sportsbook PA or NJ website. Scroll down to the very bottom of the SugarHouse betting homepage, and you'll see a recognizable logo for Android. Click on that, and a download box will pop up to download the online sportsbook betting app.

2

Download & Install the app
Once the SugarHouse Sportsbook PA app is downloaded to your Android phone, you can login, sign up for an account and make your first deposit to take advantage of any bonus the SugarHouse online casino is offering.
How to download SugarHouse app on iOS?
Unlike Android, it's much easier to download SugarHouse Sportsbook PA & NJ for Apple devices. The SugarHouse Sportsbook app is available on all devices that run iOS, including iPhones, iPads and even iPod Touches.
You have two options for downloading the SugarHouse PA Sportsbook app to your iPhone, and both require a quick process.
The first would involve going to the SugarHouse online sportsbook website, scrolling to the bottom of the Play SugarHouse PA homepage, and clicking on the iPhone icon.
The other option is downloading the SugarHouse betting app straight from the Apple App Store. Simply click on the App Store icon on your iPhone. The next step in the process is to search for the SugarHouse Casino Sportsbook app.
Once you do, you'll should be displayed the SugarHouse Casino sports betting app. Click download on the SugarHouse online sports betting app, and it will install automatically. Once it has, you can click on the icon on your iPhone and start by making your first deposit at the SugarHouse online betting site.
Click the Visit SugarHouse button below
This will take yout to the SugarHouse website
2

Find App
Scroll down to the footer menu and click the iOS logo to start the download process
3

Download and install
You will be directed to the App Store from where you download the SugarHouse App
How to Activate Push Notifications on SugarHouse
You can activate push notifications on SugarHouse to stay informed and up to date on new betting features and gambling offers. After you have completed the download, you can stay in the loop by activating push notifications. This will allow you to receive updates straight to your phone.
Here is the process for how you can activate push notifications on the two major mobile platforms.
SugarHouse Sports Betting App on iOS
To activate notifications on the SugarHouse Sports Betting app on iOS:
Go to Device Settings
Scroll down until you find SugarHouse online sportsbook
Select Notifications
Ensure "Allow Notifications" is enabled
SugarHouse Sports Betting App on Android
To activate notifications on the SugarHouse Sports Betting app on Android:
Go to Device Settings
Go to Apps and select SugarHouse online sportsbook
Ensure "Allow Notifications" is enabled

SugarHouse App Software Requirements
To ensure the online casino and game betting app works properly, make sure your device meets the SugarHouse Sportsbook software requirements.
SugarHouse Android App
| | |
| --- | --- |
| Detail | Requirement |
| Software compatibility | Not specified – It will run smoother on the latest version |
| Devices compatibility | All android-powered |
SugarHouse iOS App
| | |
| --- | --- |
| Detail | Requirement |
| Software compatibility | iOS 9.00 or later |
| Devices compatibility | iPhone; iPad; iPod Touch |
SugarHouse App Look and Feel
When creating their mobile apps, the sportsbooks generally prefer these to be as similar to the website versions as possible. This is the case with SugarHouse as well, as their app represents an imitation of the webpage. The layout is identical and you can pretty much do everything that is doable on the website through the app.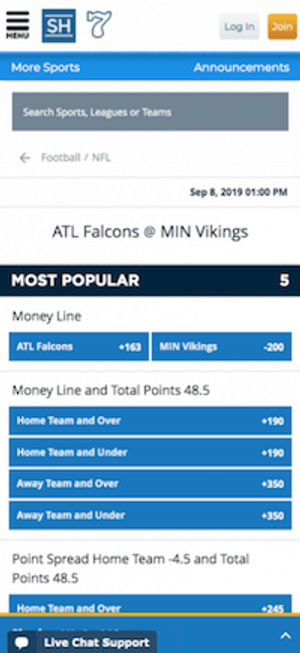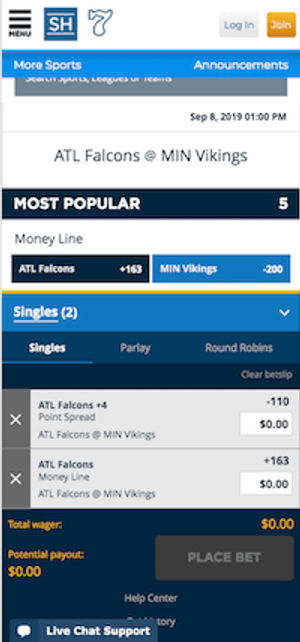 As soon as you launch the app, you will see a banner featuring the day's top events and promotions. The layout is quite simple and easy to use yet offering a wide array of possibilities at the same time. At the top-left corner, you can find events sorted by time. The app also has an easy-to-navigate sliding menu of live betting options and upcoming bets. If you by any chance can't find what you are exactly looking for, there is a search button to help you find any sport, competition or team.
The center of the app is reserved for the most exciting live events, usually coming from the most popular leagues such as NFL, NBA, MLB or NHL.
The most important thing is that the app runs smoothly and that you can place a bet within seconds.
SugarHouse Sportbook Secure Payment Methods
There are many SugarHouse Sportsbook secure payment methods available, whether you're making a deposit or a withdrawal. Let's take a look at all the options available.
SugarHouse Sportsbook Deposit Methods
There are eight SugarHouse Sportsbook deposit methods available to players. All come with a minimum deposit amount of $10. Once you click deposit on the cashier page, the money is available in your account almost instantly. The deposit methods are:
PayPal
Online Banking
Credit/Debit Card
VIP Preferred ACH
SugarHouse Play+
PayNearMe
Pay with Cash (Vanilla card)
Cash at Casino Cage
SugarHouse Sporstbook Withdrawal Methods
There are five SugarHouse Sportsbook withdrawal methods available to players. There is no minimum withdrawal amount, but all withdrawal requests could take up to 24 hours to process. The withdrawal methods are:
PayPal
Online Banking
VIP Preferred ACH
SugarHouse Play+
Cash at Casino Cage

What Sports Can You Bet on at SugarHouse?
If you're asking what sports can you bet on at SugarHouse, the answer will be there are plenty. The sportsbook has tons of options for betting markets and types of betting, too (which we'll get into in a bit).
On the main screen, SugarHouse lists a number of the most popular sports to bet on in the US. This includes:
Football (NCAA and NFL)
Basketball (NCAA and NBA)
Baseball (MLB)
Hockey (NHL)
Soccer
Boxing/MMA
Golf
Tennis
Motorsports
The SugarHouse app also offers lines on alternative sports such as Australian rules, cricket, cycling, darts, handball and volleyball. In addition to the large number of sports, there are a huge number of wagers offered. For example, there are almost 75,000 wagers offered on soccer alone through the app.
SugarHouse App Game/Odds Selection v Desktop
The range of SugarHouse app game/odds selection v desktop is identical to what you can find on the website. SugarHouse justify their tag as being one of the leading US sportsbooks in this parameter. The number of betting markets found for a certain event is quite impressive for such a young operator.
The standard offer for a basketball affair includes some of the following markets:
Moneyline
Spreads
Totals
Alternative Game Lines
Team Props
Player Props
Single-Game Parlays
Specials
Here are some of the exciting live betting betting markets we've run into using the SugarHouse app:
Team to score the next field goal in NFL
Will the first basket in the second quarter be a one-pointer, two-pointer or three-pointer in NBA
Will a run be scored in an inning in MLB
The next goal-scorer in NHL
The next point winner in tennis
Since Kambi (the gaming technology company) supplies both SugarHouse and DraftKings, we were not surprised to see the identical betting odds and lines for these two sportsbooks. The focus live betting is particularly impressive and important. You can easily see all the live betting options right from the first screen of the app when you login.
SugarHouse App Special Features
There are many SugarHouse special features that players can enjoy in the app. Here are just some of them.
SugarHouse Live Betting Action
There is a strong offer for SugarHouse live betting action, especially for the most popular US sports. If you have by any chance missed to place a pre-match wager, there is still plenty of time to catch up as you can get the bet even in the last quarters of NFL or NBA ties via the in-play section.
SugarHouse Sportsbook Cash-out
We liked the SugarHouse Sportsbook "cash-out" option which gives you more control over your bets. If your pick got off to a positive start, you can collect your winnings even before the event ends using the cash-out system. The payout would be smaller, depending on the result and time frame. Likewise, you can at least get something out of your initial stake if things are not going well at the beginning of the contest.
Pros
The $250 welcome bonus, as well as all other promotions, is available through the app
The layout is beginner-friendly and very easy to navigate
Sportsbook and casino apps are integrated into one
The lucrative range of betting options
A strong range of payment methods
Cons
Not Available in the Play Store
Almost too many offerings to choose from
Only available in New Jersey and Pennsylvania
Download the SugarHouse App Today
If you live in New Jersey or Pennsylvania, you should definitely try and download the SugarHouse app. The company does a really nice job of providing a ton of sports betting options for everyone from the newest sports bettor to the most experienced one. Players in the US will love the fact that there is so much choice in terms of not only the sports markets but the wagering options as well.
The biggest downside to the SugarHouse app is that it isn't available in more states. A lot of that, though, is because they are owned by the same company (Rush Street Interactive) that owns the popular BetRivers Sportsbook app. So, those states can still take advantage of the great promotions and bonus offers, such as the $250 match offer for first deposits. The app just goes by a different name in those states.
How do I place a bet at Sugarhouse?
Placing a bet is easy. Once you choose the wanted match, just click on the odds for the desired pick and a bet-slip will pop up on the screen.
Do sugarhouse have customer support?
Yes, you can get it touch with them either through the live chat option or the e-mail.
Can I bet from anywhere in the united states?
No, for now, only residents of Pennsylvania and New Jersey can make legal bets with SugarHouse.
Is there an age restriction?
Yes, you have to be at least 21-year-old to place legal sports bets in the United States.
Will I be available for the deposit bonus through the mobile app?
Yes, you can claim all bonuses through the app.
Can I Get the Deposit Bonus Through the SugarHouse Mobile App?
Yes. You can enter the "MATCH250" for PA and "USSB" for NJ SugarHouse promo code through the mobile app.