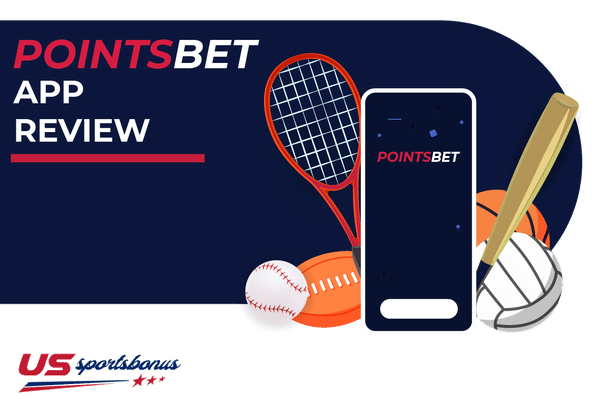 PointsBet App Review
PointsBet, an Australian-based sportsbook, entered the lucrative US market in January 2019 initiating their inaugural sportsbook in New Jersey. They have since expanded into Indiana, Iowa and Illinois. They are unique in the sports betting industry for the special "spread betting". With this kind of bets, you can both win and lose much bigger amounts of money as your winnings/losses depend on the margin of each team's victory.
PointsBet designed a mobile app to follow the latest trends in the niche. It is compatible with both iOS and Android portable devices. This review will cover everything you should know about the app.
PointsBet App Welcome Bonus
PointsBet offers a range of interesting promotions and for new PointsBet App users there you can enjoy lots of point boosters and risk-free bets.
PointsBet Mobile Risk-Free Bets worth $2.000
For new customers, PointsBet offers a risk-free bet bonus up to $2.000. It comes in the form of 2 risk-free bets worth $500 on your first real wager and up to $1500 on your first Pointsbetting wager
2 easy steps how to get the mobile free bet offer:
Howto
 Click the Claim Bonus button below
2

 Complete the registration process at PointsBet
3

 Fund your account and you can now use your $2.000 ($500 + $1.500) risk-free bet on any game.
How to Download the PointsBet App
Before the download, it is important to mention that you need to meet two criteria to be able to place legal bets via the PointsBet app:
1

 You need to be at least 21-year-old
2

 You need to be physically located in New Jersey, Indiana, Iowa and/or Illinois
The app can be downloaded from anywhere in the United States, but you can only place wagers from NJ, IN, IA or IL. Anyhow, here is the simple process describing how to get the app on your devices.
How to download PointsBet app on iOS devices
The download process is quite simple for iOS devices, just follow these steps:
1

 Click on the link below
Click on the Visit PointsBet button below and register your PointsBet account.
2

 Download the app
Then scroll to the bottom of the PointsBet webpage and click on the iOS app symbol to dowload.
3

 Run the app
From there on, you should just follow the simple instructions and run the app once the process is completed.