Monmouth Park is a racetrack for thoroughbred horse racing in Oceanport, New Jersey. It is currently the only racetrack offering a live thoroughbred racing season in the entire state. The venue opened in 1870 and has hosted some of the most important races in the niche ever since. Aficionados can attend races all summer long. Meets are on Fridays, Saturdays, and Sundays, all the way from Memorial Day (late-May) to Labor Day (early-September).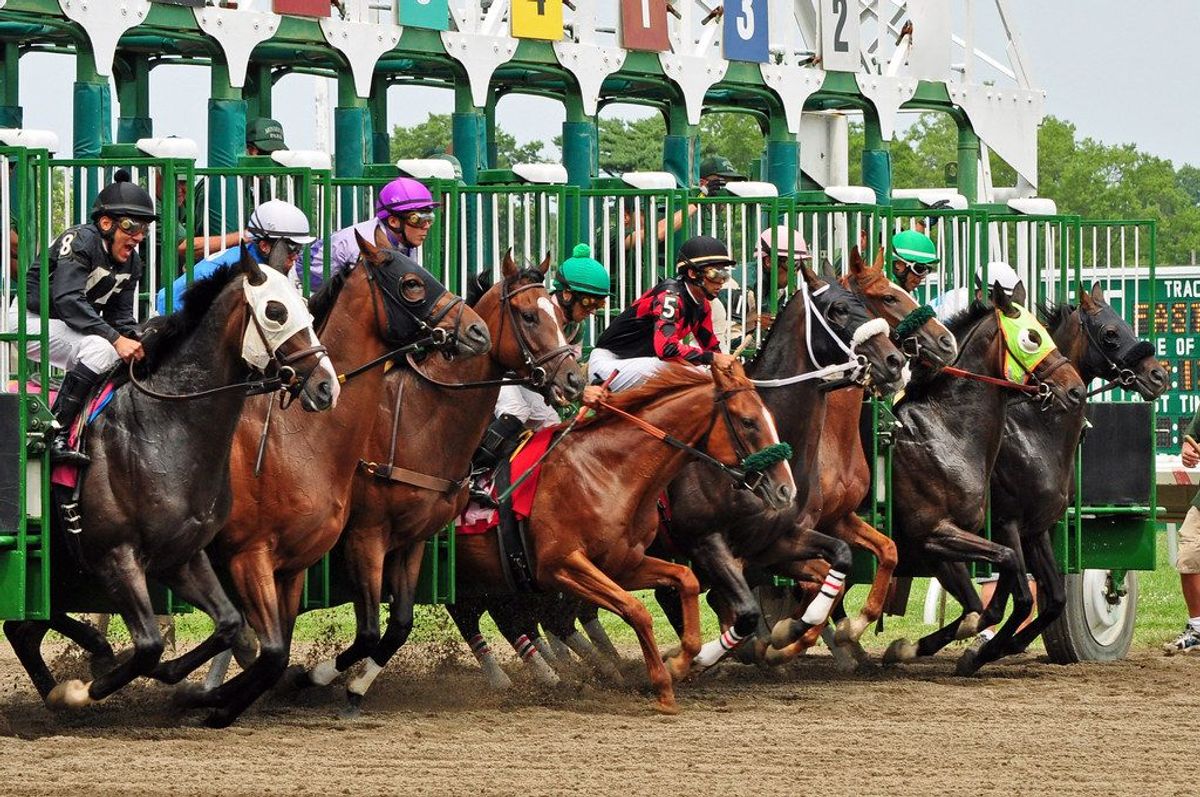 Monmouth Park Racetrack
Monmouth Racetrack is proud of a long tradition of hosting America's premier such as the Haskell Invitational Stakes, the Breeders Cup, the Molly Pitcher, the Matchmaker, the United Nations, etc. The site is owned by New Jersey Sports and Exposition Authority and operated by Darby Development, courtesy of a five-year lease partnership. While live races run over the weekends only, the Monmouth Park simulcast center is open every day, offering numerous options for wagering on national races.
We investigate the full gambling and non-gambling offer at Monmouth Park Racetrack. It is primarily a thoroughbred racing site, but the place offers much more to its visitors. We will cover everything you should know about an iconic property, the only of a kind still alive in New Jersey. Keep reading to find the answers to some of the frequently asked questions about Monmouth Racetrack, including the following:
– What are the most popular races hosted by Monmouth Park?
– Does Monmouth Racetrack offer sports betting?
– Can you find slots and table games at Monmouth Park Racetrack?
Monmouth Racetrack – a historic rundown
Monmouth Park Racetrack has represented an iconic piece of a Jersey Shore tradition ever since 1870 when it first saw the daylight. Three distinct buildings have carried its name over the course of years. Monmouth Park Association opened the original thoroughbred track on July 30th, 1870, in Eatontown with the purpose of attracting tourists to the New Jersey Shore. Monmouth Racetrack quickly earned a "Newmarket of America" nickname after the famous racecourse in England.
Nevertheless, initial success counted for little when financial difficulties hit the community as the Monmouth Park was forced to close just three after the grand opening. Racing resumed in 1882 when the Monmouth Racetrack once again opened its gates thanks to the enthusiasm shown by a syndicate of G.P. Wetmore, James Gordon Bennett, George L. Lorillard, and D.D. Withers. The new Monmouth Park Racetrack enjoyed huge popularity paving the way for the second track which was built in 1890. The joy did not last long, though, as the state legislature forbade pari-mutuel betting in 1894, thus forcing another closure. The Township Committee then ordered the sale of the track and the other property on a public auction.
Racing has not returned for more than 50 years since then. It was only on June 19th, 1946 when the current Monmouth Park structure was built following the bill passed by the New Jersey Legislature. The new opening was a massive occasion with just under 19,000 people in attendance.
The current owner, New Jersey Sports and Exposition Authority, bought the property for $45 million in late-1985. Since then, Monmouth Park has seen a series of upgrades such as the construction of the Bluegrass Miniature Golf Course in 2013 and the opening of the luxurious Blu Grotto restaurant in 2016.
Sports Betting at Monmouth Park Racetrack
Monmouth Park Racetrack was the first New Jersey location to have offered sports betting. They were quick to react to the PASPA repeal by earning a license and teaming up with British industry giants William Hill. The William Hill US sportsbook accepted its first bet at Monmouth Racetrack on June 14th, 2018. Monmouth Park's Dennis Drazin earned his place in the Sports Betting Hall of Fame in 2019 thanks to his efforts to legalize sports betting across the whole of America. We thus have a reason to consider Monmouth Racetrack a historic site for the US sports betting.
The visitors can find the William Hill sportsbook on the first floor of the Grandstand. It operates from 10 a.m. to midnight on weekdays and from 9 a.m. to 1 a.m. on weekends. Monmouth Park location is ideal for football fans thanks to the proximity to northern (Giants and Jets) and the southern (Eagles) New Jersey. An opening betting area and the sports bar are the sportsbook's two main features.
The Monmouth Racetrack sports bar is an ideal place for the fans to grab a snack, have a beer, watch their favorite teams in action, and of course place bets at one of six live tellers. There are 16 more in the grandstand area. Unfortunately, the place does not offer a single self-betting kiosk. The minimum wager is $2.
William Hill Online Sportsbook
Shortly after the establishment of a sportsbook retailer, Monmouth Park launched an online sports betting site via William Hill Sportsbook. The cooperation with such a large sports betting operator puts Monmouth Park Racetrack at the very top of the New Jersey scale in this specific parameter.
Players can easily set up an online account either through the William Hill US website or by downloading the app which is compatible with both iOS and Android-powered devices. Anyone who joins William Hill is invited to take advantage of a lucrative up to $500 free bet. To opt-in, you just need to type in the "MP500" promo code during the registration process.
William Hill offers covers anything from the most popular US professional leagues to the less-known international competitions across numerous sports. Players can wager straight bets, totals, spreads, parlays, round-robins, teasers, team and player props, futures, as well as try their luck with in-play betting. The range of selections is massive and should make even the most demanding bettors satisfied.
Monmouth Park Racetrack Casino
The casino aficionados will be sad to hear that Monmouth Racetrack does not host even a single slot machine or table game. Poker is also not among available options at the venue. If you are particularly looking for this type of gambling, you should look for almost a dozen other New Jersey casinos that have slots and tables in abundance. Since this is primarily a racetrack, we will keep the main attention at the course and other amenities.
Monmouth Racetrack & Amenities
The main track at Monmouth Park is a one-mile (1.6 km) oval on dirt, featuring chutes for 6 furlong and 1-1/4-mile races. The turf course is seven furlongs long and has a diagonal chute for all races between 1 mile and 1-1/8 miles.
A picnic area, seating boxes, and richness of fine-dining locations add on to the enjoyable experience a visitor is up for upon arriving at the Monmouth Park. A picnic area is an ideal place for families to relax at one of 100 umbrella tables while the kids are playing on a large playground. The first who arrives is first served here.
Those who want to reserve a seat can do it at prestigious Clubhouse and Grandstand boxes. Last but not least, you can enjoy upscale dining at one of two high-end restaurants – Blu Grotto and The Dining Terrace. Alternatively, you can grab a snack at Lady's Secret Café, William Hill Sports Bar, The Winner's Circle, and Monmouth Burger, to name a few.
Monmouth Park Significant Races
Monmouth Park Racetrack takes pride in hosting a top-tier set of high-profile races during the season. Haskell Day (July 18th) is the biggest day of the year. The rich collection of races on that day includes a couple of Grade 1 runs ($1 million Haskell and $300,000 United Nations) as well as three additional Grade 3 races ($300,000 Monmouth Cup, $250,000 Molly Pitcher, and $150,000 Matchmaker). The attendants have had a chance to watch some of the most prestigious horses in the world over the course of history. The list includes Big Brown (the Kentucky Derby winner), Exaggerator (Preakness Stakes champion), Bet Twice (Belmont Stakes winner), and Maximum Security (the $20 million Saudi Cup champion).
Promotions and Rewards at Monmouth Park
While Monmouth Racetrack does not promote a loyalty program you are used to in casinos, they do organize special promotional events to reward the loyal visitors every now and then. A Fan Appreciation Day (organized usually on Saturday near the end of the summer season) is a perfect example. It usually complements a rich care-card with special prices for a hot dog and a drink, free parking and admission, etc. Additionally, Monmouth Park Racetrack offers an up to $500 free bet to anyone who joins their William Hill US sportsbook website.
Does Monmouth Racetrack offer slots and table games?
No, Monmouth Park hosts neither slots/table games nor poker. Gambling-wise, the visitors can place wagers on horse racing and sports only.
When does the racing season begin at Monmouth Park Racetrack?
The season at Monmouth Park begins on Memorial Day in late May and ends on Labor Day (early-September). The races run on Fridays, Saturdays, and Sundays.
Can I place bets every day on national races at Monmouth Racetrack?
Yes, you can place wagers on national races on a daily basis at Monmouth Park. You can always check the simulcast schedule on the website.
What is the most significant race organized by Monmouth Park?
Haskell Day is by far the most popular day of the year at Monmouth Park Racetrack. It hosts two Grade 1 and three Grade 3 races, contributing to $2 million in stakes.