While the betting on NFL remains the biggest draw in terms of betting popularity, Americans love their football and college football is still a massive draw among sports gamblers. Wagers are estimated at over a billions dollars annually.
The majority of college football games are played on Saturdays throughout the fall, creating a weekend day each week with 12+ hours of college football games across the country, and has no direct competition with the NFL on these Saturdays. There are also "island" evening games throughout the week, sometimes as early in the week as Tuesday. The only NFL competition faced for wagering is on Thursday nights and often thrust smaller schools or those without the highest end football programs into the national spotlight due to the island nature of the games.
With the schedule for college football illustrated above, the college football gambling market dominates Saturdays much like the NFL dominates Sundays. The nature of roughly a week in between games for each team in college football, just like the NFL, drives frenzied interest with sports bettors. With a full week between the games, the lines will move up and down as bets are accepted and game crucial information is revealed.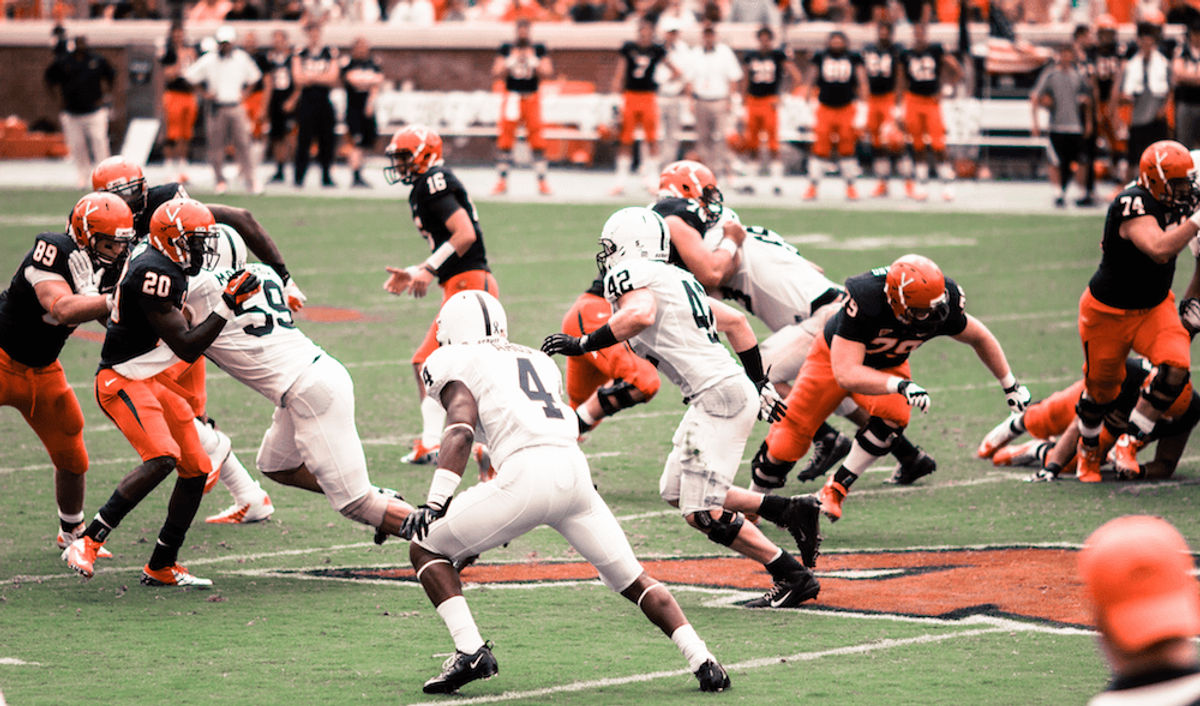 UVA vs Penn State
The NFL has just 32 teams so there is a finite amount of total games in a given week. As for college football teams (external link), there are dozens upon dozens more teams among many conferences in division 1 (D1) in both the Football Bowl Subdivision (FBS) and the Football Championship Subdivision (FCS). Many of the much smaller schools are in division 2 (D2) but do not bring the same popularity as the D1 schools.
The FCS is comprised of, for lack of a better term, the medium to small-ish level schools that have an active football program but do not have the funding or popularity on the level of the FBS schools, and have a separate playoff system from FBS teams, while still being considered D1. The FBS on the other hand, is the top 10 conferences in the nation, comprising 130 teams that are eligible to play for the college football national championship. Of these 10 conferences, the "Power Five" are the five top conferences containing the largest revenue creating schools and best football programs in the nation. Those conferences are the Big Ten, the Southeastern Conference (SEC), The Big 12, the Atlantic Coast Conference (ACC) and the Pacific 12 (Pac-12). These conferences' games will generally dominate the national spotlight and television schedule and be the most popular in both viewership and wagering handle.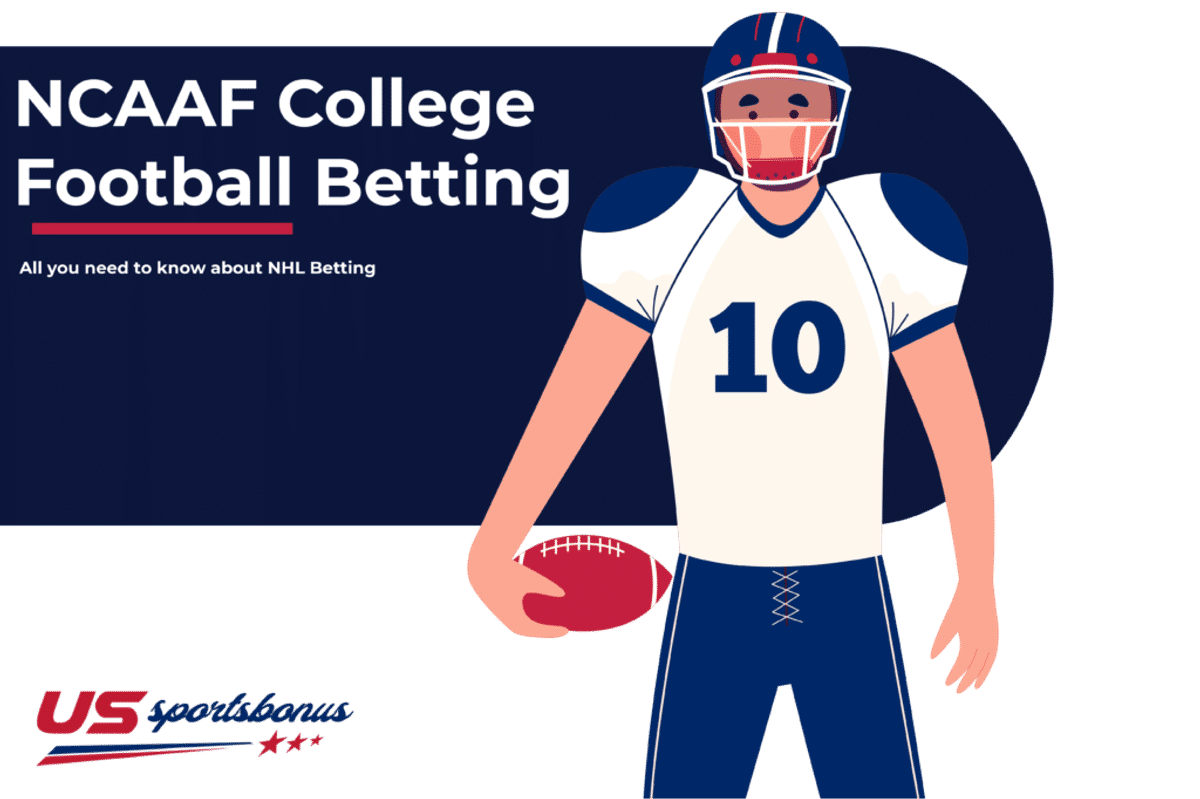 Much like NFL betting, there are countless ways to wager on college football. Any bettor should have a sound understanding of each type of wager. There needs to be a foundation of understanding on how to attack any given game by method of wager, and how some can correlate with each other. If unfamiliar, walking through the different types of wagers available will be paramount to a base understanding of how to wager on a path to profitability. The different types of bets give the sports betting players ways to leverage projections and predictions to maximize their return.
These are wagers predicting the outcome of a final score of a given game.
Money Line (ML) Bets
Money line bets, are the simplest form of wagering on college football however, as a bettor picks a unique result. ML bets are some of the most popular bets to make on football. A ML wager in college football will always bring a win or a loss, and never a push, due to the overtime structure.
With ML bets or wagering, the margin of victory is wholly irrelevant as any point spread does not come into play. These bets are solely odds based wagering with only the actual outcome of the game as the determining factor of win or loss. Simply stated, pick the winner of the game correctly and win the bet. While other wagers have other factors at play, ML wagers do not and are the simplest. As mentioned, in college football, the overtime structure is set up so that ties are impossible, so a money line wager will always result in a win or a loss, unlike in the NFL which still has ties.
Sportsbooks account for a difference in talent, coaching and overall team effectiveness using ML odds weighted towards the favored team. The favored team will require a bettor to lay odds while the underdog will be giving odds. For use as an example, an excellent team on a yearly basis, such as the Alabama Crimson Tide playing a below-average team such as the Vanderbilt Commodores will often have solid odds in their favor, such as the example given below.
Vanderbilt Commodores (+600) at Alabama Crimson Tide (-1100)
The plus sign is always an indicator of the underdog team, and the amount a bettor would stand to win per $100 bet. The minus sign genrally indicates the favored team, and the amount that must be wagered to win $100. The above odds could be translated in the following way – if wagering $100 on Vanderbilt ML, a bettor would win $600 (plus the $100 wagered). If wagering on Alabama ML, the bettor would need to lay $1,100 in order to win $100 (plus the original amount wagered returned). This is how the sportsbooks create balance in an unbalanced game. The ML betting odds are often affected by several factors, such as how strong a team tends to fare at home or on the road or historical win/loss in the coaching matchup. As sportsbooks collect juice on both sides of a game, the money line odds accordingly to account for bets place on home or away team to win.
Point Spread Bets
Just like the NFL, college football's go-to wager and most popular is the point spread wager. By far the most common type of bet, point spreads are a point of discussion between fans and bettors alike for the days leading up to each weekend of games and are the sportsbooks way of moving the goalposts to level the playing field of the expected result in any given matchup. As with ML odds, point spreads will move during the week and vary from sportsbook to sportsbook leading up to games as bets roll in on one side more heavily than the other.
The point spread is best summed up as how many points the favored team would have to "give" or "lay" to the less favorited team for the game to be viewed as competitive and to have an expectation of something close to a tie or push in a median outcome. Let's take a look at an example from the same Vanderbilt at Alabama game used above might to show the what the point spread might look like:
Vanderbilt Commodores +21 (-110) at Alabama Crimson Tide -21 (-110)
The translation of these point spread odds are as follows – a $110 wager on Vanderbilt +21 means that a wager on Vanderbilt is betting that Vanderbilt will either win the game outright or lose by fewer than 21 points. Vanderbilt losing by 22 or more points would result in a losing wager. Vanderbilt losing by exactly 21 points would result in a tie or push. With the odds posted, the bettor would stand to win $100 (plus the $110 wagered) for every $110 wagered if Vanderbilt wins the game or lose by 21 or fewer. In contrast, if betting on Alabama -21, the odds state that a bettor must wager $110 to win $100, and Alabama must win the game by at least 22 points for that wager to be paid as a winner. This method of putting a handicap on each game is what makes point spread wagering so popular in college football, where there are often large and disproportionate mismatches between teams in terms of expected result. As with money line odds, spreads will move throughout the week and vary from sportsbook to sportsbook leading up to games as wagers roll in, often heavier on one side than the other and creating line movement.
Game Total Bets
College football total bets follow the same procedure as total bets from other sports and is identical to over under betting on NFL. The sportsbook will set a line for the total number of points expected to be scored in a game, and the bettor will wager whether the sum total score for both teams will be over or under that specified total.
As for the point spread the game totals line will move up and down up until the game starts. The line movements are due to bettors placing more bets on the over or the under which will make the lines adjust to level out the wagers on both sides. This is how the sportsbooks try to make sure to always get some juice from every sports event they offer on site. Thus making game total betting an equally fluid market depending on when you place a wager. For example, the game's total betting profile might look similar to the below for this Vanderbilt at Alabama game, and then change based on wagers received. In our example, the game total opened at 47.5. If a heavy dollar amount and number of wagers rolled in on the over, we could see significant line movement and the line may move to look something like the following:
Vanderbilt at Alabama Over 51.5 (-115)

Vanderbilt at Alabama Under 51.5 (-105)
Many aspects including each team's past and current performance at home or on the road, weather, wind, and injuries to starting players might have some level of impact on game total lines, odds, and movement.
It is important to note that college football overtime rules are a large boon for betting overs. Unlike the NFL where a maximum of 12 points can be scored in their single overtime period, college football overtime rules allow the potential for much more scoring. In college football, overtime is conducted in "innings" where each team possesses the ball starting at the opposing 25 yard line and each team gets the same opportunity in each overtime period, with a forced two point conversion attempt on touchdowns beginning with the third overtime period. Needless to say, overtime is an ace in the hole for over bettors while it is a nightmare for under bettors.
Team Total Bets
College football team total betting is a sub-section of game total betting and is identical to NFL team total betting. The game total is broken down into sides and is simply the expected number of points for each team, creating a new set of totals, just one for each team instead of the game as a whole. The construction is the same as game total betting – sports betting players have the alternative to place bets over or under the set team total for either team involved, allowing four additional wagering options for each game. Below is an example of how our Venderbilt at Alabama game could look for team total wagering, using the odds and totals from the example leading up to this point.
Vanderbilt Team Total: Over 15.0 -105; Under 15.0 -115

Alabama Team Total: Over 36 -115; Under 36 -105
The above should help bring an understanding of how team totals are calculated. The most simple way to calculate is to subtract the point spread from the game total, and divide by two. This will give the underdog team total. Adding the point spread to the underdog team total will give the favorite team total.
Parlay Bets
As as is the case with all other sports, college wagers can be parlayed, or have multiple wagers rolled into one to have an increased odds return. This is a very popular method of betting college games, with the game action occurring both simultaneously and concurrently each Saturday, having multiple game in each time slot, starting at noon EST. A parlay is defined as multiple bets within the same wager, where all bets have to hit or win in order for a wager to be deemed a win and paid out.
Using our existing example, if a parlay bet is made on Alabama point spread in their game against the Vanderbilt, plus adding a wager on the hypothetical Michigan point spread in their game against Purdue, both Alabama and Michigan must cover their respective point spreads to have the single parlay wager to be deemed a winner and paid out. If both teams cover their points spread the wager is a win but if either or both teams do not, the wager is a loss.
An important note on parlay bets in college football (as with other sports): most sportsbooks will not allow parlays that include correlated bets, such as parlaying a team's ML with their team total. Parlaying many games on a Saturday slate of college football is wildly popular, as bettors try to hit long odds that all legs of a multiple leg parlay will hit for a massive profit or that they will hit all early legs of their parlay and be afforded the luxury of hedging late to guarantee a win significantly larger than the original parlay bet amount.
Player Props
This type of wager has seen a surge in popularity, and tend to see overlap from the Fantasy Sports community. Player prop bets are an excellent way to correlate other wagers within the same college football game. For most of the significant players in a given game, sportsbooks will offer over/under propositions for major statistical categories for bettors to wager on for only the given player. For college football, these statistical categories generally include touchdowns, yardage, and receptions. There are many other options within player props that would require their own article to further examine the extensive possibilities of wagering on them.
Game Props
These wagers are not dissimilar to player props, but instead of wagering on specific player outcomes, the wagers are, for lack of a better term, on team achievements during a game. Examples of some college football game propositions include the following:
First team to score
Length of Longest Touchdown – Over/Under (number of yards, i.e. 50 yards)
Will there be a Safety at any point in the game? Y/N
Game props are quite volatile wagers and are organically difficult to predict as most of them have a high degree of randomness. They should generally be viewed as "fun" bets to make as opposed to informed wagers.
Futures Bets
This is a type of wager popular with casual bettors. This is a bet involving a non impending event. Future wagering involves predicting the results of a player or on the team results of a season, whether it be choosing a team to win the National Championship, a team to win its Conference or division within its conference, or a player to win an honor amongst his peers. The draw of futures bets are the long odds payoffs that are available for predicting these events such as the correct National Championship winning team, or the correct player to earn the Doak Walker award, well before the results are known. Future bets are available before the season begins and are popular then, but also can be made daily up through the entirely of the season, with odds changing intermittently when armed with new information on the results of the players and teams involved.
In-Game/In-Play/Live Betting
Live, or in-game or in-play betting is one of the most fun ways to bet as you place bets as the action unfolds. Ideally, live bets are placed while also watching the football game.
In-play bets can de be done on any of the betting types describes above plus a range of other bets that are not offered for pre-game betting.
In-play betting will unquestionably intensify the experience for anyone watching the College football game on TV or at the Stadium. Live bets are primarily done through sports betting apps or the sportsbooks mobile version. Live wagering also includes dynamic live odds on which bettors can make bets during game action on many or all of the discussed betting types above.
Follow game trends, player news, injury reports and collect as much information as possible. This is essential for anyone who wants to be successful in sports betting. Information is king and the more you have the more likely you are to win.
Monitoring weather and wind. When betting on game totals, game props, and players props this is a great way to be successful. Many college football stadiums are heavily affected by the weather and wind and can influence passing and rushing environments, which can sway betting odds significantly and quickly once impactful information is well-known.
Know the individual matchups. Like in all team sports some individuals play a more important role than others. Knowing the head-2-head stats between players and coaches should not be underestimated.
Bet with the lines change. The lines will move up and down and following how the lines change is key to make sure you place your bets at the right time to get the most bang for the buck. Knowing that an opening line may differ considerably from a current line is an important aspect of wagering on college football.
We've mentioned this already but checking the injury reports one last time before placing your final bets is a must-do. Key players can make the line change dramatically and you want to make sure your bets are based on the latest and most recent information available.
How to Find college football odds at Betting Sites
Sportsbook sites will contain a menu with a list of sports, and college football shockingly will be under the "Football" section. Once under the proper section of the site, the bettor can then select "college football" or "CFB." At that point they can choose any of the wagering options listed above and more. Many sites will have Player Props, Game Props, Futures Bets, and Live/In-Game Betting in a separate area of their site, within the Sports section.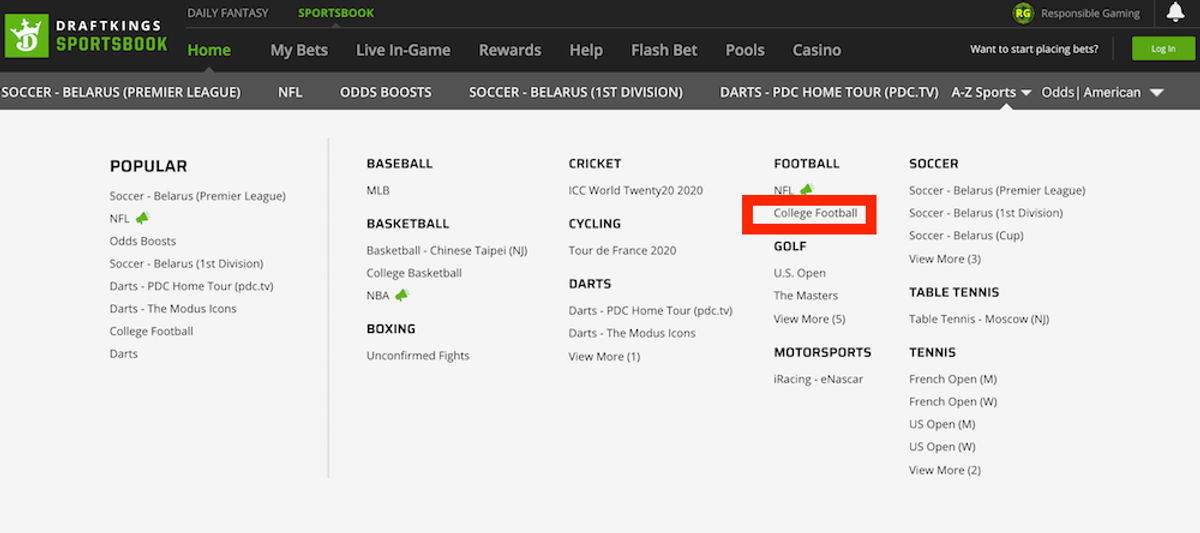 College Football at DraftKings
Most Popular College Football Events
Opening weekend of college football does not generally bring the same popularity as the NFL, instead having a multi tiered "postseason" that gears up popularity as the season progresses. Conference championship games are extremely popular and are played at a neutral site to crown each conference's champion. After these games are the plethora of bowl games that teams with winning records are invited to, and are nationally televised. Bowl season is capped off by the three game bracket playoff between the nation's top four teams. These playoff games are the most popular ones in the sport.