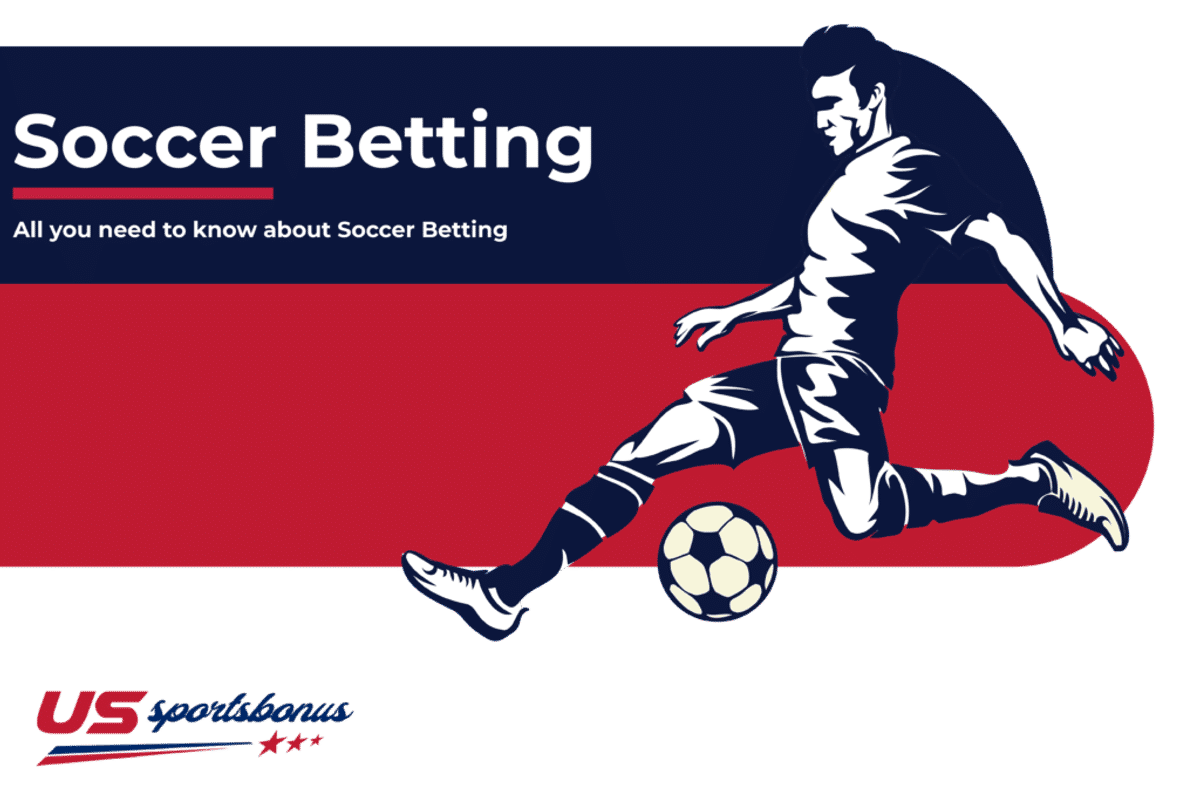 Soccer is the most popular sport in the entire world. It is currently believed that over 3 billion fans follow soccer. Of that 250 million are believed to be sports betting enthusiasts.
Fulltime/Game Result Bet Types: The two most common forms of betting on soccer are 1X2(Win/Draw/Lose) betting and Asian Handicap.
The 1X2 (Win/Draw/Lose): The 1X2 (Win/Lose/Draw) betting offers you a chance to bet on the outcome of the game. This is the equivalent of betting on the money line in other sports like football and basketball. The one difference that you will find in this is that you can also place a bet on a tie which you cannot do in those other sports.
Sweden +1040
USA -370
Draw +471
Asian Handicap: The Asian Handicap betting format involves giving both teams a handicap whether that be a goal advantage (+ goals) or a goal deficit (- goals). Betting this format is the equivalent of betting against a spread in other sports like football and basketball. In order to win your bet, you must cover the spread. Below we can see an example of the Asian Handicap odds. The USA has a handicap of 1.5 goals. This means that if you bet on the USA they must win the match by 1.5 goals in order for you to win. So if the USA wins 1-0 you would lose your bet and if they win 2-0 you would win your bet. If you were to bet on Sweden and they lose 1-0 you would win your bet and if they lose 2-0 you would lose your bet.
| | |
| --- | --- |
| Winner | Spread |
| Sweden | +1.5 (EVEN) |
| USA | -1.5 (-120) |
Over/Under bets- Goal Totals: Betting on the goals over/under is another very popular way to bet on soccer. Rather than determining whether a game will have a particular result, it is based on whether the game will have a certain number of goals. Below we can see an example of Over Under 4.5 goals betting market. Over Under betting is one of the simplest forms of betting. If you bet on over 4.5 goals, then so long as there are a minimum of 5 goals scored in the match you will win your bet. If you bet on the under than any outcome with fewer than 5 goals will result in your bet is a winner.
| | |
| --- | --- |
| Mexico v Spain | Over 4.5 (-115) Under 4.5 (-120) |
Draw No Bet: In a Draw No Bet situation you remove a draw as an option. Meaning that in the case of a draw, you get your bet back. As a result, the odds on this particular bet will be lower on each team to win than in the traditional 1×2 (Win/Draw/Lose) bet. This is just the same bet as an Asian Handicap +0 bet on any given team.
Double Chance Odds: In a Double Chance bet it allows you to bet on two out of the three possible outcomes in a match. You can bet on three outcomes. Home Win/Draw, Away Win/Draw, and Home Win/Away Win. In this bet, if either of the outcomes you bet on occurs you will win your bet. As a result of having multiple options, the odds that you receive will be lower than if you were to bet just one result.
Accumulators/Combo bets/Parlay bets: Essentially these are three different names used for the same type of bet. This bet is a bet on more than just one outcome happening. Putting a number of bets on one betting slip can give you the promise of greater returns as each of the odds multiply into the next bet. In order to win your parlay, you need all the bets that you placed within it to be winners. If one bet is a loser then you will lose the entire parlay. If you have a pushed bet it will be removed from the slip and your odds will be lowered but you will still be eligible to win your parlay.
The number of goals and Exact Score: When betting on soccer. You can also bet on the total number of goals. Odds on these particular bets are often much higher but are also rarely profitable. For this particular bet, you predict either the exact number of goals in the contest or the exact final score of the contest. The books tend to have a very large margin on these types of bets as people do not notice the lower odds as frequently on a market with this many outcomes.
Betting on a Goal Scorer: In this particular bet, you are betting on which player will score. There are variations in this bet as well. The most common is anytime goal scorer. In this bet, all you need is for your player to score at any time in the match to be declared a winner. The next option is the First Goal Scorer. In this option, you are betting on who will score the first goal of the match. If the person you select does not score first your bet will be viewed as a losing bet. The last option is the last goal scorer. In this variation, the person who scores last in the game will be graded as the winner,
Corners: In most matches, you have the ability to bet the corners taken by each team. This can be done on a 1×2 (Win/Draw/Lose) or Asian Handicap option. This gives you an option to bet something in the game outside of the result and scores.
| | |
| --- | --- |
| Brazil v Venezuela (corners) | Over 9.5 (-115) Under 9.5 (-104) |
Bookings: In this variation, you can bet on the total number of bookings (yellow cards) accumulated in the match. You can bet this variation in the terms of a spread and a total as well.
Futures bets: There are many different futures bets to partake in when it comes to soccer. The most common future bets are League point totals, tournament's group point totals and advancement, League and tournament golden boot, and player transfers and manager changes.
League point totals: The first and most popular future bet involves betting on a team's point total for the upcoming season. In this bet, you will receive a line with a point total, and you can bet on that team over or under that total during the season. For example, if Liverpool's point total is 95.5 points and you bet over Liverpool would need to accumulate 96 points or more during the next season in order to win your bet.
Tournament's group point totals and advancement: During the summer there are many popula>r tournaments around the world. In these bets, you will bet on how many points a team will gain during group play, or you can bet on them to win their group or advance. Below is an example in which you can select who will win Group B in Copa America.
Group winner
Colombia -600
Paraguay +1400
Argentina +600
Qatar +4000
League and tournament Golden Boot (Top Goalscorer): In league and tournaments there are bets which can be placed on the top goal scorer in the tournament. The key to these bets is selecting a player who will score a lot of goals and advance to the later stages of the tournament. Below is an example of the Golden Boot props for the Women's World Cup.
Player Transfer: A popular specials market, especially during the off-season is a player and club transfer market. Transfer betting usually involves which club a star player will sign with for the upcoming season. Below is a summer transfer on David De Gea.
Next Manager: This special is like that of a player transfer. In this special, you are selecting who will be the next permanent manager at a club. Below is the current option for the next Chelsea manager.
Now when you know how to be on soccer it's time to understand some soccer betting strategies.
Soccer Betting Strategies
As with all larger sports, it is hard to find good value on the top games for the simple reason that they have been analyzed over and over again by experts i.e information is out in the public domain and the lines have therefore been adjusted accordingly. But with the right mindset and long term strategy there are ways on how you can make good money from betting on soccer.
1. Bet the leagues and tournaments you are familiar with
Make sure to bet leagues that you are knowledgeable on. There are countless leagues and tournaments around the world and making sure you know the ins and outs of the league will lead to success.
2. Have proper bankroll management
You should only bet what you are willing to lose on that bet. Knowing your limits is key to long term success in all facets of betting.
3. Be willing to learn
Every good bettor will learn from their mistakes. You need to adjust on your betting and continually improve your betting ways.
4. Track your bets
In order to properly learn and adjust you should track your bets. If you track your bets you can go back and learn where you are successful and where you are not.
5. Know the situation around the game
Know when the game could have inclement weather, is a game where a team might rotate their squad and know whether it is a home or away game.
6. Follow news and notes for the teams you plan on betting
Knowing which players may be injured or suspended can be a vital asset in being a winning bettor.
7. Know the teams and their tactics
Certain teams have a certain style of play. Knowing how the teams play and how they move can give you a leg up in certain matchups. They could cause certain teams' issues and you may get them at a good price, or they may play fast/slow and give an advantage in terms of the game total.
8. Exploit market biases by betting against the public
Certain teams are very popular teams around the world. The books generally will weigh that when placing the odds on a matchup. You can find advantages betting against the masses in these spots and taking the less popular team.
9. Have accounts with multiple bookmakers
Different books will provide different odds on the same game. Finding the best value or the best line from a different book can help make you money over the long run.
10. Don't try to always hit a big score
Winning a big bet can be exciting, however always trying to take bets with long odds will lead to you losing money quicker in the long run. You want to only take bets with good value in order to be successful.
Soccer is the most popular sport in the world and is played everywhere. It's gaining attention in the US as MLS is becoming more popular and attracting more and more top footballers from Europe.
Most Popular Soccer Events
Soccer is a year-round sport. During much of the year there are countless leagues throughout the world. The most popular leagues in Europe are The English Premier League, German Bundesliga, Spanish La Liga, French Ligue 1, and Italian Serie A.
In Europe they also have two main competitions that include the top teams in all the European domestic leagues called the UEFA Champions League and the UEFA Europa League. These contests hold the elite of elite in European soccer and are held in the middle of the week.
Each country generally has their own domestic league including the USA having the MLS. During the summer months there are major tournaments held throughout the world varying by different region. These tournaments can range from annually, biennial, to every four years. The most popular regional tournaments are The Euro's (or European Championships), The Copa America (South America), and The Gold Cup (North American, Central American, and Caribbean). Every four years the best teams around the world combine to make the most popular soccer tournament in the world known as The World Cup where the best teams from every region battle to be the best country in the world. Before you bet on soccer you should read our soccer betting strategies guide.
Legends of the game
In the world of soccer there are currently no bigger names than that of Portugal and Juventus star Christiano Ronaldo and that of Argentinan and Barcelona star Lionel Messi. There has been debate over the last number of years about who is the better of the two.
Along with them you have the likes of Antoine Griezmann, Kylian Mbappe, Luis Suarez, Paul Pogba, Harry Kane, Eden Hazard, Mo Salah, Virgil Van Dijk, Sadio Mane, Kevin De Bruyne, Sergio Aguero, and hopefully some day American Christian Pulisic.
They are all trying to etch their names in the history books with the like's former legends like Pele, Diego Maradona, Johan Cruyff, Zinedine Zidane, Cafu, George Best and the likes.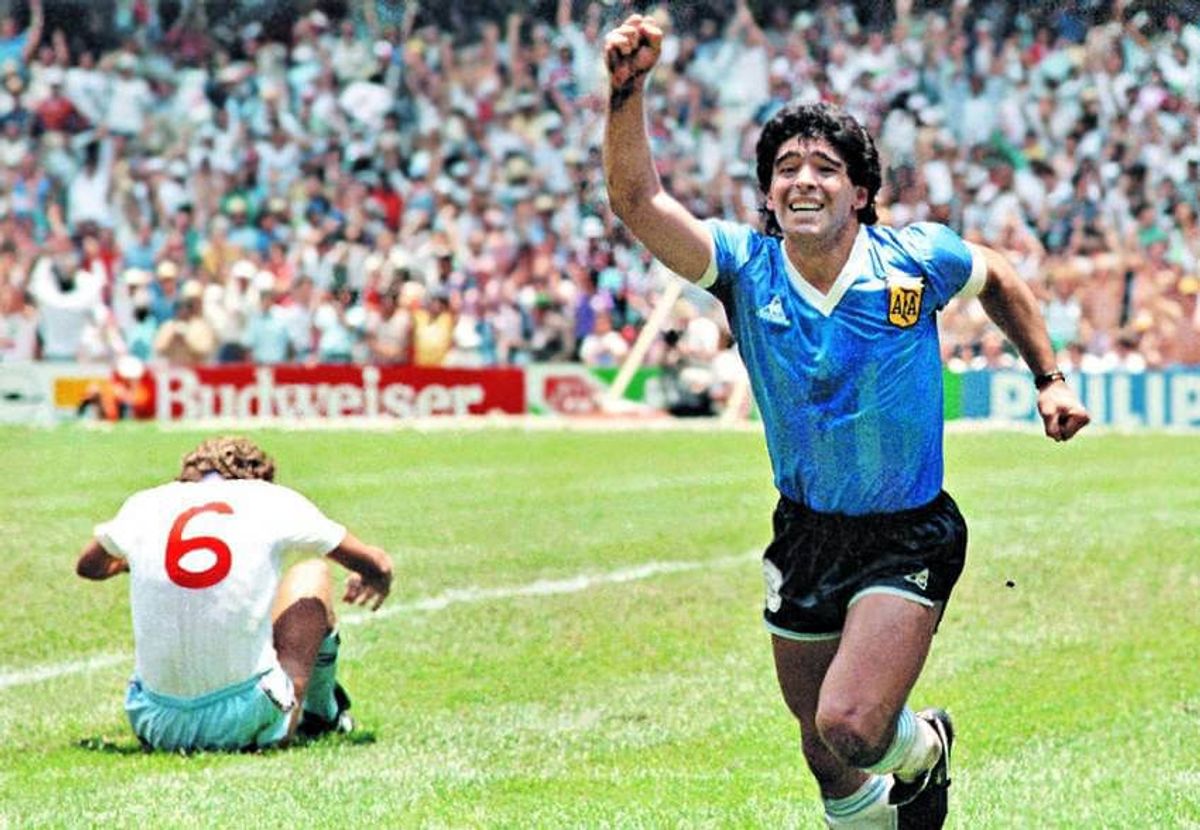 Maradona vs England – The Hand of God (Mexico World Cup 1986)
History of Soccer
Soccer is the most popular sport in the world today. It is generally played 11 on 11 but has different variations around the world. It was originated over 3000 years old. It can be dated back to ancient Chinese and Mesopotamian cultures. The more modern game was developed around 150 years ago in England. It is believed that over 250 million people play soccer in well over 200 countries around the world today.