Mixed Martial Arts, or MMA, combines the techniques and characteristics from all striking and grappling-based combat sports into one arena. Most MMA fights feature three rounds that are five minutes in length. Some championship fights and main events are extended to five five-minute rounds.
As with striking sports such as boxing, Muay Thai, Sambo, etc., the ultimate goal is for a fighter to render their opponent unable to continue due to strikes. These strikes include but are not limited to punches, elbows, kicks, and knees, with specific strikes being illegal to maintain the sporting aspect. Like other striking-based sports, it is labeled a knockout (KO) or technical knockout (TKO) when this occurs.
Much like the striking above but in a grappling sense and much like Brazilian Jiu-Jitsu, other forms of Jiu-Jitsu and Sambo, the ultimate alternative goal is for a fighter to render their opponent unable to continue due to submission locks and holds.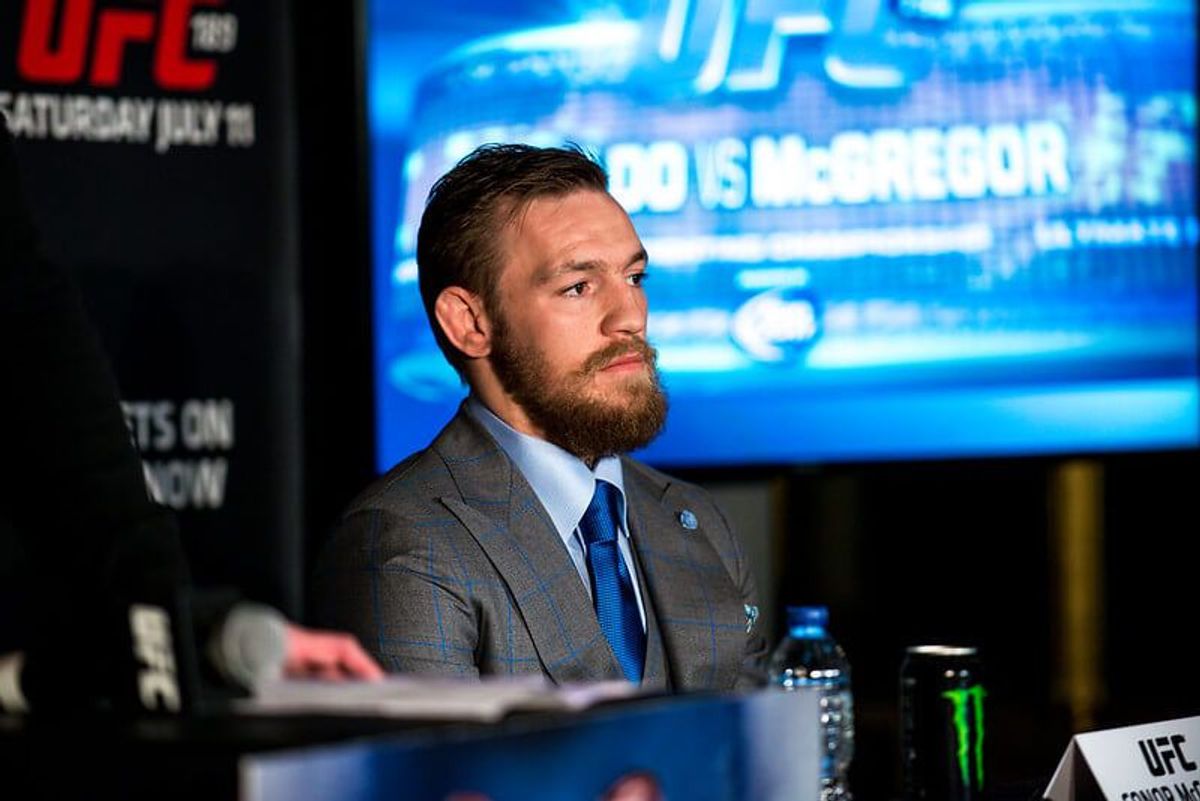 Conor McGregor
Most often, when a submission hold, lock, or choke is cinched in, the fighter the hold is applied to will submit or tap out in lieu of risking severe bodily harm. If the allotted time period of the fight passes without a KO or submission, the fight is judged by three judges on a 10 point scoring system, much like boxing. A decision is then rendered either unanimously if all judges deem the same fighter to be the winner or split if two of the three judges see the fight having the same winner.
There are rare occasions where a fight will be stopped due to illegal strikes such as eye pokes, groin strikes, or knees or kicks to the head of a grounded opponent that will see the bout end in either a disqualification or be labeled a no contest. The other rare outcome is a draw based on judges' scorecards.
The most common and most simplistic bets on MMA fights are simply odds-based money line wagers either laying a larger figure than the bettor stands to win on a favored fighter or laying a smaller figure than the bettor stands to win on an underdog.
For example, in our hypothetical fight, Fighter A is a -200 favorite which would mean their opponent, Fighter B, is a +170 underdog. Here's how the mathematics of this works out:
For every $200 wagered on Fighter A, a winning bet would return $100.
For every $100 wagered on Fighter B, a winning bet would return $170.
These bets do not need to be in $100 increments, the $100 figure just gives the ratio of payout based on those odds.
In addition to sports betting on a given fighter to win, there are other ways to wager on any given fight. These include:
Length of Fight
Method of finish
Parlays
Length Of Fight
This type of wager can be made in a couple of different ways. The most common is simply whether or not a fight ends inside the predetermined full distance of the fight, or ITD. This works just like a straight bet on a fight with the most likely outcome having a betting line set with a negative figure. For example, if two fighters are historically good at knocking out their opponents, the inside-the-distance (ITD) line might sit at -500. There's not a full consistency on the comeback line for an underdog with a line this high, but it would be in the neighborhood of +400, and we will use this for simplicity's sake.
For every $500 wagered on ITD, a winning bet would return $100.
For every $100 wagered on not ITD, a winning bet would return $400.
Another example would be two fighters who have not shown a propensity for finding knockouts or submissions might have an ITD line set at +170. This would flip the odds the other way.
For every $100 wagered on ITD, a winning bet would return $170
For every $200 wagered on not ITD, a winning bet would return $100
Another way to wager on the length of the fight is on the "total" or the "over/under" line. This is much closer in structure to a point spread or total bet in other sports but does carry some odds fluctuation as well.
Totals on MMA fights are generally set at 1.5 rounds or 2.5 rounds. Don't be confused by the decimal there, it doesn't take into consideration the time of the round, only which round is reached. For example, if betting over 1.5 rounds, this bet would be a loser as soon as round two begins.
There are also "fight begins round X" bets. This is another simple odds-based wager on whether the fight makes it to whichever round is being wagered upon.
Method Of Finish/Fighter Props
These bets are predicting not only the winner of the fight but their method of victory as well. These bets include ITD win, by KO, by submission, and by decision. While these bets are often more difficult to pinpoint, they offer a more favorable rate of return than flat bets on a given fighter.
Going back to our original example having Fighter A as the -200 favorite against the underdog, Fighter B at +170. Fighters A and B might also carry betting lines such as
Fighter A ITD at +150
Fighter A by KO at +270
Fighter A by submission at +850
Fighter A by decision at +120
Fighter B ITD at +600
Fighter B by KO at +1300
Fighter B by submission at +800
Fighter B by decision at +420
This is a hypothetical example but is in line with the norm on these types of lines. As you can see, there is value in specificity, with a much higher rate of return.
Parlays
This is a bet common to all sports that combines multiple bets into one wager with a higher rate of return if all bets are winners. In this format, all bets included in the wager must be winners for the wager itself to be a winner. All but one would not be good enough and the wager would be a loser.
Here's an example of a three-fighter parlay, and for simplicity's sake, we will make all fighters bet to carry a -200 betting line. As opposed to betting each fight individually and laying more cash than is stood to be won, the parlay would pay approximately +240 with all fighters winning.
Three fighter parlay
Fighter A -200
Fighter C -200
Fighter E -200
$100 wager returns $240 with all fighters winning. An outcome that sees any of the three fighters listed on the losing side, would make this wager a loser.
No Action Outcomes
There are rare instances in MMA, like other combat sports that will result in a "no action" wager, meaning the original bet will be refunded. These include draws and no contest fights.
Know The Fighters – MMA is very much a previous film-based sport in terms of analysis on how well one fighter matches up with another. It is also very much about knowing the background and fighting style of each fighter, and most importantly, how to exploit weaknesses.
For instance, the best striker in the world would be at a disadvantage against an objectively poor striker who was also a sound wrestler and competent Brazilian Jiu-Jitsu (BJJ) practitioner when we add the caveat that said striker has poor takedown defense and novice level BJJ. This is the reason the best boxers in the world have been unable to successfully transition to MMA.
Now let's make one tweak to the hypothetical matchup formula presented above. Let's say the world's best striker remained a novice level BJJ practitioner but now had high-level defensive wrestling added to their credentials. We still know this fighter would be at a distinct and troublesome disadvantage on the floor, but we now have the relative comfort level of knowing that fighter may well be able to keep the fight standing for its entirety, where they hold the distinct advantage.
This example is just outlining the importance of knowing the fighter skill sets and transitioning that to how to expect the fight to play out. Identifying areas of exploitable advantage is the most important aspect of MMA gambling.
Follow line movement – This is not foolproof and does not carry a perfect correlation by any means, but there are certainly ways to use it to your advantage. The rule of thumb is simply to trust the betting trends to the exact reciprocal of the notoriety and fame of the fighters in the fight. Generally speaking, the less known the fighters are, the sharper the money being bet on them is, stemming from the action coming from those in the know. On the other end of the spectrum, a high-profile fight is likely to have more action from casual observers and the sharpness of the money coming in will be at its lowest point.
How To Find MMA Odds on Betting Sites
Most betting sites and/or betting apps will contain a tab for "MMA" or "UFC/MMA." The UFC is the premier MMA organization in the world and is wholly considered "the big leagues" if put into baseball terms. It is where the best fighters in the world want to be and they have an arguable monopoly on the best fighters across all weight classes.
Once on the MMA portion of the betting site, you can then see which fights are available for betting along with available fighter and fight props.
Most Popular MMA Events
The heading could have just as easily read "Most Popular UFC Events" while there are other promotions that offer entertaining MMA, and some being televised, the other promotions just don't carry the star power, and in turn, don't garner the level of interest the UFC does. Bellator is the closest thing to a competitor to the UFC and is televised. They often sign name fighters past their prime that have more name value than competitive value after their UFC tenure. The other most recognizable promotions are ONE Championship, PFL, and Invicta for women's MMA.
Getting back to the UFC, their popularity is at an all-time high and will continue to grow on the heels of the partnership created with ESPN to begin 2019. There are approximately 40-45 UFC events each year, almost all of them occurring on Saturday evening/night, with the most popular being the pay-per-view events that happen approximately once per month. These cards always carry the most star power and sometimes have multiple championship fights. The main card is a pay-per-view event while the prelims are televised on ESPN. The "biggest" card of the year is generally reserved for International Fight Week which falls on the first week of July.
The next most popular events are the ESPN Fight Night cards that take place on the main ESPN network that happens approximately bimonthly. These cards have some star power and stakes at the top of the rankings in a couple of different weight classes but aren't on the star power or popularity level of the pay-per-view cards.
The remainder of the cards is fight night cards broadcast on ESPN's streaming service, ESPN+. These will generally have one or two fights at the top with something of household names and are generally where newcomers and the bottom and middle-level fights in the promotion take place.
MMA History
While the origins of MMA can be traced back approximately 2600 years, the sporting and modern version we're familiar with today had its berth in the 1990s. "UFC1" in 1993 saw Royce Gracie become the first true MMA champion in a version of MMA that had much fewer safeguards, rules, and policies in place than that which we have today. Back then, there weren't timed rounds or even weight classes and fights went until there was a finish.
In 2001, the UFC modernized the sport and laid the groundwork for how we know the sport today. The sport was adopted by state athletic commissions in the US and began the shed the taboo label that had followed it.
Most credit the reality show The Ultimate Fighter and fighters Chuck Liddell and Randy Couture for the launch of the sport into the mainstream in the early 2000s.
The sport has gradually grown since then and is now thought to have reached pay-per-view audiences in over 130 countries worldwide and the UFC is valued at approximately $5,000,000,000 USD.
In comparison to other popular sports, MMA is still in its infancy but is growing quickly, as infants do. With ESPN and the UFC making their partnership, continued and massive growth remain highly probable.
MMA Legends
Royce Gracie won UFC1 and is considered the grandfather of the sport. He is the highest level of Brazilian Jiu-Jitsu practitioners and introduced the grappling portion we know today into MMA. Other quite notable names from these early days are Ken Shamrock, Patrick Smith, Dan Severn, and Tank Abbott.
The late 1990s would see the rise of names such as Chuck Liddell, Randy Couture, Tito Ortiz, and Matt Hughes and that would be the key group to making the sport a household name and changed the lexicon of MMA from savagery to sport. Many credits the Liddell/Couture trilogy as the entrance into the mainstream for the sport.
The 2000s saw another group of household names surge onto the scene. Georges St Pierre (GSP), Anderson Silva, BJ Penn, Rich Franklin, Forrest Griffin, Frank Mir, and Nick Diaz spear-headed the group that would be behind the growth from entry into the mainstream to legitimate popularity.
In 2006 the UFC purchased the WEC which featured lighter weight classes than the promotion was managing, and brought in stars to be Jose Aldo, Dominick Cruz, Anthony Pettis, Urijah Faber, and Donald "Cowboy" Cerrone. They also acquired WFA which brought stars Quinton "Rampage" Jackson and Lyoto "The Dragon" Machida.
2007 was the first year the UFC surpassed boxing in betting revenues and set a new record of over $222,000,000 in pay-per-view sales. The company also purchased the Pride promotion and with it came legend Dan Henderson along with greats Mirko Cro Cop, Wanderlei Silva, and Mauricio "Shogun" Rua.
2008 would see the promotion bring in future megastars Jon "Bones" Jones and Brock Lesnar.
Other household names to be featured in this timeframe and ensuing years are Rashad Evans, Cain Velazquez, Chael Sonnen and saw the continued prominence of Anderson Silva and GSP.
The most recent years feature Conor McGregor, Ronda Rousey, Cris Cyborg, Stipe Miocic, Daniel Cormier, and the continued prominence of Jon Jones. It should be noted that Conor McGregor is the largest draw the company has ever had, as he headlined the four highest-grossing pay per views the company has ever had, and additionally cashed in a crossover boxing bout with Floyd Mayweather.
Fedor Emelianenko is the lone fighter that never competed in the UFC that is considered one of the all-time greats.