888sport App Review
888sport app is owned by one of the largest gambling companies in the world, 888 Holdings PLC, with a presence across the globe. Now, the 888sport mobile app offers a sportsbook in New Jersey through a partnership with Caesars Interactive Entertainment. 888 Sport is powered by the technology of sports betting powerhouse Kambi.
Their app is visually appealing, has loads of live betting options, and is very safe and secure. For people in New Jersey who are looking for great sports betting app, and an 888sport app is a great option.
Let's take a more in-depth look at everything it has to offer in this review.
As of right now, the 888sport mobile betting app is only available on smartphones in New Jersey.
888Sport New Jersey on Your Smartphone
888Sport New Jersey Launched September 10, 2018
Mobile 888 Sportsbook NJ Partner: Caesars Interactive Entertainment
888 sport mobile offers are plentiful. They have a great welcome offer, risk-free bet as well as some other ongoing promotions for sports, from baseball to horse racing and everything in between.
$500 - 888sport Welcome Offer for Mobile
888sport has a mobile welcome offer that's quite impressive. When you sign up for a new account, you can qualify for a risk-free bet. Once you make a deposit, you just need to place your first sports betting wager. Then, if you lose this first bet, you can get your money back, up to $500, from the 888 sport app. You don't need an 888sport promo code for this offer.
888sport Mobile App Free Bets
888sport mobile free bets are provided as part of the welcome offer above. You will get your free bets money deposited into your mobile 888 sportsbook account within 72 hours if your first wager loses. Parlay bets do not qualify for this offer. You don't need a mobile 888sport promo code for this offer.
888sport Live Betting Bonus on Smartphones
An 888Sport live betting bonus for smartphones is also available. All you have to do is place a live betting wager of at least $10 in New Jersey, and you'll get a $10 free bet to use on any sport of your choice. Only your first live betting wager will qualify, and the wager must have odds of -200 or more. You don't need an 888sport bonus promo code for this offer.
888sport Mobile Betting App Win Win Bonus
The 888sport Mobile Win Win bonus is available on multiple days of the week. On Tuesdays, for example, if you place a bet of at least $5 that has odds of +300 or more, you can get a mobile 888 sport free bet worth $5 if your bet wins. This bet just must be placed and settled on the same day to qualify. You don't need an 888 sports betting promo code for this offer.
How to download 888sport iOA mobile app
888sport has a free mobile application that is available for iOS and Android-powered devices. To download the app, follow the steps below.
1

Click on the link below
Click the Claim Bonus button to visit the 888sports site and head over to the homepage.
2

Register
Register your 888 account.
3

Find the app
Then scroll to the bottom section of the site and look for the iOS logo. Click on the iOS logo, and you will be redirected to the Apple App store.
4

Download and get started
On the 888 sportsbook app click on get. The app should begin downloading. Once done, launch the app.
How to download the 888sport Android app
Sadly, the Android version isn't available on the Google Play store. However, you can download the 888sports Android app from the 888sports website. Follow the steps below to get started.
Click the Claim Bonus button below to go to the 888 sports website
2

Register your new 888 account
3

Scroll to the bottom section of the website and click on the Android logo
4

A download prompt will pop up on the top part of the site, click on OK
Head over to the security settings and check the 'allow unknown sources' button
6

The app will begin downloading
7

Once the app has completed downloading, launch the application
Push notifications on 888Sport app allow you to stay informed and up to date on new betting features and gambling offers. After you have completed the download, you can stay in the loop by activating push notifications. This will allow you to receive updates straight to your phone.
Here's how you can activate push notifications on the two major mobile platforms.
888sport App on iOS
To activate notifications on the 888sport app on iOS:
1.) Go to Device Settings
2.) Scroll down until you find the 888 betting app
3.) Select Notifications
4.) Ensure "Allow Notifications" is enabled
888sport App on Android
To activate notifications on the 888sport app on Android:
1.) Go to Device Settings
2.) Go to Apps and select 888sport mobile
3.) Ensure "Allow Notifications" is enabled

888sport mobile software requirements are important to pay attention to. Making sure your mobile device is up to date and can run the software is important to get the best experience. Here is the breakdown of the software requirements for the app.
888sport app – iOS version software requirements.
| | |
| --- | --- |
| Detail | Requirement |
| Software compatibility | iOS 8.0 or later |
| Devices compatibility | iPhone, iPad, and iPod touch |
| Age rating | 17+ |
| Supported Languages | English, Finish, Russian, Svenska, Spanish, Portuguese, German, Danish, Italian, French, and Romanian. |
| Software Version | 1.2.0 |
| Software size | 6.3 MB |
888sport app – Android version software requirements
| | |
| --- | --- |
| Detail | Requirement |
| Software compatibility | Android 8.0 or later |
| Devices compatibility | Android-powered |
| Age rating | Not specified |
| Supported Languages | Not specified |
| Software Version | 1.0 |
| Software Size | 20.34 MB |
The look and feel of the 888sport app can be described as elegant, classy and royalty . The sports betting app look hasn't fallen far away from its solid reputation and good name the online bookmaker has built in the industry. It has an appealing look thanks to its dark color mode with text highlights of orange. You can't fall for the color schematics, if you haven't had a glance at its array of tools for easy navigation.
888sport app has a hamburger style menu on the left top section of the app that highlights some of the main functions of the app, such as live betting, Sports A-Z, and promotions. Just below the menu, there is a search bar that players can use to locate sports events to bet on based on league name, team or the sport.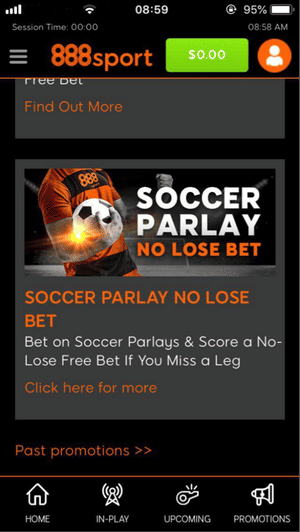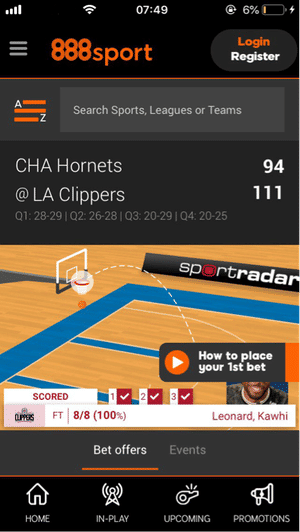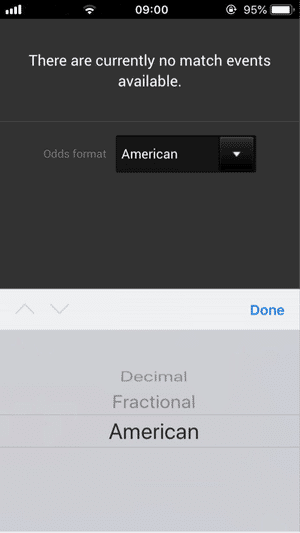 The middle section of the app is the main gaming platform where the events are highlighted with their corresponding odds. Each event is highlighted with a white tab background, an orange background for the odds, and the text in white. It is easy to spot and differentiate an event from another, unlike sports apps that have a congested look. There is a toggle below the main betting terminal that allows players to switch between fractional, decimal, and American odd formats.
On the footer, there is horizontal slider menu containing tabs such as in-play, upcoming, promotions, and home.
There are many sports to bet on at 888sport mobile. The sports betting offering and betting features are similar to the desktop version. The 888sport app supports a wide range of sporting events. Below are some of the sports available for betting on the app:
Football (NFL and NCAA)
Basketball (NBA and NCAA)
Baseball
Golf
Hockey
Boxing/MMA
Tennis
Horse Racing
Soccer
In addition, there are other less popular sports such as cricket and women's basketball. Their offering for alternative sports isn't as strong as some other apps, but they do an excellent job of covering the main ones.
888sport App has many special features that make betting using the app thrilling and entertaining. Below are some of the top features of the 888Sport app:
In-play: The 888sport app allows bettors to place wagers on ongoing events. In-play betting presents an opportunity to bettors who had missed placing bets before the game started a chance to win.
Live streaming: Bettors can keep track of an event's stats and happenings in real-time courtesy of the 888sport app live streaming feature. Using high-quality visuals, bettors are able to make intuitive betting decisions.
Cash out: Bettors using the 888sport app are able to receive partial winnings before an event comes to an end. The 888sport mobile cash-out feature also helps players to cut their losses through the app.
There are many 888sport mobile secure payment methods to choose from, whether you're making a deposit or withdrawal. There is a $10 minimum for all deposit methods, and the money will be live in your account almost immediately after you complete the transaction. Here are the options for deposits for the app:
Via/Mastercard debit and credit cards
Discover credit cards
Online Banking Transfer
Bank Transfer (ACH)
PayPal
Play+
PayNearMe
Cash at Casino Cage (can initiate via mobile)
There are fewer mobile withdrawal methods, but still enough to provide solid options for players. Withdrawals can take up to 72 hours to process, and there is a $10 minimum. The withdrawal options for smartphones are:
Bank Transfer (ACH)
PayPal
Play+
Pros
Huge selection of sporting events
Cash-out and other interesting features
Easy to use interface
Mobile welcome bonus and other promotions
Cons
Limited Payment methods
Not available in Google Play store
Download the 888sport App Today
There are many reasons to download the 888sport app today. Players can rest easy knowing that 888sport is one of the most trusted names in online sports betting across the world. They hold themselves to the highest standards, and that shines through in their New Jersey app.
There are tons of wagers that can be made at 888sport on smartphones, across many of the most popular sports in the U.S. While there aren't as many alternative markets to bet on, that shouldn't deter many people from downloading the 888sport app.
The company also offers many great promotions, most of which don't require a mobile bonus code to qualify for. You simply need to make a deposit or meet certain requirements based on the specific promotion listed on the app. If you ever have any questions or need help, the mobile 888sport contact page is available to get that help you need.
Is the 888 sports app secure?
The 888sports ap is very secure. It uses cutting edge technology to control every aspect of its functionality from logging in to banking transactions. It also has a touch ID option for iPhone users.
Is the 888 sports app legit?
Yes, the 888sports app is legal to use. The app, as well as other products, are licensed and regulated by the New Jersey Division of Gaming Enforcement.
I live in the usa, can i bet using the 888 sports betting app?
The 888sports app is geo-restricted and only accepts wagers from players who are physically within New Jersey State. Additionally, you must have attained the age of 21.
Will i get the welcome bonus if i sign up using the 888 sport app?
You will get the 888sport welcome bonus if you sign up using the app, and you check the welcome bonus button during registration.
Why can't i cash out using the app?
The cash out is affected by live prices. The cash-out amount may be high or low, depending on the outcome of the bets. The cash out becomes unavailable if the bet has little chance of winning.
Can i win real money while using the 888 sport app?
Yes, if you bet using the app and the bet wins, you win real money. Your winnings will be credited to your account instantly.
Can you get a mobile 888sports free bet?
Yes. There is a mobile 888sport free bet that's available to all new players. Simply place a single wager after making your first deposit, and if it loses, they will refund you up to $500