Grizzlies vs Bulls Pick and Predictions 2/26/22
February 26, 2022

The Chicago Bulls and Memphis Grizzlies are two teams capable of putting on a great show in the NBA. Both sides have had their share of memorable squads, which makes their regular season showdowns worth keeping an eye on at all times. In this round of NBA picks, we give Bulls vs Grizzlies a closer look and provide our best bet for what should be an intriguing contest.
Chicago Bulls vs Memphis Grizzlies Betting Pick
This game will be played at 8:00 PM ET at United Center
Why bet the Bulls:
✅ The Chicago Bulls have the best home record in the Eastern Conference this season, and should continue to press their advantage on their home floor here. They have yet to lose 10 games at home this season, and should continue to dominate in United Center behind the strength of their offense.
✅ The Bulls have a huge advantage in that they have the best closer in the game right now in DeMar DeRozan. DeRozan has been deadly from the mid-range this season, and has been able to get his shot off whenever he wants down the stretch of games. He will be able to do so again here if this game against the Grizzlies is close.
✅ The Memphis Grizzlies may not have an answer on defense for Nikola Vucevic. Vucevic is a versatile big, which is a problem for a more stationary big man in Steven Adams of Memphis. Expect Vucevic to be able to get his shot off as he pleases in this contest.
Great promotions
Best Multi interface platform
Easy registration process
UP TO $1000 BONUS
General Info about Memphis Grizzlies vs Chicago Bulls
Which team has the upper hand in this game?
The upper hand in Bulls vs Grizzlies will go to the side that has its roster in tact for this matchup. Games in this league are so often determined by who has the superior health situation. This contest between the Chicago Bulls and Memphis Grizzlies is no exception.
Are these teams going to make the playoffs?
Bulls vs Grizzlies could very well be a clash between teams that will make the playoffs this season. While this regular season matchup will not solely determine the chances of each side, this game could have an impact on whether or not one or both sides get to the postseason.
Where does each side play its home games?
The Chicago Bulls play their home contests at United Center in Chicago. That venue has been home to the Bulls through some of the best periods in club history, including the Jordan era. The Memphis Grizzlies play their home games at FedExForum in Memphis, TN. That venue was home to the "Grit and Grind" era of the franchise in addition to the present incarnation.
Bulls vs Grizzlies Predictions
Making a prediction on any NBA game requires a deep understanding of both sides involved. In the case of Bulls vs Grizzlies matchups, the fact that each side hails from a different conference means that there is a unique lack of familiarity between these sides. In our predictions for this matchup, we project how these sides will interact in spite of some of those unknowns.
Grizzlies vs Bulls Against the Spread Predictions
Each season, bettors flock to the point spread market when making their NBA picks. That is also the case when the Chicago Bulls and Memphis Grizzlies play, as bettors look to win in this market during this inter-conference contest. Bettors should remember that they need to predict not just the winner in this market, but by how what margin the winner will get their victory.
Chicago Bulls vs Grizzlies Over/Under Betting
The over/under is a market that is not concerned with the winner or their margin of victory. Instead, points are all that matter in over/under betting. Bettors have to predict whether games will see more points or fewer points than the amount projected by bookmakers in this market.
To gain an advantage in the over/under market, bettors need to understand how the Chicago Bulls and Memphis Grizzlies generate their points. More specifically, an understanding of how these teams can take away the scoring of the other side is key.
Memphis Grizzlies vs Bulls Moneyline Predictions
Moneyline betting is all about predicting which team will win a basketball game. Unlike the point spread market, the margin of victory in games is not important. And with basketball games being as unpredictable as they are, the results in previously played games isn't always relevant either.
When betting on the moneyline, the main thing bettors need to remember is that each game is totally different. That, and understanding the differences between laying the juice with the favorite and getting plus money with an underdog, are the keys to turning a profit in this market.
Strong presence in US
Wide range of betting options
Generous bonus offers
UP TO $1000 BONUS
Great promotions
Best Multi interface platform
Easy registration process
UP TO $1000 BONUS
One of the Largest Gambling Sites in the US
Offers Casino, Sportsbook & DFS
Great Promotions
UP TO $1000 BONUS
The odds for NBA games can vary wildly from one contest to the next. Contests each season between the Chicago Bulls and Memphis Grizzlies are no exception to that rule, as odds can vary based on all kinds of factors.
The most important factor that determines the odds in NBA games is the presence of injuries and other player absences. Just one key player missing a game can be the difference between a team being a heavy favorite and being given virtually no shot to win. Throughout the season, bettors should keep an eye on the injury report to stay up to date on potential roster changes.
Live Streaming Grizzlies vs Bulls
Throughout the NBA season, fans of pro basketball are able to watch live games through a series of live streaming providers. For Bulls vs Grizzlies matchups, this means that fans are able to watch these contests through live streaming providers like YouTube TV and Hulu, which carry both sports and entertainment programming.
To this point, there is no ability to stream the NBA through any legal US sportsbooks. That could change in the future, but no forward progress has been made just yet.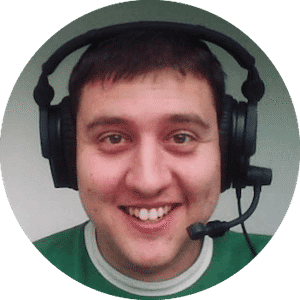 Jay Sanin
Jay Sanin is a sports writer and broadcaster from Albany, NY. He has covered sports betting and the gambling industry since 2013.