Conor McGregor vs Dustin Poirier Prediction
July 8, 2021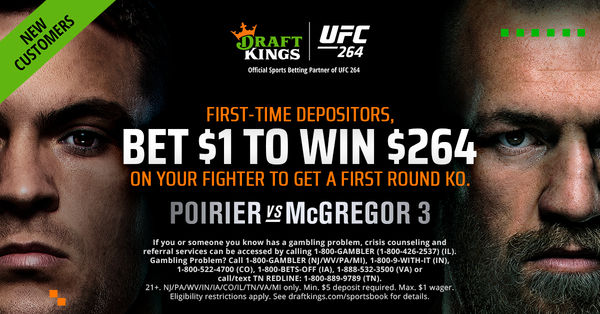 Dustin Poirier -130 vs Conor McGregor
Fight is five rounds at 155 lbs and is -350 to end inside the distance.
Be sure to check out this amazing offer from DraftKings for this fight card.
Betting Pick: McGregor +110
✅ The third installment of McGregor vs Poirier is the most intriguing one to me. We saw McGregor own a less developed version of Poirier in 2014. Moving forward seven years, we saw Poirier come from behind in what was an early slug fest to finish McGregor. How that second fight played out was very interesting and I believe breaking that down is the key to projecting this third installment.
✅ Conor McGregor won the first round of the last fight. He was landing very big shots and certainly rocked Dustin Poirier. We saw the durable Poirier maintain his composure and put serious damage on the lead leg of McGregor. That strategy paid off in Round 2 as McGregor's leg ended up toast, taking away all of his movement and power, and Poirier knocked down and out the sitting duck that was McGregor. The 18 leg kicks McGregor took in that round and a half were more than he had taken in any UFC fight. Max Holloway landed 12 leg kicks over 15 minutes and no other fighter landed more than nine. With Conor not using his wide karate stance and also rushing and forcing the action, he opened that opportunity for Poirier. That being said, the real question is will the lead leg be available for Poirier to damage at the same level in this fight? The answer is almost assuredly no. That outcome will be a one off when McGregor's career is all said and done.
✅ With Dustin Poirier being bet to a favorite in this fight, we need to explore what his paths to victory are. We saw what deading the leg did, so calling that a path must be done, but I see it as unlikely. Then we have to look at the potential wrestling path. He did score a takedown early in the first fight but was not able to control McGregor at all. This might be a path but it would requite the McGregor gas tank to be empty in the second half of the fight, if it makes it that far. While Poirier earned the KO in the last fight, he did not win the striking exchanges. Conor appeared the better and more powerful boxer. That will be the case again. Coach John Kavanagh and the McGregor team will make adjustments. Whether it be as simple as patience, whether it be stance changes, or whether it be going first less, there will be adjustments that make this fight play out differently than the last one. With all that being said, the path to victory for Poirier is to survive and win in deeper waters. Whether it be via boxing or wrestling, it is the later rounds that Poirier will need to get to. I am not sure he will have any advantage to press in the first half of the fight.
✅ All in all, the last fight was as much decided by tactical errors by McGregor that are somewhat easily remedied, at least in comparison to other potential pit falls. He will continue to be the quicker, more explosive and more powerful striker. While I truly think the world of Dustin Poirier as a fighter and a person, this fight will not go his way.
✅ I believe the outcome of the fight is a McGregor KO, but there is no value in betting it that way. We are already getting +110 on the flat line and only +145 on the ITD line. Take Conor flat even though a KO is the most likely outcome.
Betting Pick: McGregor +110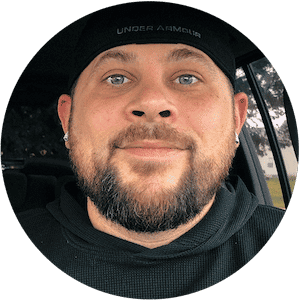 TJ Calkins
TJ Calkins was raised in a gambling loving household. He knew how to handicap horse races and follow line movements well before his tenth birthday. While sports betting remained a passion into adulthood, poker and Daily Fantasy Sports also became passions and remain as such today.