Cincinnati Open 2020 Betting Plays & Predictions
August 20, 2020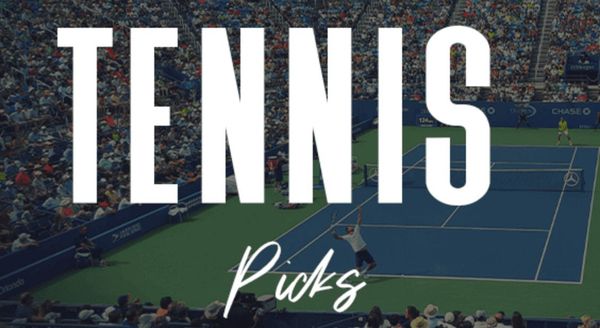 After a one-day delay, the semifinals of the Western and Southern Open are set to take place on Friday, August 28. With all four semifinalists in the men's draw likely to make deep runs in next week's US Open, Stefanos Tsitsipas will take on Milos Raonic while Novak Djokovic takes on Roberto Bautista-Agut.
Stefanos Tsitsipas vs. Milos Raonic
Pick: Stefanos Tsitsipas -1.5 sets (+145) over Milos Raonic
While every player in the semifinals of the first ever Cincinnati Masters to be held in New York received an additional day of rest, Stefanos Tsitsipas received some additional rest in the quarterfinals. Approaching the conclusion of the first set against Reilly Opelka in that match, Opelka was forced to retire due to injury.
Tsitsipas has won all four of the completed sets he has played in this tournament, defeating the big serving Kevin Anderson and John Isner in straight sets prior to the victory over Opelka. The recent experience the Greek player has defeating players whose strength is their serve may come in handy against Milos Raonic, who plays a similar game to the players Tsitsipas has eliminated in this tournament.
Raonic has won four matches in this tournament, as he did not receive a first round bye the way that Tsitsipas did. The Canadian has won eight of the nine sets he has played during this event, with a straight sets win over Andy Murray serving as the high point of his tournament thus far. Raonic's last match was a difficult one, though, as he needed to grind out a three-set victory over Filip Krajinovic.
These two competitors have squared off once in their careers, with Raonic earning a straight sets win over Tsitsipas in the 2020 Australian Open. Raonic was playing arguably the best tennis of his career during the Australian Open, and has not reached that level since. Tsitsipas has already become accustomed to dealing with powerful servers on this fast surface in New York, and should be able to get revenge on Raonic en route to a Masters 1000 final.
Expect the winner of the first set in this match to cruise to victory in the second set, as both players will attempt to expect as little energy as possible to get a win here given that there are more ranking points on the line in next week's major. Tsitsipas should be able to get the better of Raonic in set one, with the situation justifying taking Tsitsipas to win in straights at a plus price.
Novak Djokovic vs. Roberto Bautista-Agut
Pick: Roberto Bautista-Agut +1.5 sets over Novak Djokovic
The second semifinal in the Northeastern version of the Western and Southern Open features two players in the top-15 in the rankings. World number one Novak Djokovic looks to claim the Cincinnati crown for the second time in three years, while Roberto Bautista-Agut looks to become the seventh Spaniard to reach the final in this tournament's history.
Djokovic has had a straightforward road to the semifinal, beating Ricardas Berankis, Tennys Sandgren and Jan-Lennard Struff in straight sets to get to this point. This season, Djokovic has won 30.5% of his return games, a number that is good for third on tour over the last year. And having not played a top-30 player in this tournament thus far, the only question for Djokovic in this match will be how hard he wants to work with the US Open looming.
Roberto Bautista-Agut has had a much more difficult road to the semis. After coming back from a first set deficit to beat Richard Gasquet, RBA won back-to-back three-set matches against Russian stars Karen Khachanov and Daniil Medvedev. The Spaniard dropped the first set in each of the last two matches, storming back to win the final two sets in each to reach this point.
After Djokovic won each of the first five matchups between these two players, Bautista-Agut has split the last six meetings with the current world number one. In those last six matches, Bautista-Agut has won at least one set on five occasions. While Djokovic is clearly the better player and has faced an easier path to the semis, the resilient nature of Bautista-Agut makes for the perfect spot to take the set and a half in this match.
Bautista-Agut has proven that dropping the first set against elite opponents is not a reason to doubt him coming back and winning a match. Here, he would simply need to win one of the first two sets to cash the ticket.
Sunday Review and Monday Betting Plays
❌Kevin Anderson +360 and/or Anderson +1.5 @ +118
Tsitsipas completely destroyed Anderson in a 2 straight set win. Poor pre-game analysis from my side as the fatigue Anderson showed after beating Edmunds in 3 sets should have been taken more into consideration. Anderson was simply performing at all while Tsitsipas showed that he is a serious contender for the Cincinnati Open 2020 trophy.
✅Grigor Dimitrov +117
Dimitrov looked sharp and Humbert had no say at all in this matchup.
Betting Play: Raonic -162
Milos Raonic -162 vs Daniel Evans +130
Evans stood for the biggest upset of the tournament so far on Sunday when he beat Rublev in three sets. Big serving Raonic who has been on the rise sine his surgery back in 2019 is a tough nut to crack and I believe Raonic will walk away with a relatively comfortable win.
Betting Play: Dimitrov -155
Grigor Dimitrov -155 vs Marton Fucsovics +123
We keep rolling with Dimitrov today. He looked great yesterday and maybe the long ATP break has done him well. Some exhibition tournament matches under his belt his year might have done wonders for him as he is a player who needs to find the play- and joyful approach to tennis in order to deliver his top game. Fucsovics is a tough opponent but Dimitrov has more tools and is better in every single aspect of the game. I believe Dimitrov will prevail and move into the 3rd round after a tight 2 or 3 set encounter with Fucsovics.
Sunday Cincinnati Open Betting Plays
Betting Play: Kevin Anderson +360 and/or Anderson +1.5 @ +118
Kevin Anderson +360 vs Stefanos Tsitsipas -500
Scheduled at Sunday 5PM ET
Anderson is back from injury and took a well deserved win over Edmund in the first round of this years Cincinnati open. Anderson is a class player and belongs in the top 10. Tsitsipas at -500 is too big of favorite and Andersson at +360 is a little bit too good. There is definitely value in placing a small bet on Anderson +360. A safer bet is set spread on Anderson +1.5 @ +118. Anderson has a big serve and Tsitsipas return game is not the best in the game.
Grigor Dimitrov +117 vs Ugo Humbert -148
Betting Play: Grigor Dimitrov +117
Scheduled at Sunday 2:40PM ET
Humbert has played great tennis in the tournaments that have been arranged while the ATP tour was suspended and is the favorite at -148 BUT there is a huge difference between playing some "exhibition" tournaments and playing in a masters event such as the Cincinnati Open. Dimitrov has the experience and is a one time masters tournament winner. That win came in the Cincinnati Open in 2017 so expect Dimitrov to play some great tennis in this years event. Dimitrov at +117 looks like a good bet.
The ATP Tour returns this week with a bang. The Cincinnati Open 2020 will be the first ATP masters tournament of the year. With all clay court ATP masters and the first three hard court events (Indian Wells, Miami and Toronto) suspended Cincinnati masters will be the second most important tournament of the year so far (after the Australian Open). With the US Open starting a few days after Cincinnati Open I'm super excited to see where all the top players stand.
It's been a long break and betting on the Cincinnati Western & Southern Open will be challenging but let's jump into the odds and the draw to try to find some value bets.
Cincinnati Masters Winner Odds
Betting Play: Rublev +2500 or Djokovic -106
| | |
| --- | --- |
| Player | Winners Odds |
| Novak Djokovic | -106 |
| Dominic Thiem | +600 |
| Daniil Medvedev | +900 |
| Stefanos Tsitsipas | +900 |
| Alexander Zverev | +1500 |
| Roberto Bautista-Agut | +2500 |
| Andrey Rublev | +2500 |
| Matteo Berrettini | +3000 |
| Kevin Anderson | +4000 |
| Milos Raonic | +4000 |
Djokovic -106 is the clear favorit and rightfully so. Without any Nadal or Federer the way to another Cincinnati title for the reigning champ, looks pretty easy. But then again we have an extremely long break and the 2020 season is like no other tennis season.
Thiem +600 is second favorite but the way I see it Thiem is one of the players that is hurt most by this long break. His physique has always been the best on the tour but he needs matches to find his form and so far he has not been challenged enough in the event he played.
Medveded and Tsitsipias +900, no real value here as I doubt anyone of these players have what it take to lift the Cincinnati trophy in 2020.
The player to bet on if you are looking for a big paycheck is Andrey Rublev +2500. In the beginning of the season I anticipated 2020 to be Rublev's year and that has not changed. The long break could be ideal for him. No one expect anything of him and Rublev is a pure talent and the break has given him time to improve his physique which has not been his main weaponry on the court.
Cincinnati Open Draw 2020
Djokovic first challenge comes in a potential 3rd round encounter against Auger-Aliassime. Felix has looked sharp on the training court (which he has been for year) but has not been able to convert his extreme talent and tennis skills to a winning strategy. Last year it looked like he was going to establish himself in the top 10. He has what is takes to become a top 3 player but the question is how long time it will take before he gets there.
Expect a good odds return on a potential Felix win against Novak. Might be worth betting a unit on an upset.
The quarterfinal on the upper half should probably end up with Djokovic against Goffin or Shapovalov.
Bautista Agut has a nice and easy road all the way to the semifinal where he will most likely face Djokovic. Bautista Agut has been successful against the world no1 many times and will probably be the biggest threat (together with Thiem and Rublev) to another Cinci title for Djokovic.
The lower half is more open but I predict Schwartzman to reach the quarterfinal, after beating Berrettini in the 3rd round, and facing Isner or Tsitsipas. Isner is strong on home soil but Tsitsipas is the stronger player and should go all the way to the semifinals after beating both Isner and Schwartzman.
Zverev and Thiem are top seeds to meet in the 4th quarterfinal. Thiem should have a smooth road to the last QF while I predict Zvered to lose against Rublev in the 3rd round. Rublev to reach the semifinal after beating Thiem.
Rublev will give good value all the way through this tournament.
Stay tuned as this piece will update with more betting picks as the tournament goes on.
Gus Anderson
Gus Anderson is a gambling wizard. As a kid he dreamt about becoming a Tennis, Hockey and Golf professional but ended up as a gambling professional focusing on Tennis and Hockey.