Cage Warriors 113 Betting Overview
March 17, 2020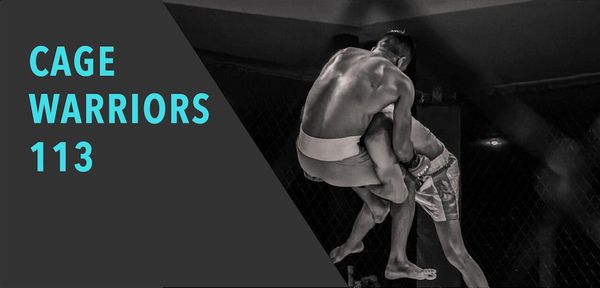 In these crazy times with sporting events being as rare as unicorns, it is a relief to have this Cage Warriors card happening this Friday.
The event will kick off at 230PM EST and the seven prelim fights will be streamed for free on cagewarriors.com. The four fight main card will be aired on UFC Fight Pass at 5PM EST.
This card has been tweaked and changed multiple times, from fight card to location, and it looks like the final version will feature 11 bouts with the main event now being between a pair of UFC fighters who lost their fight from the UFC London card. Darren Stewart will fight Bartosz Fabinski at welterweight. It will be nice for the American viewers to have some familiarity with the main event fighters. It will be a return to roots for Stewart, as he fought in the Cage Warriors promotion from 2014 to 2016.
The co main event will be for the Cage Warriors lightweight championship between Mason Jones and Joe McColgan. It should be noted this is a belt that the GOAT Conor McGregor held back in 2012/2013 immediately before his UFC debut.
Darren Stewart -300 vs Bartosz Fabinski
Fabinski will be entering his fourth UFC fight (the fight is technically a UFC fight under the CW banner) with a 3-1 record, but there are asterisks. His last win was nearly two years ago and the combined UFC record of the fighters he's beaten is 3-9. The three wins for his opponents further spider webs to find that those opponents had just one combined win in the promotion. Read: the level of competition he's faced was the least the promotion had to offer, right up until he was dropped and submitted in the first round of his last fight.
Stewart on the other hand has fought a higher level of competition and won two straight and four of five with the loss coming to legitimate rising star Edmen Shahbazyan. Stylistically Stewart will want to strike in this one while Fabinski has just one mode, and that is seek takedowns and top control. The grappling side of things was a problem for Stewart back in 2017 and he isn't a high level guy on the floor by any means, but he is highly dangerous in the clinch and his path to victory is solely in defending takedowns.
The power edge is overwhelmingly on the Stewart side, and if the chin of Fabinski giving out in his last fight is any indication, it will take just one punch or elbow to see this one to its end. Even if Stewart is unable to stay off his back in the first couple rounds, Fabinski's relentless takedown seeking style is one that tends to drain his own gas tank and his chin will be open for touching later in the fight. Fabinski has no submissions to his record and his ground and pound is far from devastating, so there's truly not a world of danger for Stewart in terms of being finished. Even laying the juice at -300, Stewart will be live throughout the fight but I suspect just one or two striking or clinch exchanges in the first round will see Stewart put a punch or elbow on the button and put the lights out on Fabinski.
Note: At the time of this writing there is no available line for Stewart via KO. If that becomes available it is a sound pivot to lay less juice.
Mason Jones -350 vs Joe McColgan
Mason Jones is rightfully a sound favorite in this one. He's not a flashy striker, but is a very sound one, and does fantastic work fighting behind a great jab. He's won consecutive fights via decision, but don't mistake that for being unable to finish. Both of these fights were lopsided affairs and he was in control of both fights. On the grappling side of things, his judo base is sound and is generally able to let him keep fights standing or allows him to snatch top position if the fight is forced to the floor. His BJJ has a level of understanding to it but he is not smooth attacking submissions, but that will come with time. McColgan certainly does his best work grappling as all four of his wins inside the distance have come via submission, and more specifically, all four have been via front choke. He is a sound enough striker, but did see his chin give out a tick over a year ago and was finished via strikes. The shot that rocked him was not a heavy one and one that he'll eat over and over again in this fight. If he isn't able to force tie ups and grappling often in this one, he will be picked apart and likely finished by Jones. Despite the heavy juice, this fight is favorite or pass and I do think Jones gets the job done.
Note: If looking to mitigate risk, a parlay of Jones with Stewart in the co main event is a perfectly acceptable way to do so.
David Bear -155 vs Nathan Jones
Nathan Jones has won two in a row now since snapping a four fight losing streak, during which he was finished three times. He is a fighter quite happy to grapple as he wants to nearly exclusively attack submissions. He is capable in this area as he's earned eight submission wins in his career, but has seen the other side of the coin as well, as he's been submitted four times and KO'd once. He offers little danger on the feet as any striking he does doesn't bring a power element and is either designed for point fighting or to close the distance. He is quite hittable on the feet but has shown a sound chin. He will be the fighter having faced a higher level of competition in this fight. David Bear is also a fighter that has had success attacking submissions, with five straight to his record before suffering his first career loss via submission, and then bouncing back with a KO win. Bear will own the striking in this one with quick boxing and will be the better wrestler to set up takedowns when he's ready for the fight to hit the mat. Riding top control and superior wrestling, Bear will be able to wear down and ultimately submit an opponent that's been submitted four times and beat him at his own game. This line has actually moved towards Jones and I believe it has gone in the wrong direction, creating value on Bear.
Paddy Pimblett -320 vs Decky Dalton
This is a matchup of two fighters that highly prefer grappling, and simply put, one outclasses the other. Pimblett has been out of action for 18 months due to four consecutive fights falling through. He now had another one fall through but was fortunate enough to get middling regional opponent Dalton on very short notice. Pimblett is likely destined for the UFC one day while Dalton hasn't beaten an opponent with both 5+ career fights and a winning record since 2016. With the world watching, Pimblett will have an opportunity to stake his claim for a UFC roster spot and will find a submission win. Of the three larger favorites on the main card, Pimblett is the safest and best bet.
Note: A parlay of Pimblett/Jones/Stewart pays around +130 and is attractive. Adding Bear makes a four fighter parlay pay in the neighborhood of +280.
On the undercard, there simply isn't enough film plus time available to properly handicap these lower level fights, with the exception of just one in which I'll offer a recommended bet. Kingsley Crawford is not a fighter to expect to win many, if any more fights in his career, and there appears to be sound value on his opponent, Lewis Monarch at -170.
All in all we get a fight card and something to fire bets at and it could be much worse! Enjoy getting your MMA fix, I know I will!
TJ Calkins was raised in a gambling loving household. He knew how to handicap horse races and follow line movements well before his tenth birthday. TJ writes weekly UFC picks and predictions at USsportsbonus.com