Bet365 Soccer Betting – The Ultimate Sportsbook for Soccer Bettors?
February 12, 2020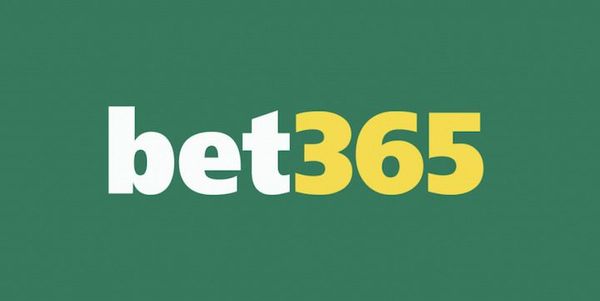 Based in Stoke-on-Trent, Bet365 is one of the biggest online sportsbooks in the world. Most of its profits come from the UK, which gives a hint into which sports this sportsbook is focused on. Obviously, soccer is the favorite sport of British bettors, which is why it is not a surprise that there are hundreds of soccer matches available in the betting offer of Bet365 USA Soccer section at any given moment.
Of course, soccer is not the only sport found in the Bet365 betting offer. There are plenty of other sports to choose from, including all the major US sports.
Leagues to Bet on at Bet365 Soccer
Bet365 soccer betting offer features all the events that soccer-bettors might find interesting. What we're talking about are competitions such as the Premier League and other major European soccer leagues.
There are also soccer matches from European competitions. Bet365 covers the Champions League and the Europa League, as well as all major national soccer leagues from the Old Continent. What's surprising, though, is that this sportsbook also deals with events from lower tiers of European soccer. For instance, this is the place where you can place wagers on events from the third Norwegian league.
Bet365 has also started its North American journey recently. This sportsbook is planning to take over the market in the US and Canada. To do that, the sportsbook needs to offer the American players exactly what they want. And they want to bet on their own soccer leagues, especially the MLS (Major League Soccer).
This sportsbook also deals with soccer leagues from other parts of the world, including Asia, Africa, South America, and Australia. In fact, there aren't many soccer competitions in the world that aren't covered by Bet365.
Bet365 Premier League Odds
The fact is that this sportsbook enables you to bet on almost any soccer competition on the planet. Still, it's fair to say that Bet365 puts an emphasis on the Premier League, which many believe to be the most competitive soccer league on the planet.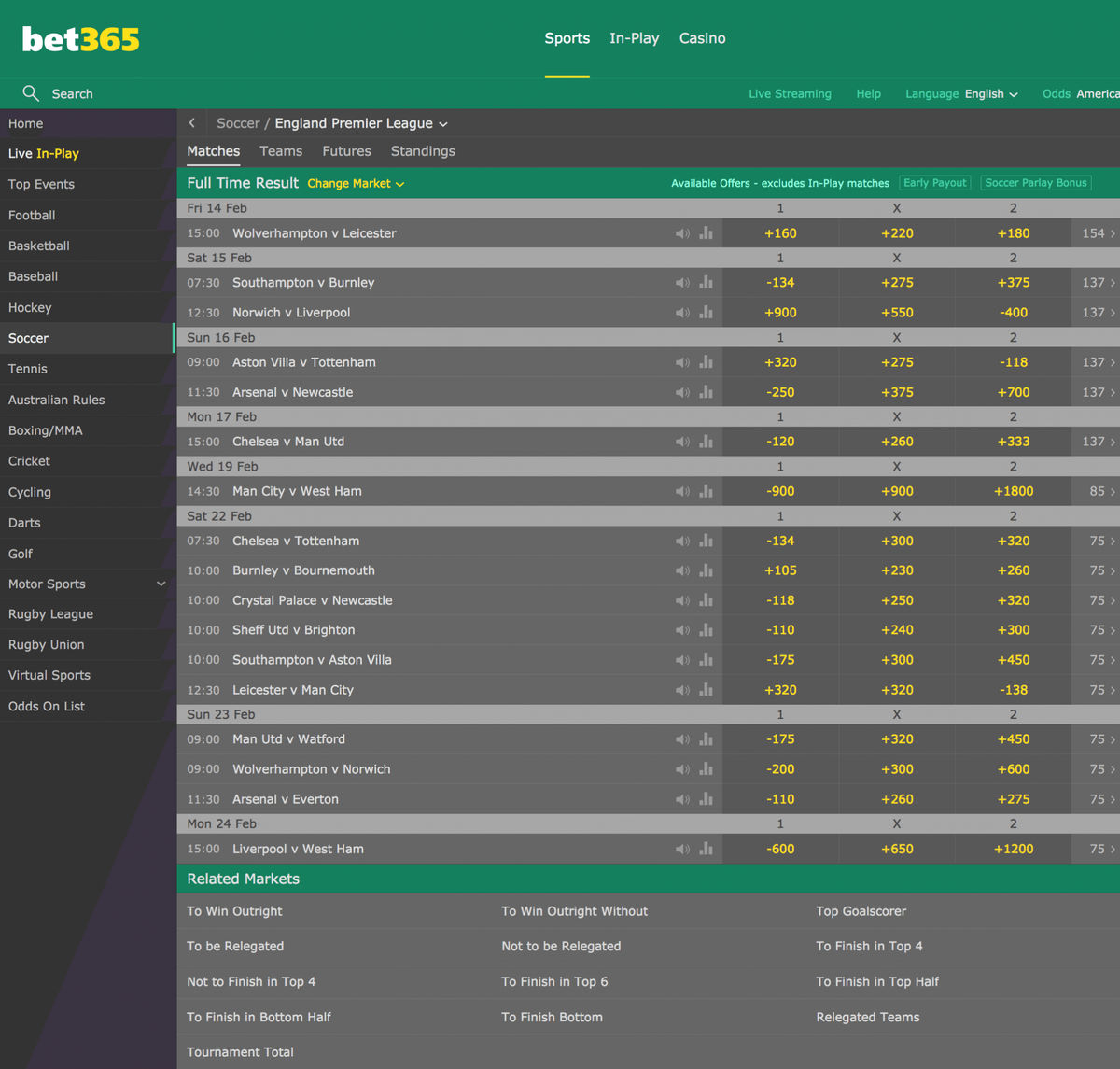 Bet365 English Premier League Markets
Betting on Premier League events on Bet365 is a smart choice for a number of reasons, starting with the fact that the odds are pretty attractive. Bet365 is one of the best online sportsbooks when it comes to odds.
Another reason why you might want to pick Bet365 to place Premier League bets is that the betting limits are pretty high, so if you are a high-roller you will have no problems wagering big amounts on the Prem.
The final reason why Bet365 might be the best choice for the Premier League betting is that this sportsbook has all sorts of betting markets in its offer.
Bet365 Soccer Betting Markets
It's not just the Premier League; all major soccer events come with a huge offer of betting markets. Apart from standard markets such as the match-winner, the number of goals, and so on, this bookmaker also has some pretty peculiar betting types in the offer.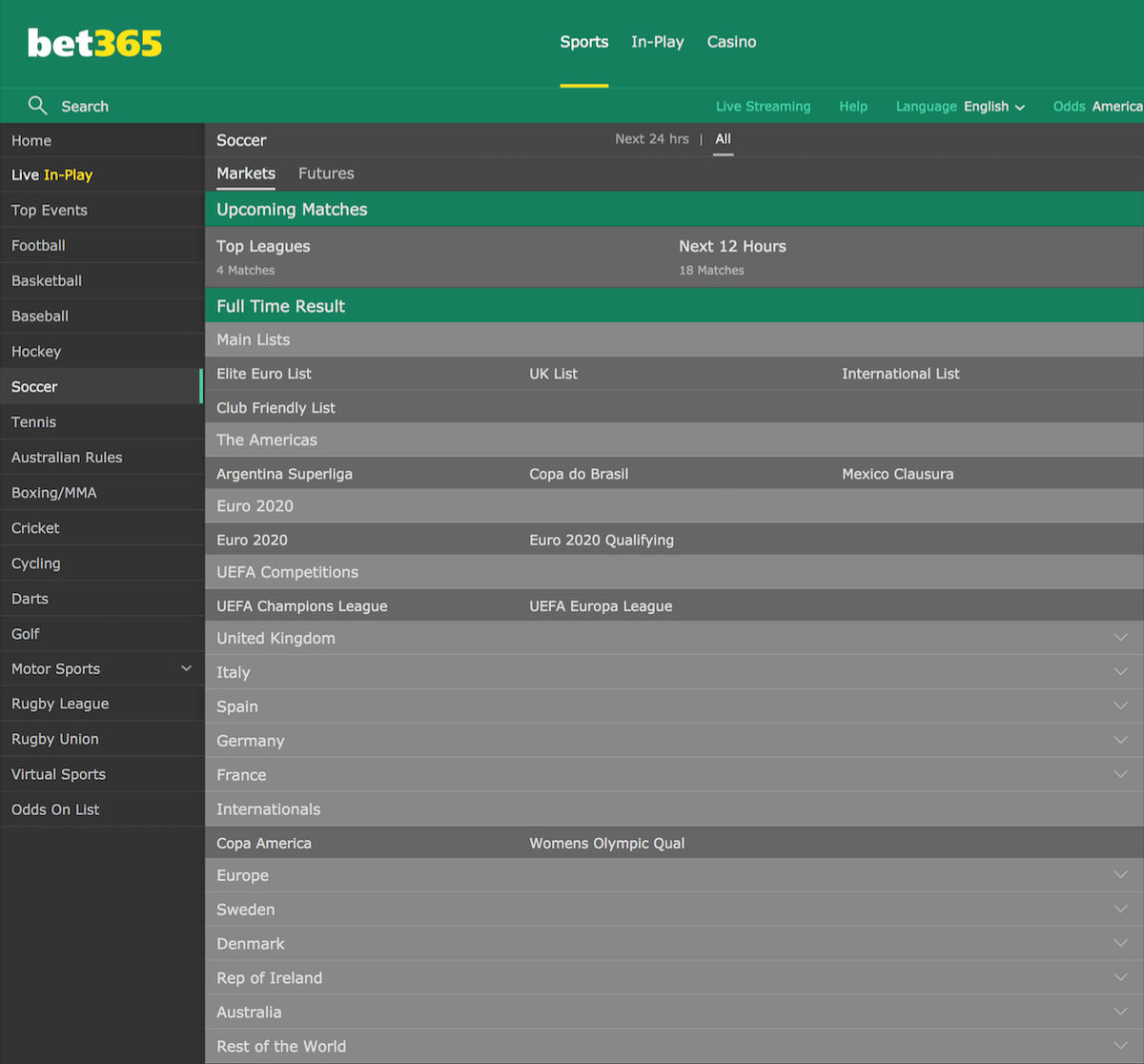 Bet365 Soccer Markets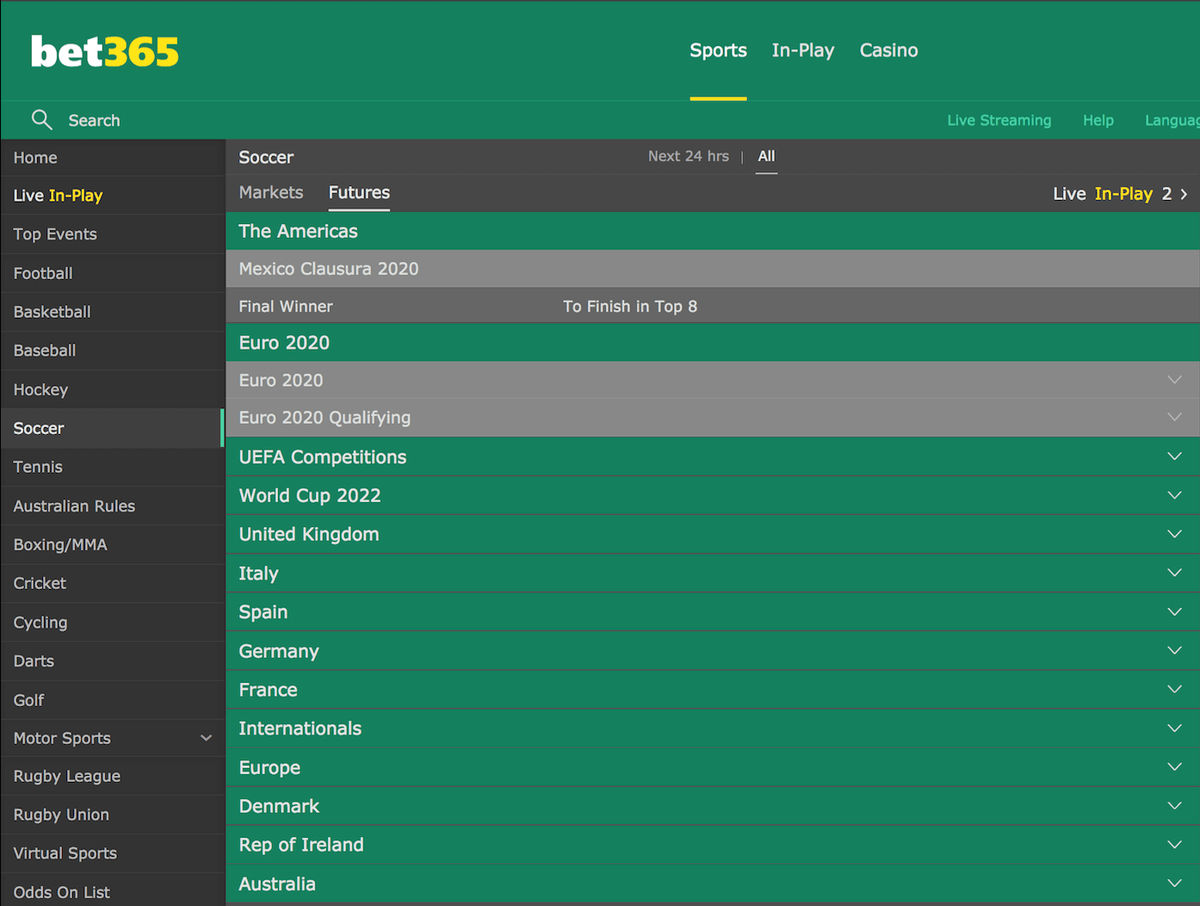 Bet365 Soccer Futures
What we're talking about are bets like which player is going to score, how many red cards a team is going to get, is there going to be a penalty in the game, and so on. The best thing is that most of these markets are available both pre-match and during the game. This fact makes Bet365 soccer sportsbook a real leader when it comes to live-betting.
Soccer Bet Builder
Bet builder is a fun tool to create your own bets on any soccer match of your liking. You can select from the the most popular markets and combine up to six selections in the Bet365 Soccer Bet Builder. To make a place a bet from the Bet Builder you first find the fixture you want to bet on, then select the Bet Builder feature from the header and click "add selection". The Bet Builder feature will pop-up and from there you can start to build your soccer bets. The Bet Builder feature is available for all the popular sports to bet on.
Live Betting on Bet365 Soccer
Not only is Bet365 live soccer betting possible, but watching live games is also possible via this website. In fact, you don't even have to bet on the game in order to be able to watch its live stream. All you need is to have a little bit of money in your account. It can be as little as one dollar!
When it comes to in-play Bet365 soccer betting, you can choose from a variety of matches. In fact, most of the soccer events that were in the betting offer before the start of the match will be available for live betting.
Furthermore, Bet365 live soccer betting is possible in all kinds of markets. Those include most of the markets from the pre-match offer, plus some that are available only for live betting. For example, you can bet on who's going to score the next goal.
The best thing about in-play Bet365 soccer betting is that the process of placing wagers goes very smoothly. And speed is of the utmost importance when live betting is concerned. You surely don't want to miss a chance of winning because the sportsbook takes too long to accept bets. Such a scenario is not going to happen if you decide to use Bet365 for this purpose. Live bets are usually accepted in just a few seconds.
Bet365 is one of the most successful sports betting operators in the world, as well as one of the online bookmakers with the longest tradition. That is something that tells a lot about this company. If it weren't great, it wouldn't achieve so much.
Bet365 is great for all betting on all sports, soccer included. Actually, if soccer betting is what you wish to do, you aren't going to be able to find many other sportsbooks that have such an impressive offer as Bet365.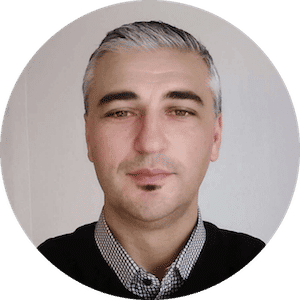 Admir
Admir aka "The Admiral" has been around the sports industry for more than two decades as a professional athlete and sports agent.