2020 French Open Betting Picks – Round Two, Day Two
September 29, 2020
The competitors in the second round of the French Open have a chance to advance to the round of 32. Even with so many players left in the draw, though, there is always the chance to run into a familiar opponent. In this round of 2020 French Open betting picks, we look in-depth at a rematch of a recent tilt on a clay court and look to improve to 5-0 on French Open bets during this fortnight at Roland-Garros.
Pablo Cuevas vs. Stefanos Tsitsipas
Pablo Cuevas is a clay court tennis specialist through and through. The Uruguayan chooses to play clay court tournaments over events on other surfaces when he can. In 2020, Cuevas has played a total of 16 matches on the dirt heading into this match. Of those 16 matches, Cuevas has won 10 of them. That includes a first round victory, which he picked up in four sets over Henri Laaksonen.
In that four-set win over Laaksonen, Cuevas won 80% of his first serve points and broke his Swiss opponent six times in that match. Cuevas was only broken three times in his own right, with two of those breaks coming in the one set that he lost in the match. While everything looked good from a statistical point of view for Cuevas, he has to know that he is in for a more challenging match here against Tsitsipas.
Speaking of Tsitsipas, Stefanos Tsitsipas had anything but a pleasant experience in his opening round match at Roland-Garros. The Greek player had to go five sets against Spanish clay court specialist Jaume Munar. Tsitsipas lost the first two sets of the match before coming back to win the final three sets. Now that he has survived that scare against Munar, Tsitsipas will look for a more straightforward match in the second round.
If Tsitsipas is going to have a less suspenseful match against Cuevas, he is going to need to be better on his second serve than he was in round one. The Greek was only able to win 42% of his second serve points against Munar. That opened the door for his Spanish opponent to collect five breaks on just seven break points, with Tsitsipas needing to play better on break point to avoid high-pressure situations like he found himself in during that match.
Cuevas and Tsitsipas have met twice on clay courts in the past, once in Estoril in 2019 and once in Hamburg just last week. Both of those matches saw Tsitsipas win in straight sets against the Uruguayan. Neither of those matches required two hours, as Tsitsipas was able to win in short order both times.
In this match, it will be important for Tsitsipas to get off the court in a hurry against Cuevas once again. After a five setter in the first round, adding more sets on in this match will only leave him more fatigued for later rounds in the tournament. Between that and his history of success against Cuevas, we will look to the over/under and expect this match to end under the total of 36.5 service games. Tsitsipas will continue to break the Cuevas serve and avoid any more tennis than he needs here.
Pick: Under 36.5 service games (-111)
Strong presence in US
Wide range of betting options
Generous bonus offers
Get $1000 bonus
Great promotions
Best Multi interface platform
Easy registration process
Get $1000 bonus
One of the Largest Gambling Sites in the US
Offers Casino, Sportsbook & DFS
Great Promotions
Get $1000 bonus
What does it mean to bet the under in tennis?
When you bet the under in tennis, you are predicting that the number of service games played in the match will add up to be below that total. For example, if a total is 36.5 games, the combined number of service games played in all sets would need to add up to 36 or fewer games for your bet to win.
What makes clay court tennis different than tennis on other surfaces?
Clay court tennis is unique when compared to hard court and grass court action. The reason for this is the fact that the playing surface slows the ball down compared to those other surfaces. This requires players to rely more heavily on precision and extended rallies than the raw power that is better suited for hard and grass courts.
Can I make money betting on tennis?
It is certainly possible to make money while making tennis picks. Bettors in any sport can make money if they do a boatload of research and manage their funds efficiently. If you do those two things while betting on tennis, it is certainly possible to win bets and make money in this market.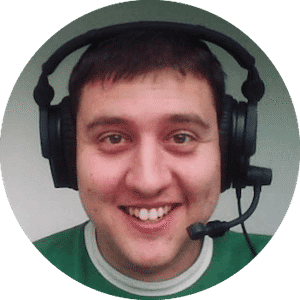 Jay Sanin
Jay Sanin is a sports writer and broadcaster from Albany, NY. He has covered sports betting and the gambling industry since 2013.