Who Has The Highest Vertical Jump In NBA History?
December 22, 2020

The NBA is a league that is filled with elite athletes. Because of that, it is said that the action in the league takes place above the rim. And while nearly every player in the NBA can jump high, there are some players who can literally and figuratively rise above the rest. In this look at the highest vertical jump in NBA history, take a look at which players have been the best at leaping above the competition.
5. Jason Richardson – 46 inches
When it comes to having the highest vertical jump NBA players have to be able to leap at least 46" to get the conversation started. There are several other players at the 46" mark, like Spud Webb, who deserve an honorable mention as members of the 46" club. But our list starts with Jason Richardson, who used his incredible vertical leap to become one of the best dunkers of all-time.
Richardson won two dunk contests in the early 2000s, using his massive vertical leap to perform creative aerial acts against some of the league's best dunkers. But Richardson was also a gifted in-game dunker. He would routinely throw down a 360 dunk when he was alone in a fast break situation, making him a pure entertainer both in games and outside of them.
4. Zach LaVine – 46 inches
Another dunk contest legend, Zach LaVine is often remembered more for his ability to take to the skies than he is remembered for his all-around basketball skill. LaVine won back-to-back dunk contests in 2015 and 2016, when he was able to beat some of the most explosive players in the league. One such player was a young Giannis Antetokounmpo, before the Greek Freak became a two-time MVP.
But the highlight of LaVine's leaping prowess was the 2016 dunk contest, when he went up against Aaron Gordon in the best dunk contest of all-time. Both dunkers needed several extra dunks to determine a winner, with both players scoring 50 out of 50 time and time again. LaVine eventually won the contest, cementing his place as one of the best jumpers in the history of basketball in the process.
3. Michael Jordan – 46 inches
While dunk contest specialists like Richardson and LaVine are unquestionably great leapers, being able to use that skill to help your team win is even better. Michael Jordan did a great job of that throughout his career, using his 46" vertical to allow him to change his shots while in midair. While Jordan is one of the best players in the history of the NBA, his vertical leap was one of many tools that helped get him there.
In addition to his six NBA titles, Jordan did win two dunk contests in the late 1980s thanks to his vertical leap and creativity. Of course, that was during an era where the best players in the NBA participated in the contest. Hopefully one day, elite players like LeBron James will take part in the dunk contest once again.
2. Darrell Griffith – 48 inches
When your nickname in the NBA is Dr. Dunkenstein, it is almost a given that you are a player who can get high into the air. Darrell Griffith was a legend for the Utah Jazz thanks to his unique ability to jump high. The 1980s Jazz star inspired current Utah Jazz standout Donovan Mitchell when he was a part of the dunk contest nearly 30 years later.
Unfortunately for Griffith, his huge vertical leap was a detriment to the rest of his career. He suffered lower body injuries throughout his time in the NBA, including to his knee, as the wear caused by landing from such great heights was a problem. Because of that, he was never able to play at his highest level during the Stockton and Malone era in Utah.
1. Wilt Chamberlain – 48 inches
Tied for the highest vertical jump ever in the NBA, Wilt Chamberlain was lucky enough to have a massive vertical to go with his seven-foot height. The result was almost unfair, as Chamberlain was able to tower over his opponents in more ways than one. This was especially devastating during an era where players were shorter and less athletic than they were today.
While Chamberlain wasn't able to win dunk contests with his vertical leaping ability, he was able to put up some insane numbers. His 100-point single game will forever live as the best individual performance in a game in the history of the sport. And with his athleticism, Chamberlain may have been one of the few players from his era that would have translated well to today's game.
What is LeBron James' vertical leap?
LeBron James is estimated to have a 44" vertical leap. Of course, James' strength and versatility might be even more impressive than his vertical leap. But when he gets into the open court or in a situation where he needs to block a shot, LeBron is great at taking to the air. James has not participated in a dunk contest in his career, unfortunately for fans of great dunks.
Does vertical leap help teams win?
Having more athletic players than the opponent can help teams win in the NBA. But there are so many other skills that are needed that vertical leap is far from what is most important. In today's NBA, teams with superior shooting, who can reduce turnovers, have an advantage in NBA betting markets over teams with sheer athleticism.
Who is the most underrated athlete in NBA history?
Gerald Green might go down as the best athlete in the history of the league that doesn't immediately get discussed. He has done incredible things both in dunk contests and games with his athleticism. But Green was also a solid perimeter shooter who was able to impact games with more than just his dunks.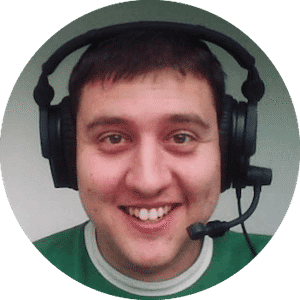 Jay Sanin
Jay Sanin is a sports writer and broadcaster from Albany, NY. He has covered sports betting and the gambling industry since 2013.