UFC Vegas – Eye vs Calvillo Picks and Predictions
June 11, 2020
Thanks for stopping back for UFC Vegas. Last week's Pay Per View card was a solid card to watch, and even though Byrd and Hooper let us down, Aljamain Sterling salvaged the night with the win, and moreover, he got it home via submission, which was +540 and that alone made the night a winner.
This card, well, from a viewing perspective, this card is as low level as UFC cards go. A women's flyweight fight that doesn't feature Valentina is really ugly as a main event, and as much as I have hometown love for Jessica Eye, this fight with Cynthia Calvillo is fairly cringe for a main event. There aren't any fighters on this card that I would deem must watch, but that doesn't mean we can't be entertained by a mostly lower level card. There's still a couple betting spots to attack and additionally a couple punt props to consider, so let's get to the fights to look at for wagering.
As always for the fight night cards, I'll be writing a summary for each fight with a wager and offering a prediction for each fight that doesn't have a wager. Let's get to it
Mariya Agapova -250 vs Hannah Cifers
Betting Play: Agapova -250 and/or Agapova ITD +200
Fight is at 125 lbs and is +145 to end inside the distance.
The key, for me, to this fight is the weight class. Hannah Ciphers would likely be a beneficiary if the UFC were to add a women's atomweight division (105 lbs). Ciphers is a strawweight in the UFC and the fact that she is taking a flyweight fight shows the true desperation as to which fights could be available for her in the promotion. Mariya Agapova is significantly larger and will have a 5" height and 8" reach advantage and this will be a massive factor. The debuting fighter in Agapova really has an advantage in all facets, with the standing striking advantage mostly coming from the size differential. Ciphers can crack for being such a small fighter, but closing the distance on the feet here will be a massive issue for her and she will get picked apart at range. In the grappling realm she will fare even worse and I think the fight ends with ground and pound raining down from Agapova after taking down or dropping an eventually battered Ciphers. Agapova -250 is sound enough but it should be supplemented or perhaps even replaced with Agapova ITD at +200 as well.
Tyson Nam -130 vs Zarrukh Adashev
Betting Play: Nam via KO +600 (Line TBD)
Fight is at 135 lbs and is +135 to end inside the distance.
So a couple losses in the UFC seem to have made literally everyone forget the power that Nam has in his hands. His volume is and will remain an issue but the drop in competition and smaller octagon should be wholly positive factors for Nam in terms of getting a right hand hammer home. Adashev is a debuting fighter whose record could be deceiving. He is not as green as his four pro fight track record suggests, but make no mistake, there is a level of green to his MMA game, and he will be the smaller fighter, giving up 2" of height and 3.5" of reach. The jump in competition for Adashev will likely be a true shock and the power Nam possesses will likely bring a don't blink moment, as Adashev doesn't have the layered striking defense Nam's previous opponents in the promotion had. At the time of this writing we have a +440 ITD line for Nam, but we want to narrow this even further to Nam via KO and when that line drops, it will likely be in the +600 neighborhood. Take Nam for the KO.
Jordan Griffin -170 vs Darrick Minner
Betting Play: Minner +145
Fight is at 145 lbs and is -170 to end inside the distance.
Jordan Griffin is a fighter that has found ways to truly snatch victory from the jaws of defeat with submissions in fights that he was losing by a significant margin. His last fight against TJ Brown was one such fight and well well well, his fight with Minner in the LFA promotion was one of such fights as well. The fact is, by my view, the only thing that stops Minner from taking advantage of Griffin's non existent takedown defense is Minner's own gas tank, and he has to be fully aware of that issue in this fight and s imply setting just a tick slower place would work to his advantage. At the end of the day I simply can't back a fighter that tends to rely on miracles to steal wins such as Griffin, particularly when we have seen this fight play out already. The result of the first fight is dictating the betting price rather than the substance of the first fight and by my view, it's a value spot we must attack. Take Minner and the underdog price tag.
The three prices mentioned in parenthesis are ones I would consider playing, but also bear in mind this card is simply not one where risking a significant portion of your bankroll is prudent.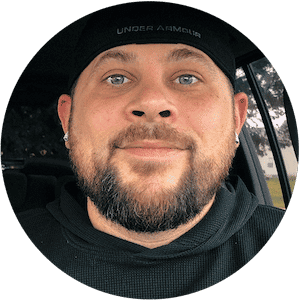 TJ Calkins
TJ Calkins was raised in a gambling loving household. He knew how to handicap horse races and follow line movements well before his tenth birthday. While sports betting remained a passion into adulthood, poker and Daily Fantasy Sports also became passions and remain as such today.