UFC Vegas 11 at the Apex – Covington vs Woodley betting plays and predictions
September 17, 2020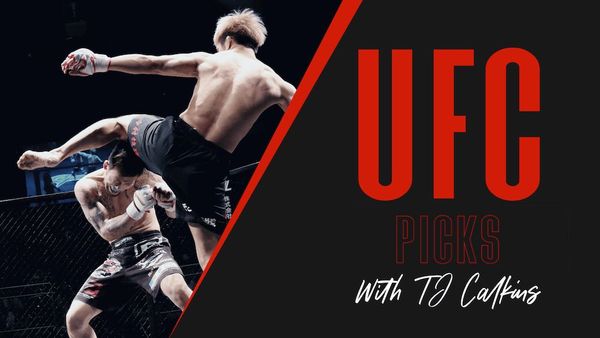 This card is truly a breath of fresh air after the disasters the UFC dealt with in terms of losing fights on the cards leading up to last week's. The card last week went off without a hitch, the problem is it did not have a main event that had big names to draw in fans. This week, we finally get a card this week with a proper quantity of fights and star power in the main event. Covington vs Woodley could have easily been a title fight in recent years, but given the fall from grace one of these fighters has encountered, it is likely a one sided affair in 2020.
We did well last week, despite taking one of the worst beats that can be encountered in MMA. Here is how our bets went last week:
✅ Win – Michelle Waterson +105
I always feel good when the predictive analysis could serve as a recap of the fight as well, and that was the case in this fight. The fresher Waterson used grappling and cardio later in the fight to take three rounds, and earn the decision as an underdog.
✅ Win – Azaitar/Worthy ITD -245
✅ Win Azaitar ITD +185
This fight played out as expected, and the power of Azaitar was evident once again. He put Worthy down in the first real exchange and finished with ground and pound in the first round. That was the ideal outcome as it gave us a double dip on cashing, including the +185 and securing another profitable night.
✅ Win – Billy Quarantillo -245
Whether you hedged or not, this play came through and Quarantillo had his way with Nelson, particularly in the second and third rounds. Once that one shot kill power wilted with Nelson's cardio, it was Billy Q the rest of the way.
❌ Loss – Turner via KO +105
On an otherwise perfect night, we had to have one ridiculous beat get mixed in. Turner was the obviously superior and more powerful striker in the matchup with Weaver. Turner dropped him in the first round, and when he dropped him clean again in the second round, Turner stepped away as he thought he had a walk off KO (arguable but he probably should have). Herb Dean, in his mounds of ineptitude said no, keep fighting. Of course Turner directly proceeded to take the back and win via rear naked choke, making the KO play the worst beat we will see for some time.
Even with the beat, a stagnant unit system saw +3.9 units of profit for another winning night.
Despite the 15 fight card, we unfortunately have eight of them with lines of -220. This makes it more difficult to find a multitude of plays, but that doesn't mean we are completely without. Let's now get to the three plays for this week.
Niko Price -155 vs Donald Cerrone
Fight is at 170 lbs and is -305 to end inside the distance.
This is yet another step down for "Cowboy" Cerrone as his career continues to derail. Cerrone is currently in the midst of a four fight losing streak across two weigh classes, and enters this fight at his worst weight class, welterweight. He started off 4-0 in the weight class when he made the move in 2016, but things quickly took a turn for the worse once 2017 hit. He is just 2-6 since at welterweight, with wins against lower level competition. While Niko Price is obviously a step down from the likes of Conor McGregor and Tony Ferguson, he is well above the Yancy Medeiros tier, the tier which Cowboy has needed at 170 to find a win. Cowboy just doesn't sting with his shots at this weight class and is also more affected by the incoming shots. Price is also a finisher. He has not seen a fight go the distance since 2016 and showed insane durability in his last fight against Vincente Luque, and I envision Price walking Cowboy down and unloading for as long as the fight lasts. Cowboy's only real fall back plan will be both choosing to and successfully wrestling, which is a two pronged uncertainty with Cowboy. I simply feel a Price KO is easily the most likely outcome, and we actually can get that at a plus figure of +120. In the night's penultimate fight, take Price to sleep Cowboy before Colby Covington mops the floor with Tyron Woodley.
Betting Play: Price via KO +120
Kevin Holland -255 vs Darren Stewart
Fight is at 185 lbs and is +115 to end inside the distance.
This is one of the fights with a fairly wide line, but of the fights with the wide lines on this card, this one offers the most value on the favorite. I feel there's significant value on the Kevin Holland side as, put bluntly, Stewart essentially has no paths to victory in this fight. Stewart is a heavy hitter that is a solid but middling middleweight, this is just a matchup that should give him nightmares. I've long been a fan of the Kevin Holland skill set and we have seen his mental approach catch up with his physical tools in his most recent fights. Holland's striking has been incredibly precise of late, and he will put it on Stewart in this department. He will have a 3" height and 7" reach advantage that he will use to keep range and additionally will put out much more volume. As I said, Stewart has real pop in his strikes, but the volume is rarely adequate, and he will need to avoid hitting the floor at all costs in this fight, as Holland is the absolutely superior grappler. Holland is also extremely durable, he has never been knocked out and it would be quite a shocker, despite Stewart's power, if this were the fight he had a chin hiccup in. Stewart is the next step in the ascension of Holland, and one I feel quite comfortable laying -255 on. The reality is Holland could win via KO, sub or decision, and none would be surprising, so we just want to cover all methods of victory with the flat bet.
Betting Play: Holland -255