Week 1 NFL Picks & Predictions by TJ Calkins
September 5, 2019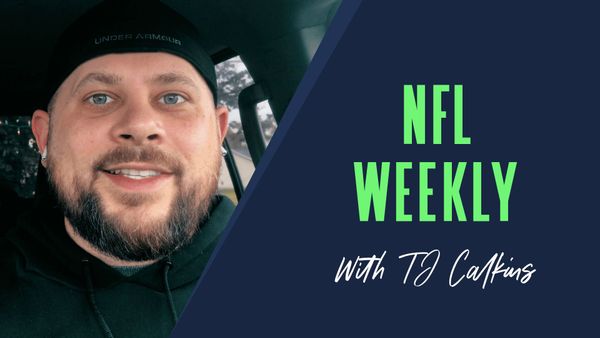 We finally made it fam! Thursday marked the kickoff of the NFL season and seeing Mahomes win and Bill O'Brien lose had to bring so many of us a sense of normalcy. Sunday will give us a doubling down on that feeling with a full slate of games, and I think there are a handful of attractive plays for Week 1. Of course, we are navigating uncharted territory with this season and I wrote a short piece on a couple things I expect to transpire with the changes made. You can find that piece here.
You can also find a primer on each division and what to expect from each team in the NFL section on the site. With all of the preseason information and primers out of the way, let's get into bets on real live NFL games. Week 1 is always a week to tread somewhat carefully, and I will tell you this will be the shortest piece of the year with the fewest amount of dedicated plays. The idea with Week 1 is to just jump on the strongest plays and gain information in all other spots.
Monday Night Betting Play
Tennessee Titans at Denver Broncos
10:10PM EST
Opening Line: Broncos -1.5 and 42.5
Current Line: Titans -3 and 41
The opening line for this game was absolutely a head scratcher, and the public legitimately had no choice but to bet it heavily in the opposite direction. It is somewhat inexplicable that truly one of the league's elite teams since the change to Tannehill at quarterback would be an underdog to a wholly middling team. This Titans team will not have lost a step from the version that went to the AFC Championship game just eight months ago.
Yes I do believe the Broncos are ascending on offense. However, that is not the case on the defensive side of the ball and the Titans will control this game with the run with an extremely efficient passing game mixed in. Look for Derrick Henry to control the second half as Tennessee protects a lead and cruises to an easy cover. Take the incorrectly lined Titans on Monday night.
nj

pa

mi

wv

in

co

il

tn

va

ia
✅ Win – Eagles Over 42
❌ Loss – Eagles -5.5
Boy did the Eagles offense stall in the second half of this game. They were comfortably ahead 17-0 in this game, but a couple factors caught up with them on the offensive side of the ball, leading to a 27-17 loss. Running back Miles Sanders was ruled out late in the week and the production given by Boston Scott and Corey Clement was subpar, if we want to be complimentary, Desean Jackson also seemed a bit disinterested and did little in a matchup he should have scorched. We got enough points to get the over home but the Eagles definitely have work to do to shore up what should be an elite offense.
✅Win – Bears +3
This game was more interesting than it needed to be, but the Bears will reap what they sow when they continue to trot Trubisky out at quarterback. Even the inaccurate Trubisky however, was able to carve up the exploitable Detroit secondary in the second half. After trailing early in the game, the Bears took the lead late and survived a last ditch drive from Stafford and company to win 27-23.
❌ Loss – Vikings -2.5
This one was ugly early. The Vikes were simply not ready for a pass heavy approach from the Pack, which essentially caught all of us by surprise. In addition, quarterback Aaron Rodgers played his best game in at least three seasons. The Minny offense wasn't bad in the 43-34 loss, but the defense and secondary might be in a lot of trouble early in the season.
✅ Win – Saints -3
We got this one completely correct. The Bucs got just 66 yards on the ground from backs and the lack of chemistry in the passing game was apparent. The chemistry was most notably absent when Mike Evans inexplicably stopped a route leading to a Brady interception that turned the tide of the game for good. On the other side, the familiarity of the Saints skill position players with each other was apparent. The 34-23 win was more lopsided than it suggests.
We went 3-2 on the first Sunday of opening week, with one more play to go on Monday night.
Philadelphia Eagles at Washington Football Team
Betting Plays: Eagles -5.5 Over 42
1PM EST
Opening Line: Eagles -5.5 and 45.5
Current Line: Eagles -5.5 and 42
When I first checked this line, I did a double take, and said to myself "Philly is not laying enough points here." When I came back the second time to see how much Philly had moved, I found that the total moved in the wrong direction, and significantly.
Carson Wentz is the most underrated quarterback in the league in terms of public perception, and he very well could be the most underrated at any position. This Eagles offense is poised to be absolutely elite and they are opening against a terrible team, laying less than one score and the total is at 42. This is absolute madness. Wentz has had career long success against the Redskins. Just last year he averaged 290 yards and three TDs per game through the air in the pair of matchups. For his career, he averages 29 yards and a half a TD throw per game more against Washington than he does on career averages.
Enter the 2020 season where he finally has a healthy Desean Jackson, a player that will absolutely smash with Wentz despite advanced age. He has his pair of elite tight ends and adding rookie Jalen Reagor into the mix. He also has a competent pass catching back in Miles Sanders, and the result will be many points for the Eagles this week and this season.
On the Washington side, they will score a few points, but this game will not be competitive. Dwayne Haskins remains under center and the defense is far from a squad that can carry a team when the offense is led by Haskins. There are a couple bright spots though. Wide receiver Terry McLaurin is emerging as a true alpha receiver in the league. Rookie running back Antonio Gibson should be electric and should single handedly sustain a drive or two.
All in all I foresee a blowout and one that crushes the total. Perhaps something in the 34-17 neighborhood. The Eagles and the over are our first two plays of the year.
nj

pa

mi

wv

in

co

il

tn

va

ia
Easy registration process
Great promotions
Best Multi interface platform
Get $600 bonus
Strong presence in US
Wide range of betting options
Generous bonus offers
Get $1000 bonus