Guy Fieri, Caesars to launch Sports Betting restaurant in Arizona
February 21, 2022
Mayor of Flavortown Guy Fieri will open his restaurant concept next spring in Caesars Sportsbook at Chase Field in downtown Phoenix. The news broke just yesterday announced by Caesars Entertainment, Inc. (NASDAQ: CZR) ("Caesars") and the Arizona Diamondbacks. The venue is used to be known as Game 7 Grill on the Plaza at the D-backs.
The restaurant is a two-story 20,000 square-foot building. It has both indoor and outdoor seating options as well as multiple floors of sports betting space. The venue also has a full-service bar and VIP lounge, an extensive menu, and wall-to-wall TVs. The door of the new sportsbook & bar will welcome all clients all year-round. The new venue from the partnership with Fieri will need staff to tend to clients thus the establishments have a lot of vacancies. Caesars and the D-backs are hiring qualified candidates for the position of high management and service positions. Fieri's first Arizona sit-down restaurant is now accepting applications at levyrestaurants.com/careers.
"We believe this is a rare and exciting opportunity for individuals who are driven to deliver a high-quality, high-service dining experience for guests and sports fans," said Derrick Hall, President & CEO of D-backs.

"This is a chance to get in on the ground level of a unique, fresh and fun concept in food, gaming and baseball at Chase Field."
Over 30 Arizona locations have been featured in Fieri's "Diners, Drive-Ins, and Dives" television series. Flavortown Kitchen is one of them. It is a chain of delivery-only restaurants owned by Fieri, opened to serve customers in the Valley starting just last year.
Fieri's profile
Guy Fieri is a chef, restaurateur, New York Times Best Selling Author, and Emmy Award-winning TV host who has received a star on the Hollywood Walk Fame. At only 10 years old he started his restauranteur career when he sells soft pretzels on a three-wheeled bicycle cart. He built the cart himself with his father where they call it "The Awesome Pretzel Cart."
Fieri spent six years selling pretzels along with washing dishes to collect funds. He used the money to study in Chantilly, France. The education launches his passion for international cuisines and food in general. The 54-year-old entrepreneur went on to earn a degree in hospitality management from the University of Nevada Las Vegas. He then ventured into the restaurant business and eventually opened his own casual dining concepts in Northern California after graduating.
His show "Next Food Network Star" won Food Network's popular television competition show in 2006. He was then given his own series, "Guy's Big Bite" which was Emmy nominated. Fieri then became started to become a host at top-rated TV shows. He has hosted in "Diners, Drive-Ins & Dives," "Guy's Grocery Games," "Tournament of Champions" and "Guy's Ranch Kitchen."
He created a food and beverage company with his team Knuckle Sandwich, LLC. He owned Flavortown Kitchen, a virtual brand with 175 locations launched recently. He has more than 80 scratch kitchen restaurant concepts in various parts of the world. He also partnered with musician and spirits pioneer Sammy Hagar in Santo Tequila.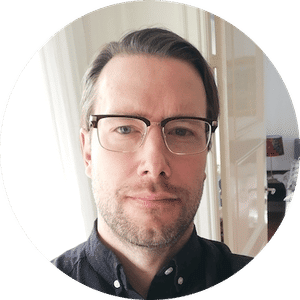 Martin Efvergren
Martin is a sports betting professional who provides initiated betting picks and predictions. His primary focus is on NHL picks, sportsbook promotions, and casino stories.