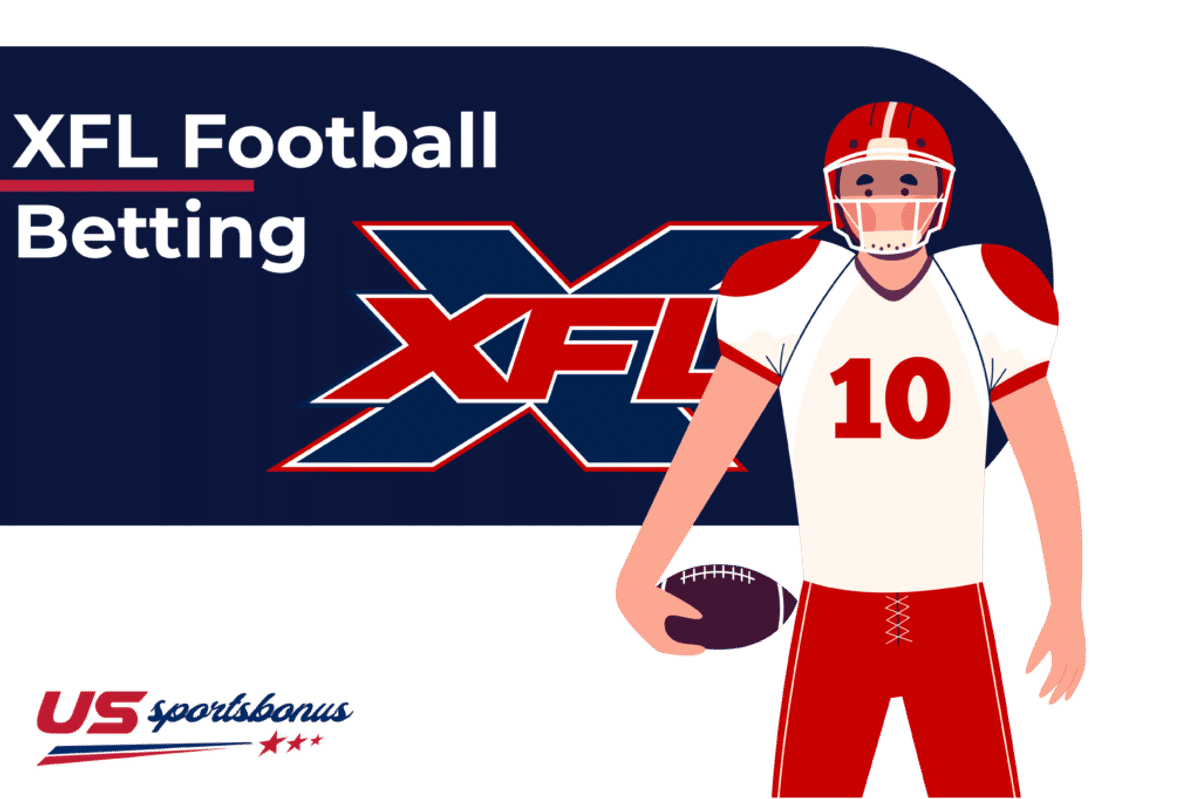 The betting options for XFL football are quite limited. No player props, game props, teasers, futures are offered on these games. It might just be a matter of time before sportsbooks like DraftKings and FanDuel expand the betting options for XFL football. The current betting markets covered are money line, point spread and over-under bets.
XFL Money Line Bets
Betting on the money line on XFL football is identical to betting on the money line for NFL or any other sport. It is the easiest form of betting where you pick an outright winner. The odds on the money line will be decided by the strength of each team.
Money Line Example: Tampa Bay Vipers -175 @ New York Guardians +143
In this matchup, the Vipers are the favorites and the payout form a money line bet will be lower compared to a bet on the Guardians who are considered to be a weaker team.
XFL Point Spread Bets
There are no teaser bets available for XFL games so if you want to make a point spread wager the only option is to follow the betting line. The point spread between the two teams is a way for the sportsbook to balance out the teams and make them even in terms of strength.
Point Spread Example: Example: Tampa Bay Vipers -3.5 @ New York Guardians +3.5
Placing a bet on Tampa means that they need to win with a margin of 4 points or more. A wager on New York would result in a winning bet if they win the game or lose but with no more than 3 points.
XFL Game Total Bets
Over Under betting is highly popular and if offered on XFL football. The odds on an over-under bet are similar to point spread with a bet on A or B offers the same odds value. The difference with game total bets is that you are not backing a specific team, you are betting on how many points will be scored in the match regardless of which team scores the points.
The XFL football league has it's inaugural season 2020. The XFL, which is a professional American football league, was founded in 2018 and 2020 is the inaugural season. It is a successor to the original XFL from 2001 which was shortlived and ceased the same year as it started. The interest for the XFL 2020 has been much higher than originally expected and is off to a promising start.
The XFL consists of eight teams and the ownership composition is different from the franchise structure of the NFL as the XFL is centrally owned by Alpha Entertainment.
XFL Teams 2020
There are two conference groups, West and East, in the XFL football with four XFL teams in each conference. On top of this, you have a practice squad, Team 9 which functions as a farm team for the teams in the West and East conference.
XFL Team Names
West Conference
Dallas Renegades
Houston Roughnecks
Los Angeles Wildcats
Seattle Dragons
East Conference
DC Defenders
New York Guardians
St. Louis BattleHawks
Tampa Bay Vipers
Practice squad
New XFL Teams
Compared to the original XFL from 2001 all eight XFL 2020 teams are new. Below is a list of the original teams from XFL 2001.
Original XFL Teams
Orlando Rage
Chicago Enforcers
New York/New Jersey Hitmen
Birmingham Thunderbolts
Los Angeles Xtreme
San Francisco Demons
Memphis Maniax
Las Vegas Outlaws
The XFL football schedule is a 10-week regular season with 5 home games, 5 games on the road for each team and no bye week. This will be followed by a two-week post-season with the top two XFL football teams from each conference battling it out in a single-elimination bracket.
XFL Schedule Week 1-10 + Playoffs
| | |
| --- | --- |
| Week 1 | February 8-9 |
| Week 2 | February 15-16 |
| Week 3 | February 22-23 |
| Week 4 | February 29 – March 1 |
| Week 5 | March 14-15 |
| Week 6 | March 21-22 |
| Week 7 | March 28-29 |
| Week 8 | April 2-5 |
| Week 9 | April 9-12 |
| Week 10 | February 22-30 |
| Playoffs | April 18-19 |
| Championship | April 26 |