Meadowlands Racing and Entertainment is a thoroughbred and harness racing track in East Rutherford, New Jersey. Popularly known as the Big M, Meadowlands Racetrack is one of the most popular harness racing venues in the United States. The site opened in the mid-1970s and has gained a strong reputation for a top-notch blend of horse racing, sports betting, and the overall entertainment since then.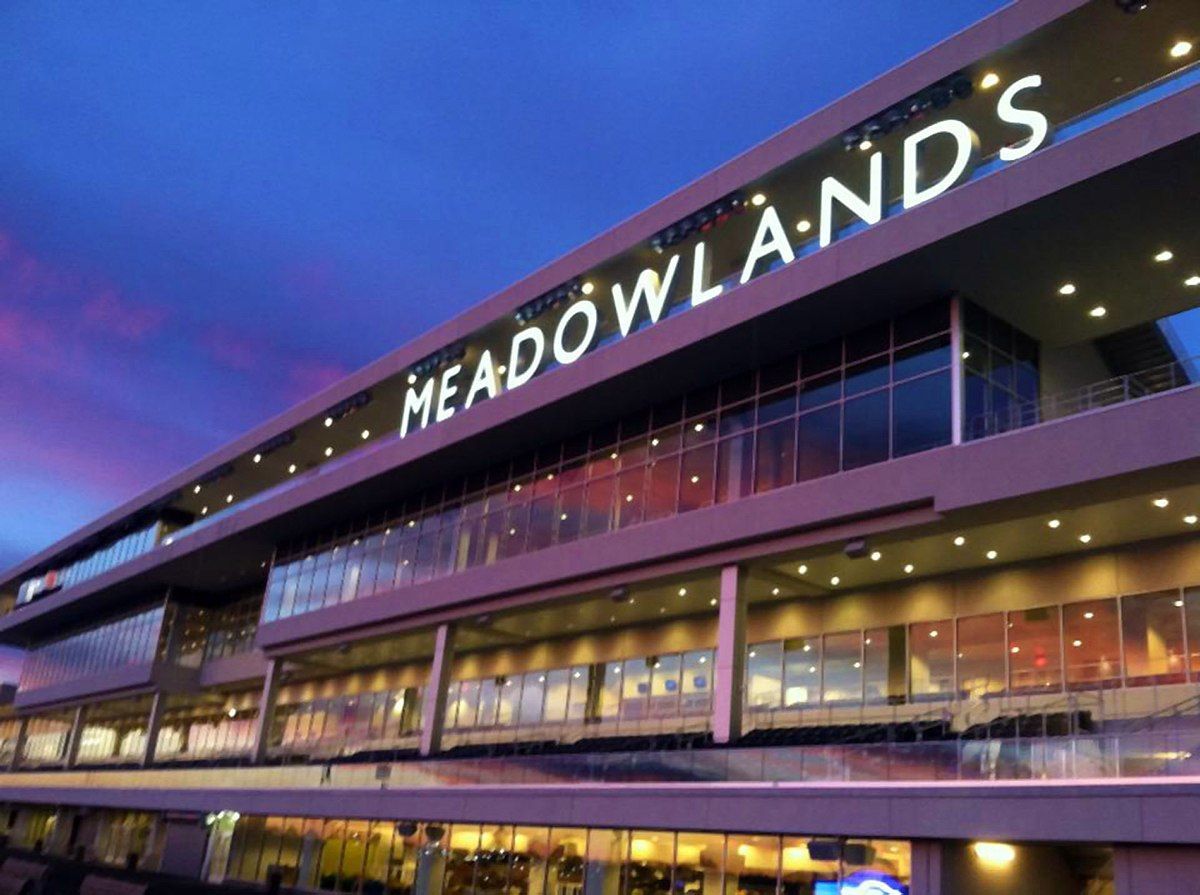 Meadowlands Racetrack offers the patrons a full-scale betting on a daily basis in the simulcast center as well as the premier sports wagering program, courtesy of a partnership with Paddy Power Betfair. The Meadowlands Sports Complex involves MetLife Stadium, home to NFL's New York Giants and New York Jets, respectively. The whole complex is owned and operated by New Jersey Sports and Exposition Authority.
The venue houses a series of non-gambling facilities and amenities as well. We take a look at the full service a regular visitor can expect when he/she arrives at Meadowlands Racing and Entertainment. We will discuss both gambling and non-gambling capacities of the complex and answer the most frequent questions such as:
– Does Meadowlands Racing and Entertainment host casino games?
– Can I place sports wagers at Meadowlands Racing and Entertainment?
– What are the most popular races held at Meadowlands Racetrack?
Meadowlands Racing and Entertainment – a historic rundown
Meadowlands organized the first harness race on September 1st, 1976. It was a dream debut in front of more than 42,000 people in attendance for the Big M. A year later, the site hosted its maiden harness race. Since then, Meadowlands Racing and Entertainment became a synonym for the premier harness racing events in the United States.
Five years after the debut, Meadowlands Racetrack became the official venue of the Hambletonian. The first leg of the Trotting Triple Crown launched the Big M to stars, placing the site right next to the organizers of the most famous thoroughbred events like the Kentucky Derby, Belmont Stakes, and Preakness.

Meadowlands Racetrack was privatized to Jeff Gural who took over operations in late-2011. The site was renovated as a new 2,250-seat grandstand was built on the location of a former backstretch in 2013, following a $110 million deal included in privatization.
Sports Betting at Meadowlands Racetrack
Sports betting was the latest significant addition to the Meadowlands Racing and Entertainment complex. Shortly after the well-known PASPA repeal, Meadowlands Racetrack made a partnership with Paddy Power Betfair to open a sports betting facility on track. Paddy Power Betfair had acquired daily fantasy sports giants FanDuel by then. One agreement led to the other and shortly after, on July 14th, 2018, the FanDuel sportsbook made an official debut on the Meadowlands Racetrack.
The facility is open from 10 a.m. to midnight every day except for Saturday when it works two hours longer (until 2 a.m.). Meadowlands Racing and Entertainment has done everything to secure its guests a pleasant and entertainment experience in the FanDuel sportsbook. The patrons can place bets and watch numerous sports events in three different places within the venue.
Victory Sports Bar is in the very center of the action. It features more than 50 HD TVs allowing the visitors to watch numerous events at a time. The Lounge has a large central bar and a front-row seat to Victory's 20-foot screens. If you rather fancy the outdoor sports betting action, Victory Pavilion will no doubts be your favorite spot at Meadowlands Racetrack. The outdoor tented area is located right next to the harness racing course and has bountiful big flat-screen TVs.
FanDuel has excelled in the range of tellers and self-betting kiosks. The players can place bets at more than 30 live tellers and as many as 48 betting kiosks. Two horse racing self-serve machines located in the primary ground only complement the aforementioned facilities.
FanDuel Online Sportsbook
FanDuel and DraftKings are the American pioneers of daily fantasy sports. Once they've hit the rooftop there, they decided to explore the rich and highly-opportunistic sports betting market in America. Meadowlands Racing and Entertainment is just one of their branches. FanDuel's online site offers fantasy sports, sports betting, and horse racing. The operator has also released a separate mobile app for fantasy sports and other gambling types, each of which is compatible with app Android and iOS devices.
It is fair to say that sports betting aficionados are spoilt for choice at FanDuel. They can place wagers on all of the mainstream US sport and leagues like NBA, NFL, MLB, NHL, as well as on international soccer competitions, golf PGA Tour, MMA's UFC events, etc.
The operator also accepts all standard betting types such as straight bets, spreads, totals, team and player props, parlays, teasers, round-robins, etc. In-play betting is an option as well. Additionally, live horse races start every five minutes, meaning you have a whole package of Meadowland Racetrack's main features available online.
Meadowlands Racing and Entertainment Casino
Sadly, Meadowlands Racetrack does not offer any kind of a casino game. This includes slots, table and card games, as well as poker. The venue is primarily oriented at harness racing and also offers sports betting as an ideal complementary gambling option. MetLife Stadium is a part of the complex and it is no wonder why sports betting has become so popular ever since it was introduced at Meadowlands Racetrack. If you are looking for a casino experience there are plenty of casinos in New Jersey to chose from.
Meadowlands Racetrack & Amenities
Meadowlands Racing and Entertainment has a one-mile (1.6 km) track for harness racing and a seven-furlong turf course contested by thoroughbreds. Such length is considered ideal for harness races as it limits the number of turns to two.
The majority of other harness racing courses have half-a-mile distance, causing four turns. The more turns, the tougher it is to predict the outcome as positioning in corners makes the difference between winning and losing in this case. This is one of the reasons why people particularly love Meadowlands Racetrack. The establishment also allows night races. As a matter of fact, most of the Meadowlands Racing and Entertainment races are held at night. One significant exception is Hambletonian Day.
As for other amenities, we already spoke about a top-tier sportsbook that offers a premium experience. On top of it, Meadowlands Racing and Entertainment also takes pride in several high-end restaurants. You can enjoy warm summer days and dine outdoor at West Deck Dining (American cuisine) and the Backyard Grill (brisket, pulled pork, top-notch barbecue).
The site also offers high-end indoor restaurants like Pink Skybox where you can enjoy your favorite meal and watch live racing through huge glass windows at the same time.
Meadowlands Racing and Entertainment Important Races
Cane Pace and Hambletonian are two of the Meadowlands Racetrack signature harness racing events. They are both held on the same card in early-August every year. Hambletonian has a whopping $1 million prize pool. It takes place on the first Saturday in August. Alongside the Kentucky Futurity and the Yonkers Trot, it is a part of the Triple Crown Trotting events.
Cane Pace, on the other side, is a regular Triple Crown Pacing race. It is showcased on the same day as Hambletonian.
Besides this mega day, Meadowlands Racing and Entertainment keeps adding more top-tier events to the cards. Three Diamonds, Valley Victory, Goldsmith Maid, Jim Doherty, and Sam McKee are only some of the most popular annual races held at Meadowlands Racetrack.
Promotions and Rewards at Meadowlands Racetrack
Meadowlands Racing and Entertainment have their loyalty scheme in the shape of the Players Club cards. Anyone can sign up for one, the registration is free. You should use your card whenever you are placing a wager at Meadowlands Racetrack. The program has six different levels (from Player to Diamond). The more you play, the higher your level is, and the more points you will collect.
The purpose of accruing points is to redeem them for different prizes. You can thus exchange 2,000 points for a $20 betting voucher, but also 100,000 points for a $1,000 voucher. Additionally, you can exchange points for dining vouchers (2,500 points for a $25 voucher at a restaurant), sheets, DRFs, and different programs.
Can I play slots and table games at Meadowlands Racetrack?
No. Meadowlands Racing and Entertainment only offers horse racing and sports betting. Casino games are not part of their menu.
Can I place wagers on horse racing every day at Meadowlands Racing and Entertainment?
Yes, you can place bets on numerous national races (more than 20 every day) at Meadowlands Racetrack. The full monthly simulcast schedule is available both on track and online.
Where can I dine at Meadowlands Racetrack?
Meadowlands Racing and Entertainment offers several high-profile restaurants. You can eat outdoors at West Deck Dining or indoors at Pink Skybox.
Does Meadowlands Racing and Entertainment offer sports betting?
Yes, sports betting is a big part of the Meadowlands Racetrack offer, mainly thanks to the proximity of MetLife, the home of NFL's Giants and Jets. The racetrack is teamed up with FanDuel whose sportsbook you can find inside the property.