Lady Luck Casino Nemacolin is a casino within an existing hotel resort in Farmington, Pennsylvania, located around 40 miles from Pittsburgh. The resort was initially opened in 1987, while the casino opened its doors to the public only in 2013 (July 1st).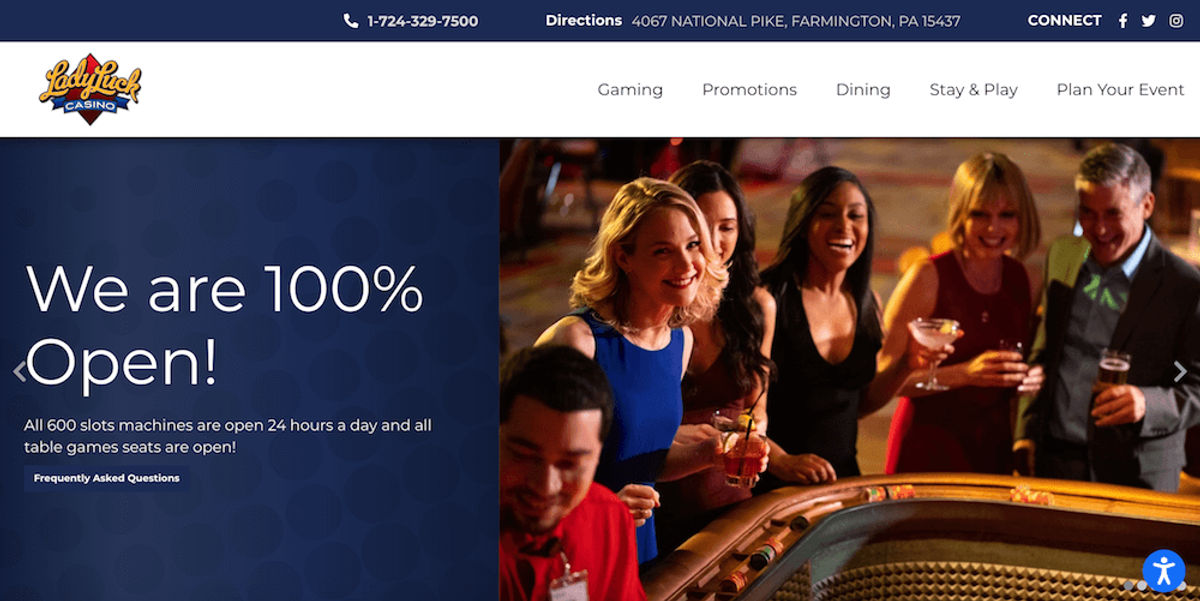 Lady Luck Casino Nemacolin
We will try and cover as much as possible about the gambling options available to the players at Lady Luck Casino PA. Stay tuned to find out what casino games you may enjoy playing on the casino floor. No other betting possibilities, such as sports betting, are up for grabs but can we potentially expect some in the future? Some of the main questions we are looking to provide an adequate answer to are:
– What casino games are available at Lady Luck Casino Nemacolin?
– What other services are offered at Lady Luck Casino PA?
– Does Lady Luck Casino Nemacolin offer online betting?
Introduction to Lady Luck Casino Nemacolin
At first, the Lady Luck casino was operated by Isle of Capri, a gaming company based in St. Louis. Currently, it is owned and operated by Churchill Downs. Lady Luck Nemacolin primarily represents a place where people come to relax and chill rather than to gamble, yet offering an exclusive casino experience. Sports betting, or any other type of wagers but regular casino games, are not allowed.
Besides Valley Forge Casino, Lady Luck Casino is one of just two Pennsylvanian casinos that are actually licensed to provide gambling services within an existing hotel resort. Such status enforces certain restrictions other local casinos are free of. As per law, a casino operating as a part of the resort is allowed to host no more than 600 slot machines and 50 table games.
For the sake of comparison, other Pennsylvanian casinos can have as many as 5,000 slots in their gaming library. Before June 2019, access to the casino was granted exclusively to the guests of the resort. Alternatively, you could have bought resort amenities worth $10 or more to gain access. The casino thus had to pay a $1 million fee (one-time) to free itself from such restriction.
As of June 17th, 2019, Lady Luck Casino PA fully opened the doors to the public and the players were not obliged to pay any sort of fee to enter the property and hit the reels anymore.
Lady Luck Casino Nemacolin – a historic rundown
Lady Luck Casino Nemacolin is primarily a hotel resort with bountiful facilities and activities, casino being just one of them. We can thus hardly put them in the same sentence with other casinos/racinos in Pennsylvania. After all, the casino was not open at all before 2013 which is certainly not a long history to speak of. The resort itself was open back in 1987.
Initially, only the guests of the resort had the opportunity to test the casino's slots and table games. Anyone who purchased hotel amenities worth of $10 was then allowed to enter (as long as they are adults). Such a fee requirement was mandated by the state given Lady Luck was not considered a standalone property but rather a part of the hotel. Finally, the casino removed the requirement by paying a one-time $1 million fee in June 2019.
This happened just three months after the casino was purchased by Churchill Downs Inc., a company known for overseeing the Kentucky Derby.
Sports Betting at Lady Luck Casino Nemacolin
Unfortunately, sports betting is not a part of the Lady Luck Casino offer. The place in general has limited options being considered only as one of the resort's facilities. As long as this is the case, state laws will constantly interfere with Lady Luck's gambling catalog. The experience would no doubts be much better with the possibility of placing wagers across the most popular US sports events.
On the bright side, there is an alternative for the Pennsylvanians who prefer to place bets via their mobile devices. While Lady Luck Casino did not even try to gain any sort of PA online gambling license, they proudly promote online betting through widely-popular BetAmerica. The site offers sports betting on behalf of Presque Isle, another casino owned and operated by Churchill Downs. BetAmerica is one out of many Pennsylvanian Online Sportsbooks.
BetAmerica Online Sportsbook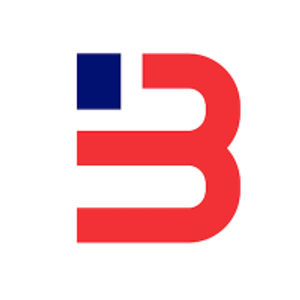 In theory, Lady Luck Casino PA has neither its own sports betting (neither physical nor online) nor online casino products. However, they are partners with Presque Isle which does offer these services through BetAmerica's site. We can thus consider BetAmerica's betting lists as Lady Luck's own.
It is fair to say that sports betting is new to America. We all know that PASPA has just recently been repealed. Nevertheless, the Americans used to find the way around and use Daily Fantasy Sports as a legal counterpart to regular sports betting. BetAmerica was one of the DFS pioneers.
At the moment, BetAmerica Sportsbook is home to a wide variety of sports betting events. From the numerous markets in the top US leagues like NBA, NFL, MLB, NHL, and MLS, across international soccer, tennis, and basketball, to exotic competitions such as NASCAR, or UFC, there is something to suit everyone's needs.
On top of an impressive range of markets, the new registrants will be pleased to see a warm welcome. The operator promises an exciting promotion where you get $50 completely free upon making your first bet of $50 on the site. It is important to use a "BET50" code in the process. Moreover, do not be surprised to see distinct acca odds boosts and extra free bets during the most popular competitions.
Lady Luck Nemacolin Casino
Lady Lucky Casino is by no means the biggest casino you can find in Pennsylvania. As a matter of fact, it is one of only two casinos that operate within a hotel. As such, they take pride in hosting the maximum possible number of slot machines (60) and 27 table games. The property works round-the-clock. However, the live-dealer games are available 24/7 only on Friday and Saturday. On all other days, they are accessible from 10 a.m. to 3 a.m. only. As you can imagine, the poker room is not a part of Lady Luck's folklore. While tons of upscale dining variants are at your disposal at the resort, the casino only has a single restaurant and lounge.
Casino Slots
Slots make most of every casino's gaming portfolio and Lady Luck Casino PA is not an exception. Whereas its library of 600 machines may seem modest to other Pennsylvanian casinos that offer thousands, a regular slot aficionado can generally be satisfied by the variety of options on the menu. These vary from a penny to high limit machines. Besides the regular slots, you can find a solid portion of progressive jackpots, video poker, and keno machines on Lady Luck's floor.
Wonder 4 Spinning Fortunes promises spectacular jackpots, while you simply have to fancy the crisp graphics instilled within Mystical Unicorn, Bengal Treasure, and Black Gold slots.
Nonetheless, we have to mention the state's high tax rate (55%) which significantly affects the generosity of the slot payouts in Pennsylvanian properties, especially compared to the other states. Low stake machines pay back at a particularly lower percentage. If you have an option to do so, we'd advise higher-denomination slots. People at Lady Luck Casino PA generally know how to appreciate highrollers who even have an exclusive area to enjoy hitting the reels right next to the private blackjack room. There are eight different high-limit slots at their disposal.
Table Games
The range of live-dealer games available at Lady Luck Casino has most of the standard options, including anything from craps to roulette and blackjack. The sum of 27 tables won't leave anyone speechless but is still enough to secure a pleasant and enjoyable experience. Three Card Poker, Mississippi Stud, Criss Cross Poker, and Big Six are our favorites there. If you are playing roulette, we'd advise you to go with the European because it has just a single zero, cutting the house edge down to 2.71%.
Now, if you want to increase your chances of winning, one of the casino's blackjack tables is probably your best call. Luckily, Pennsylvania has one of the most player-friendly blackjack rules in the whole country which is why the house edge is reduced down to only 0.40%.
Speaking of the table limits, there is something to suit everyone's desires. Although Lady Luck Nemacolin is considered to be a luxurious resort, the casino offers enough options even for those who come just to have fun with small stakes. Craps tables are thus available at as low as $5 minimum, while blackjack can be played at $10 minimum.
Promotions and Rewards at Lady Luck Casino
Players Club (or VIP system as some call it) is a common practice in casinos all over the United States. Lady Luck has one of its own. It is run by Churchill Downs Inc. One can apply for a free membership (without obligations) either online or physically at the casino. The basic principle states the players collect points for their slot play. Interestingly, table games are excluded. Every 5,000 points you collect can be exchanged for either a $10 worth of food and beverages credit or $5 free play.
Anyhow, the program has four tiers. Naturally, the more you play, the higher your status will be, pulling together the more rewarding benefits.
Red Tier –0 to 9,999 points
Green Tier – 10,000 to 39,999 points
Blue Tier – 40,000 to 124,999 points
Black Tier – 125,000 points or more
Levels reset annually. Once you reach the second tier, you can get a monthly point multipliers and birthday offers. The third tier grants valet & restaurant services, complimentary check cashing, and premium beverage service, while the ultimate black tier secures overnight stays at the hotel, including other activities and amenities.
Can I place sports wagers at Lady Luck Nemacolin?
Unfortunately, the casino only hosts slots and live-dealer games in the building. Sports betting is not a part of the offer. You can place online wagers at BetAmerica, though.
How is BetAmerica connected to Lady Luck?
BetAmerica is online partners of Presque Isle Downs, a casino run and operated by Churchill Downs Inc., a company that owns Lady Luck Nemacolin.
What else is included in the Lady Luck Nemacolin resort?
A 5-star resort offers the ultimate service that involves 320 luxurious suites and rooms, as many as 15 restaurants and lounges, a spa, and a golf course among others.
Does the casino work 24/7?
Slots are available round-the-clock, while you can play table games only from 10 a.m. to 3 a.m. from Sunday to Thursday. Live-dealer games are at your disposal 24/7 on Fridays and Saturdays only.