Harrah's Philadelphia is a racino in Philadelphia, Pennsylvania. The property opened its doors in 2006 and is currently operated by Caesars Entertainment. Harrah's Philadelphia is one of the most popular casinos in Pennsylvania that offers horse races, casino games, sports betting and online gambling options all in one resort.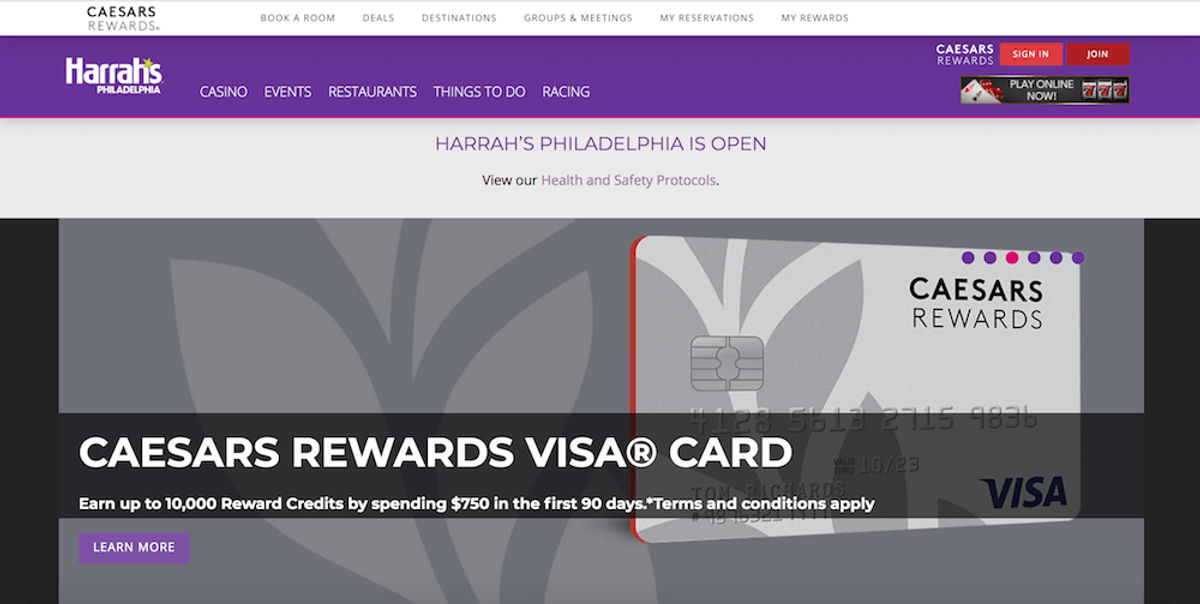 Harrahs Chester
Operated by Caesars Entertainment and owned by Vici Properties, Harrah's Philadelphia Casino & Racetrack is one of the more popular racinos in the state of Philadelphia. The term racino means that the establishment hosts both horse races and casino games under a single roof, a type of gambling establishment popular across the USA.
We take a close look at the Harrahs Philadelphia Casino & Racetrack and all its gambling options in this article. Keep reading to find out just what kinds of casino games are offered on the floor of the casino, as well as all the online gambling options that the operator offers. We did our best to answer some commonly asked questions such as:
– What kind of racing options are offered at Harrah's Philadelphia?
– What casino games can players enjoy at Harrah's Philadelphia?
– Does Harrahs Philadelphia offer any online gambling options in partnerships with other gambling operators?
Harrah's Philadelphia – a historic rundown
Unlike many other American gambling establishments, Harrah's Philadelphia does not have a long history to speak of. The racetrack was built on a campus previously owned by Sun Shipbuilding and the first race launched in 2006, along with a casino that was first licensed in September 2006 as the Pennsylvania Gaming Control Board issued them a slots license. The casino itself was launched in January 2007 and only started offering live casino games in 2010.
The establishment that was originally named Harrah's Chester was rebranded as Harrah's Philadelphia to appeal to more of Pennsylvania's players. The estate was purchased by Vici Properties for $242 Million in 2018 and then leased back to Caesars for a yearly lease of $21 Million.
Sports betting at Harrah's Philadelphia was finally launched in 2019 when the state laws made it possible. The operator offers a large bookmaking space today to go along with the horse racing and casino gambling options that were offered previously.
Sports Betting at Harrah's Philadelphia
All sports betting at Harrah's Philadelphia is offered at The Book, a designated portion of the property which is designed to serve sports betting patrons in the best way possible. Situated on a 4,322 square foot floor, the sportsbook displays an odds board, 2 horse racing terminals, 6 teller windows and numerous self-service windows which players can use to make quick bets.
Players who visit The Book will feel like they are in sports paradise as the area offers a total of 45 TVs with dozens of the most popular sporting events running simultaneously. Bar seating, lounge seats and high-top tables are all available, giving guests plenty of seating options and drinks and food of their choice as they enjoy their chosen sporting events.
Looking at the actual sports betting offer within The Book, players will be more than pleased no matter the sport they prefer. Hundreds of betting markets are offered across the NFL, NBA, MLS, NHL, MLB and plenty of other domestic and international sporting events. Players who for any reason can't make it down to Harrah's Philadelphia will be pleased to see that the operator offers online sports betting to all players within the state of Pennsylvania through Caesars Online Sportsbook.
Caesars Online Sportsbook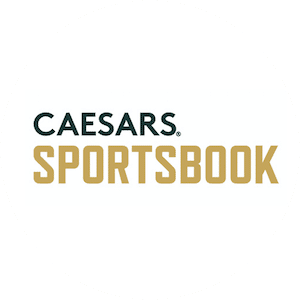 Harrah's Philadelphia was one of the first land based gambling operators to apply for an online sports betting license back in 2018 and in January 2019 they used this license to launch the Caesars Online Sportsbook app for all adult players within the state.
The Caesars Online Sportsbook offers players the same sports betting options as The Book at the actual establishment, with some additional promotions and bonuses on top. Players can place their bets on all the betting markets they can think of at reasonable prices and all of this using nothing but their cellphone or tablet.
The operator provides a sports betting bonus worth $5000 to all newly registered customers, which can be claimed upon making the first real money deposit. Additional free bets, boosted odds and reload bonuses are also given out to existing customers who keep betting with Harrah's consistently.
Use the bonus code SPORTSBONUSRF to claim the $5000 bonus

Harrah's Philadelphia Casino
With a total gaming space of over 60,000 square foot, the Harrah's Philadelphia Casino offers one of the most hospitable gambling experiences in the country, according to many of its previous patrons. The operator offers slot machines in abundance, along with a large live casino games section of the floor and The Book. Unfortunately, no poker room is offered within the establishment at this time.
Casino Slots
The slots are usually the most popular games in live casinos and Harrahs Philadelphia is no exception in this sense. More than 2,000 different slot machines are lined up across the casino floor with hundreds of different games to choose from. Popular slot machines such as Wheel of Fortune and Jackpot Party are available on multiple machines, while the operator does its best to also update the library often and add new and exciting games for its players.
Some of the hot slots that player get to enjoy also include AGS Orion with its premium 3D graphics and Fortune Coin with its impressive jackpots. Collectively, the slot machines in the casino give away millions of dollars in valuable jackpots each year, making Harrah's Philadelphia an amazing place to be for any true gambling aficionado.
Apart from the general slots area where players can enjoy penny slots and lower limits, a special High Limit area is also offered with 90 special games that offer denominations up to $100 per spin. The personalized VIP service offered here is reserved for players with deep pockets and true passion for the games.
Table Games
Harrah's Philadelphia boasts one of the widest selections of table games in the whole state and this is not an overstatement. While some of the other services may not be as highly ranked, the table games portion of the casino is certainly at the very top of the industry standards.
The sheer number of tables one will encounter upon visiting the Harrahs Philadelphia floor is impressive, with stakes starting at just $5 at some of the tables. Some of the games offered on a regular basis include craps, blackjack, roulette, four card poker, let it ride stud poker, high card flush, Mississippi stud, Spanish 21 and many more.
Players can choose to participate in a special progressive jackpot as well by adding an additional $5 on each bet they make. The jackpot is worth a minimum of $50.000 and keeps growing until one lucky player wins it and takes home a fortune.
Promotions and Rewards at Harrah's Philadelphia
Harrah's Philadelphia is operated by Caesars and this means they are a part of the larger Caesars Rewards program. By playing at Harrah's players can earn comp points on their Caesars Rewards Visa Card and use these comps for food, hotel rooms and other rewards across Caesars properties.
Players who visit Harrah's Philadelphia and choose to join the Rewards Program can benefit from the following promotions, among others:
Caesars Rewards Sign Up Offer: $10 for food and beverages, up to $100 free slots play and a free room in one of the Caesars properties.
Comp Points: Earn reward points and get $100 in comps for every 10,000 points collected.
Reward Points Giveaways: Simply swipe your Visa Card at the casino and have a chance to win free reward points, reward points multipliers and cash prizes.
Free Dining Credits: Play casino games for one hour in the mornings and get $20 in free dining credits awarded.
What kind of gambling options are offered at Harrah's Philadelphia?
Harrah's Philadelphia is a racino, which means it offers horse racing and casino games all in one place. In addition to these, the racino also offers The Book, a dedicated sports betting portion of the estate.
How does The Book work at Harrah's Philadelphia?
The Book is the dedicated sports betting part of Harrah's Philadelphia. Players can place bets on hundreds of sports betting events daily at the numerous teller windows and self-service kiosks or simply enjoy sports on big screen TVs with drinks and dining.
Does Harrah's Philadelphia offer hotel rooms?
No! Unlike many other Caesars operated properties, Harrah's Philadelphia is not associated with a hotel. Players will have to look for rooms to stay during their visits elsewhere, with Philadelphia airport hotels being a popular choice due to proximity.
Where can I dine at Harrah's Philadelphia?
The establishment offers multiple dining options. Players who are visiting may get some quick food at the likes of Philly Steak Shack or The Market or enjoy upscale dining at Cove Steakhouse. Buffet options are also offered on a regular basis for all visitors.